Introduction
How do you compare phones that are so different – the LG G3 and HTC One (M8) barely have a common feature between them. As we found out though, even different specs can create a similar user experience, it's more than just a numbers game.
LG G3 vs. HTC One M8
Going into this article we had a certain idea of how things will work out but a series of tests once again proved that specs rarely tell the whole story. The 5.5″ QHD screen should handily beat the 5″ 1080p screen, right? And the contest between a 3,000mAh battery and a 2,600mAh one should be fairly straightforward.
It should but the LG G3 proved less dominant than it sounds on paper. The HTC One (M8) on the other hand, still has downsides it found hard to overcome. Here's a quick blow by blow of where each phone dominates its opponent.
LG G3 over HTC One (M8)
Larger, sharper screen – 5.5″ QHD over 5″ 1080p
Practically the same size, lighter
13MP camera with OIS over 4MP camera; Laser autofocus
2160p video capture over 1080p video
More powerful chipset, 3GB of RAM over 2GB (32GB model only)
Bigger battery – 3,000mAh vs. 2,600mAh; user-accessible to boot
The back cover has wireless charging support
HTC One (M8) over LG G3
Aluminum unibody
Front-facing stereo speakers vs. a single 1.5W speaker on the back
Dual camera with Zoe
5MP front-facing camera over 2.1MP
Google Play Edition version
The LG G3 is a budding illusionist. It looks deceptively small, almost the same size as its opponent despite having a 20% larger screen. The back looks, and to a certain extent feels, like metal, but is actually a specially coated plastic. The screen, of course, is the first QHD unit (1,440 x 2,560 pixels) from a major manufacturer.
The HTC One (M8) has a true metal unibody – it's difficult to tell by looks, but touch is a dead giveaway. HTC focused on the experience, a lot of which comes from software features including a revamped Zoe backed by a new dual camera and improved stereo speakers on the front.
LG G3 vs. HTC One M8 LG G3 vs. HTC One M8 LG G3 vs. HTC One M8 LG G3 vs. HTC One M8
HTC One (M8) and LG G3 go head to head





HTC One (M8) and LG G3 go head to head
UX has become one of the 21st century buzzwords yet a lot of it comes from the past, our preconceptions. This means users will scoff at the plastic "metal" of the LG G3 even if they won't notice it until you tell them.
It's a matter of how well each company managed to read their consumers – the 4MP camera of the One (M8) stands little chance against the muscled up 13MP shooter of the LG G3, but a 5MP selfie camera is a perfect match for the social networks that rule the day, same goes for the effect-laden Zoe.
So, proceed with an open mind to the next page to see if HTC's traditional strength – design – has been countered by LG's newfound creativity.
Design and handling
The two phones are slightly rounded rectangles apparently made of metal. However, there's a striking difference between them when you put them side by side. There's a generous amount of space around the HTC One's 5″ screen, while the 5.5″ display of the LG G3 looks like it's ready to bust out of the frame.
The two phones are equally tall, but the LG G3 is slightly wider and thinner. It measures 146.3 x 74.6 x 8.9mm while the One (M8) is 146.4 x 70.6 x 9.4mm. Width is the most important factor for in-hand feel, but weight plays a role too and the LG is lighter – 149g vs. 160g. Hardly a surprise as plastic is lighter than metal.
Both screens are secured by Corning Gorilla Glass but the One M8's display has a good deal of padding all around. Most of that comes from the two stereo speakers with dedicated amplifiers. There's a special edition of the One (M8) with Clear-Fi audio tech from Harman/Kardon but that's only available for Sprint in the US at the moment.




The front-facing stereo speakers add a good deal to the height of the device
Anyway, the LG G3 only has noticeable bezel above and below the screen and even they are not particularly big.



LG must have used some sort of bezel-b-gone ointment on the G3
HTC kept the aluminum unibody from last year's One but added a new finish option – brushed metal for the Gunmetal Grey color. The other two colors – Glacial Silver and Amber Gold – have a matte finish.


Glacial Silver is from last year • Gunmetal Grey is a new addition
The LG G3 looks like brushed metal finish and comes in five colors. It has a special coating and, although not self-healing like the LG G Flex, LG says it's still resistant to scratches. The plastic is warm to the touch (giving away that it's not metal) but it looks the part and feels great in the hand.




LG gave the plastic back panel brushed metal looks
A key difference here is that the back is removable so you can access the 3,000mAh battery and two card slots below (microSIM and microSD).
The HTC One (M8) has a sealed 2,600mAh battery and the card slots are on the sides, you'll need an ejector tool to access those. Note that it uses nanoSIM cards.




Removable 3,000mAh battery and easily accessible card slots on the G3 • One (M8) card slots require a tool
The backs of both devices are unique in their own ways. The HTC One (M8) has two cameras, the second one used solely for image effects. The LG G3 positions its Power key/Volume rocker assembly right below the camera and adds a special light emitter here used by the Laser autofocus system. Both phones use dual-tone, dual-LED flashes.
The LG G3 loudspeaker is on the back – there's only one, but it's quite powerful. Normally it produces 1W worth of sound, but with boost it can reach 1.5W.





Both phones have memorable backs
The tops and bottom of both phones are quite similar. There are IR blasters on top for remote control functions, while the bottom houses microUSB 2.0 ports and 3.5mm audio jacks. Unfortunately, the HTC One (M8) puts its Power button on top where it's hard to reach on the 146.4mm tall device.




IR blaster on top of the LG G3 • a bad place to put the Power key
The power key on the back of the LG G3 is much easier to reach though it takes some getting used to (we kept tapping the side of the phone).
Both devices support double-tap to wake so you don't need the hardware key to unlock the device. Both have their own tricks too – the HTC One (M8) can also be unlocked by a swipe up, while the LG G3 features Knock Code that lets you create a pattern of taps to make the tap to unlock option as secure as the pattern lock.
Displays
The LG G3 brings the first QHD screen from a big name maker. QHD or Quad HD has four times the number of pixels of a 720p screen, 1,440 x 2,560 to be exact. This means that even at 5.5″, the screen still offers the whopping 534ppi pixel density.





5″ 1080p screen vs. a 5.5″ QHD monster
That may not sound like too much over the 441ppi of the HTC One (M8) and its 5″ 1080p screen but there's a tangible difference in perception. Talking about sharpness here is probably meaningless – both screens are very sharp and individual pixels are impossible to distinguish.
That said, the LG G3 screen seems more vivid, it's hard to describe but you can spot the difference in person. Not that the HTC One (M8) screen looks bad, in fact there's a lot more to screen image quality than just pixel count.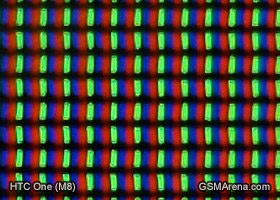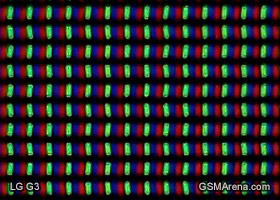 Both screens manage around 570 nits of brightness at full blast, a very solid figure. The black levels on the LG G3 are higher than average for a flagship screen (0.40-0.50 nits), which drops the contrast ratio to less than 800:1.
The Super LCD3 on the HTC One (M8) on the other hand stays within the norm for blacks on an LCD and offers great 1256:1 contrast. The LG G2 was a king in this category with nearly 1500:1, thanks to good black levels and 670 nit white levels.
Display test
50% brightness
100% brightness
Black, cd/m2
White, cd/m2
Contrast ratio
Black, cd/m2
White, cd/m2
Contrast ratio
LG G3
0.14
109
763
0.72
570
789
Samsung Galaxy S5
0
274
∞
0
529
∞
Sony Xperia Z2
–
–
–
0.41
488
1195
Sony Xperia Z1
–
–
–
0.38
580
1513
Sony Xperia Z
–
–
–
0.70
492
705
Oppo Find 7a
0.33
280
842
0.68
580
852
Samsung Galaxy S4
0
201
∞
0
404
∞
HTC One (M8)
0.20
245
1219
0.46
577
1256
LG G2
0.10
149
1522
0.45
667
1495
HTC Butterfly S
0.15
165
1117
0.43
451
1044
Apple iPhone 5
0.13
200
1490
0.48
640
1320
Also, notice that the brightness slider is heavily skewed – at 50%, the display put out less than a fifth of its maximum brightness. The HTC One (M8) was at a little less than half.
Another area where the LG flagship suffered a setback is sunlight legibility. Granted, the reduction is fairly small, but there shouldn't have been any at all – this was a bit of a weak spot of the LG G2, one we were hoping the successor would do something about.
The HTC One (M8) is no champ here either, but it does beat the LG G2, G3 and Sony Xperia Z2. Strangely, it regressed slightly from its predecessor too (as did the Xperia Z2, what's going on with those new screens?).
Sunlight contrast ratio
Sort by Label
Sort by Value
Expand
Nokia 808 PureView

4.698

HTC One Max

2.537

Nokia Lumia 720

2.512

HTC One

2.504

Sony Xperia Z

2.462

Samsung Galaxy S III mini

2.422

HTC One (M8)

2.371

Motorola RAZR i

2.366

Samsung Galaxy Note II

2.307

Oppo Find 7a

2.279

Apple iPhone 4S

2.269

HTC Desire 600 dual sim

2.262

LG G3

1.820

Samsung Galaxy mini 2

1.114
Different viewing angles have virtually no effect on the image on both screens, but colors on the HTC One (M8) are slightly punchier than those on the LG G3.
The two screens are very different in terms of size too. The 5.5″ screen of the LG G3 has 20% more surface area than the 5″ screen of the HTC One (M8). This means you can fit more content and that difference grows even further if you zoom out a little (the extra pixels make tiny text more legible).
Winner: LG G3. We were disappointed by some of the characteristics of the display, the regression in contrast especially, plus, sunlight legibility should have improved rather than worsened. That said, it's hard to argue with the sheer amount of content you can fit on the humongous QHD screen.
The HTC One (M8) felt like the underdog coming in, certainly 5″ 1080p are 2013 specs not 2014. Still, with good image quality thanks to the high contrast it's performance is more than good. The One (M8) might have even won this category if it was better in bright light.
Connectivity
In terms of connectivity, the two phones are very equal, mostly because they have just about every option under the sun.
That includes the standard 2G/3G connectivity in either GSM or CDMA flavor, plus 4G LTE on both. It's Cat. 4 LTE for up to 150Mbps downlink and 50Mbps uplink.
Local connectivity is even faster with dual-band Wi-Fi going up to 802.11ac, the latest current tech. There's also Bluetooth 4.0 for low-power connectivity to accessories and NFC for quick pairing and tags. Note that neither phone has an NFC manager app out of the box. The HTC One (M8) does not even have NFC in some regions to begin with.
The two have IR blasters on top to control home equipment and their respective apps both have the option to learn new control signals if you have hardware not available on the long lists of supported devices.
HTC's Remote control app has a cool feature that wakes the phone up as soon as you pick it up, so you don't have to unlock the phone each time you want to change the channel.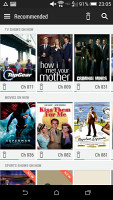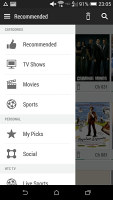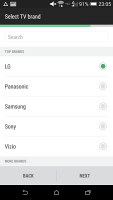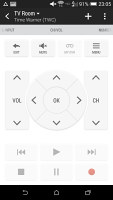 HTC Remote control app
LG's QRemote, however, has a richer database of devices and can control air conditioners too. It has an option to automatically pop up on your lockscreen and in your notification area when you are at home.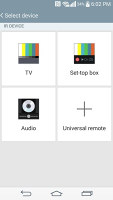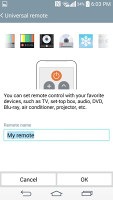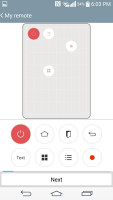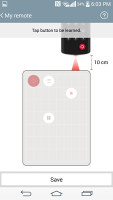 LG QRemote
The two flagship smartphones can also be the ones playing the video, not just controlling other players. Here the two differ – LG uses SlimPort, while HTC uses MHL. Both can be converted to regular HDMI with the proper converter or just a microUSB-to-HDMI cable if your TV supports the standard.
Note that if you are to get an adapter, SlimPort doesn't require plugging a power source into the adapter itself, unlike MHL.
DLNA and Miracast are available for wireless streaming of multimedia too.
Going back to the microUSB ports for a second, they are both the predominant USB 2.0 kind, no USB 3.0 here.
For positioning, the two support GPS and GLONASS but the HTC One (M8) also has a barometer, which will help to speed up the first position lock.