Introduction
It's the kind of thing to be happening in a galaxy far, far away. Apple opening up iOS to developers, while Google is moving towards an Apple-like unified experience across platforms and screen sizes. The simplest way to put it is that Material Design comes a year after the visual overhaul of iOS 7 – if anyone wants to see a more than just chronological relation they very well can.
Anyway, with the re-design delivered, iOS 8 (still a developer beta) goes back to work under the hood – in a continued bid to catch up to Android – not so much in terms of features (certainly not content) but flexibility in dealing with third-party apps and extensions. One of the highlights is Apple's U-turn on one of their most conservative policies.
The company has finally given the developer community a more open access to the platform and unlocked many popular core capabilities. Having been granted access to over 4000 iOS APIs, third-party apps will integrate with the Notification Center, Sharing and Action menus, Keyboard, Photos app, among others. Even TouchID is expected to be opened up, potentially making the fingerprint scanner a really big deal.
iOS 8 is trying to polish an already elaborate and attractive user interface and improve the performance with more intuitive menus, better Spotlight, Family Sharing options, iCloud Drive, better keyboard, better Photos, etc. The Handoff feature between iDevices and Macs is a big thing as well.
Let's try and summarize all the new additions to iOS 8:
Key features
Third-party widgets in Notification Center
Third-party sharing options and actions within system apps
Third-party keyboards, adaptive default one
Handoff support with Mac OS X Yosemite – continuity from any iOS 8 iDevice to Mac OS X, instant automatic hotspot, SMS/MMS/iMessages and voice call handover
Safari: plugin support, Private Browsing per tab, bird-eye tab view for iPad
Camera: Instant Burst Mode, Time-Lapse, separate focus and exposure, Panorama for iPad
New Photos app with smart editing, search, third-party filters
Better Spotlight with automatic internet suggestions from popular services such as Wikipedia, Maps, IMDb
Improved Siri with voice activation, Shazam integration, 24 new dictation languages
Refined UI in multi-tasking, Mail, Messages, Music
Health pack
Updated App Store with category browsing, Beta apps, Bundles
iCloud Drive with 5GB of free storage
Family Share – share and control content across Apple IDs using the same credit card, children app purchase requests
Battery usage per app statistics
Tips app
Integrated iBooks with auto night mode, Book Series support
Rich Text Editing in Notes
Wi-Fi calling support
Travel time notifications
FaceTime call waiting
TouchID fingerprint sensor to be available to third-party apps
Improved accessibility, In Case of Emergency card, TouchID to exit Guided Access, Braille keyboard
Flyover city tours
Enterprise easy setup
China gets lunar calendar, turn-by-turn navigation, better weather data
Main disadvantages
STILL very much dependent on iTunes for uploading files and multimedia
No common file storage shared between apps
Air Drop works only between selected devices running iOS 7 or later
No lockscreen access to third-party developers
Limited default video decorder support
The app-specific file storage is still an annoyance and so is iTunes being your only means of file upload (the cloud is an option but not a solution). To be fair, these are things users of Apple's mobile devices can obviously live with and perhaps see nothing wrong – but it's a fact that competing platforms don't impose this kind of limitation.
With the new tools made available to developers, there may be clever ways around that – the benefits of the opening up of the platform could go beyond the day-to-day interaction with the device and the performance. We'll know in a couple of months.
For now, let's concentrate on the novelties in iOS 8, which will be available this fall for the iPhone 4S, iPhone 5, iPhone 5c, iPhone 5s, iPod Touch 5, iPad mini, iPad mini 2, iPad 2, 3, and 4, as well as the iPad Air.
User interface
The user interface is where Apple sufficed with just a few finishing touches. Having gone through a complete overhaul last year, there wasn't much to change.
Apple iOS 8 looks the same as its predecessor. All of your apps are on the homescreen, folders are available and there is the familiar dock that can take up to four shortcuts. System icons, color themes and transparency – everything is like we left it in iOS 7.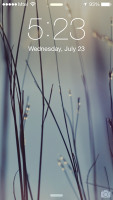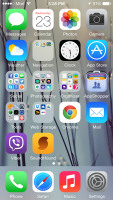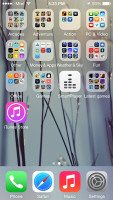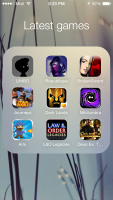 Apple iOS 8 user interface
The lockscreen hasn't changed either – there is a camera shortcut, playback controls are available too if the Music app is active. If you think the lockscreen could use some shortcuts or widgets, your only hope is for Apple to open up the lockscreen to developers too – but that's not on the cards on this release.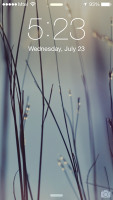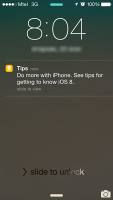 The lockscreen
The Control Center that's pulled up from the bottom of the screen, has been slightly redesigned though it keeps the same layout of toggles, shortcuts and media controls.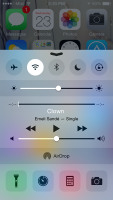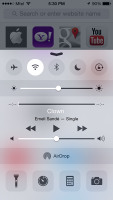 The iOS 8 Control Center
The Notification Center has changed a little bit more. The All and Missed tabs are now gone, replaced by a unified Notification tab. The Today section has been improved and you can jump to its editing options from the bottom of the page.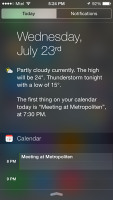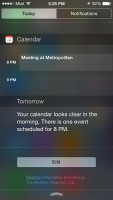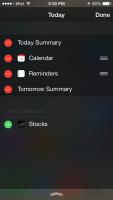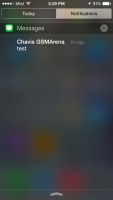 The Notification Center
The interaction with the pop-up notifications has been improved. Now you can quickly reply right inside the notification banner, discard calendar alarms, mark tasks as complete, comment and like on Facebook, among others.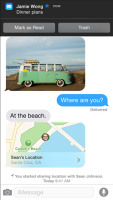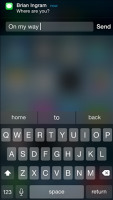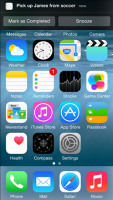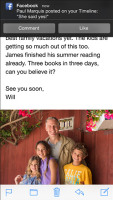 Interacting with popup notifications
While the refined Notification Center might look insignificant, it is among the places expected to make a big difference, in terms of usability, once iOS 8 starts seeding. It has been unlocked to developers and various widgets will premiere on the platform this fall. Basically, every app developer will be able to use the Notification Center for interactive widgets.
The Task Switcher got an extra row at the top – a list of your recently contacted Favorites followed by your recent contacts. A tap on a contact here will reveal additional options: call, message.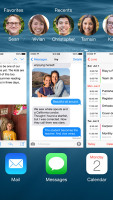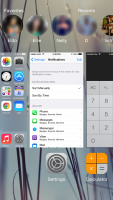 The new Task Switcher
Apple made a big deal of the Spotlight update – the unified search tool now supports smart suggestions. Spotlight is now capable of pulling suggestions from Wikipedia, IMDb, an assortment of news sources, nearby places, App Store and iTunes content, iBooks and more. This is indeed a tremendous usability boost. By the way, suggestions work within the Safari browser too.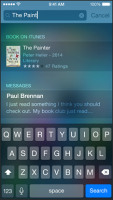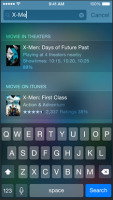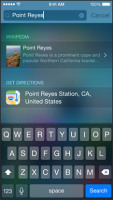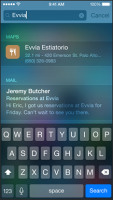 Spotlight suggestions
Another notable improvement over the previous iOS version is enabling developers to add their own sharing options or actions in the iOS contextual menus. For example, if you have an app that sends files over Bluetooth, it can integrate with the iOS contextual menus and there you go – you get standard Bluetooth file sharing in just one click. You can edit the available sharing options and actions in these menus, so they don't get cluttered.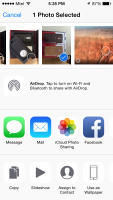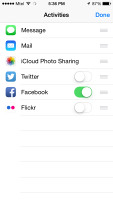 This is where the new sharing and action plugins will appear
Apple has finally added battery usage stats in the Settings menu. There you can find which app drained your battery and how (low signal, background usage, etc.). You get daily and weekly stats.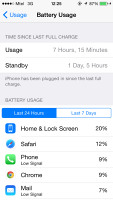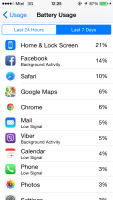 Battery stats
iOS 8 brings a very familiar user interface and logic of operations with minor improvements towards better customization. We've yet to see how this will turn out once the developers start offering various interactive widgets, sharing options and actions, but the platform should benefit a lot.
Handoff and continuity
The new Handoff option is probably the most advertised iOS 8 feature. It allows you to start something on one Apple device and continue working on it on another. For example, you can start writing an email on your iPhone, get close to your Mac or iPad and you will be able to continue what you are working on from there. This works between iOS 8 running iPhones, iPods and iPads and Max OS X Yosemite powered Macs.
And it goes beyond emails and messages. The continuity feature is available for Safari, Maps, Reminders, Calendars, Contacts, Pages, Numbers and Keynote.
Any Wi-Fi enabled iOS 8-running iPad or a Mac OS X Yosemite is also capable of picking your iOS 8 iPhone calls up. You can answer and make calls on your iPad or Mac via your iPhone thanks to the Handoff feature – the only other requirement besides the OS version is that all devices need to be on the same Wi-Fi network.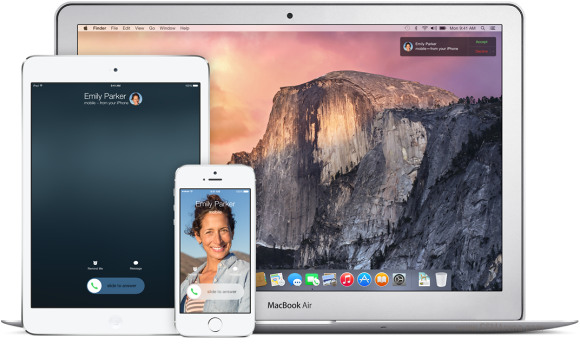 Apple guessed that anyone making calls via Handoff will eventually need to send SMS/MMS/iMessages the same way, so the functionality has been implemented. Just open your Messaging app on your iPad or Mac and you can send whatever message you want thanks to your iPhone connection.
Finally, there is a new Hotspot feature that once enabled will automatically set up a mobile connection for your iPads and Macs. You don't need to do anything! Your iPhone will know when your iPad or Mac stop using the hotspot and will automatically turn it off.
Phonebook and Dialer
The iOS 8 phonebook and dialer interface are untouched, though now you can opt not to show the contact photos in your Favorite tab. Everything else stays the same.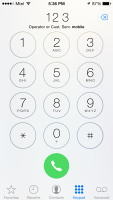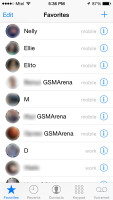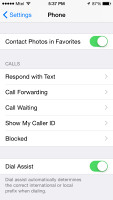 Phone app and its options
Apple will be offering a new feature called Wi-Fi calling. If both parties support this service and it is on, the call won't be placed through the cellular network but the internet. This will perhaps improve audio quality and won't count against your allotted monthly minutes. Finally, FaceTime is getting a new functionality too, Call Waiting.
Messaging
The Messaging app comes with a refined interface too. Now it's easier to attach pictures or video with the newly introduced recent row. It has about 20 of your latest images/videos in the gallery.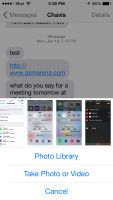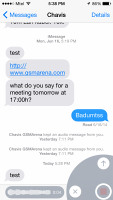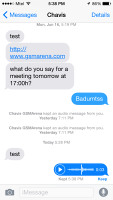 The Messaging upgrades
If you are texting someone with iMessage activated, you'll see a new Mic icon on the right. A tap and hold on the Mic will record a voice message and an upwards swipe will send it. If the person on the other end is on an older iOS version they will receive it as an .amr attachment and still be able to play it.
The Mail app got a subtly refreshed interface too with some extra useful functions and gestures.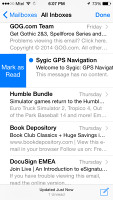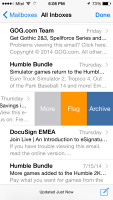 The new Mail options
Keyboard
The iOS 8 keyboard looks the same though it has been upgraded with predictive input called QuickType. Over time, the iOS will learn from your typing pattern, vocabulary, people you write often to and topics. It will eventually understand the subject of each thread and base suggestions on whether the communication is formal or casual.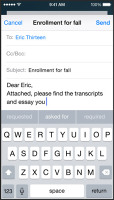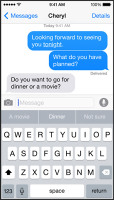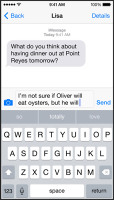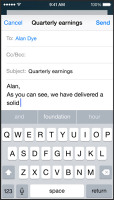 Keyboard predictions
Apple promises a really smart algorithm that understands everything and knows what to say. Many competitive keyboards on other platforms are already doing similar things plus they are swype-enabled. While we find the new keyboard indeed useful, we are really waiting for the Fall when developers will be able to release their own keyboards that will replace the default Apple one. Swiftkey has already announced it will be among the first to launch a keyboard.
We are happy with Apple's decision to allow replacing the default keyboard and we are looking forward to all those new third-party options. And it's Apple after all, so the safety of your personal data shouldn't be a massive concern either.
iCloud Drive
Another upgrade that was well overdue is iCloud Drive. Apple has taken steps to evolve your iCloud Storage to a competitive cloud service to match Dropbox or OneDrive.
Besides backing up your entire camera roll instantly synced in the cloud and accessible from anywhere – your other.
You can store any file on the iCloud Drive, not just pictures and videos, as any other services would allow you to. The Handoff feature relies heavily on the iCloud Drive – this is a document you've opened on your iPhone would be handed over to your iPad or Mac. If you don't use iCloud Drive this file continuity wouldn't be possible.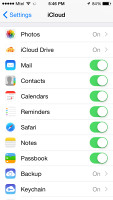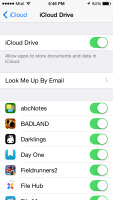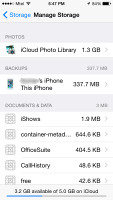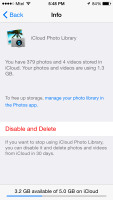 iCloud Drive options
Naturally you can choose what files and app data gets synced in your iCloud Drive. There is an option to choose cellular data where a Wi-Fi connection isn't available.
Unfortunately, Apple is still only giving 5GB of cloud storage for free and some of it is already used by your iCloud backups. If you want more, you'll have to pay extra.
Photos and Camera
One of the highlights of the last WWDC presentation was the new Photos app. Apple has upgraded the default gallery with a new Search option. The smart suggestions implemented within the new Spotlight and Safari browser work here too. You can search by place, date, people, nearby location, etc.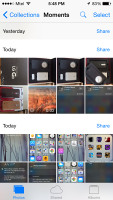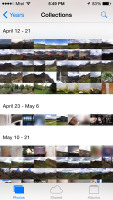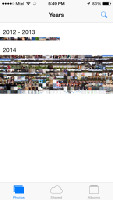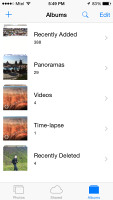 The Photos app
There is a new default album called Recently Deleted. It stores your recently erased photos for 30 days before deletes them for good. Each photo shows the days remaining until deletion. It works like a recycle bin and, of course, you can restore the files you want.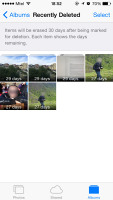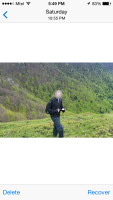 Recently Deleted
One of the major new additions to the Photos app is the new integrated image editor. It supports standard features such as crop, rotate and filters, but it also offers advanced settings allowing full control over light (exposure, highlights, shadows, brightness, contrast, black point), color (saturation, contrast, cast), black & white (intensity, neutrals, tone, grain). In case you aren't into meddling with your photos, you can use the new intelligent Auto Enhance feature, which will do things automatically.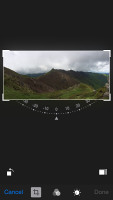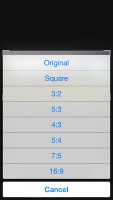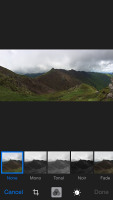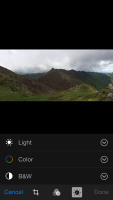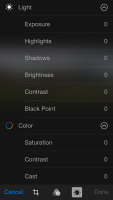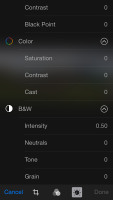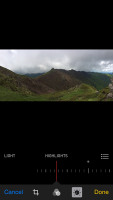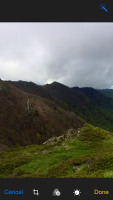 The integrated image editor
If your iCloud Drive is active you can gain access to your cloud gallery and browse it on your iDevice without the need of storing it locally. If you have opted to store everything in your iCloud Drive, you can save precious space (those with 16GB of storage on their iPhones should know best) and still have access to your images and videos. You'll need a working internet connection, of course.
The Camera app has been upgraded with two new modes – Time Lapse and Burst. Time Lapse captures 1920x1080px frames every few seconds to produce a 1080p video.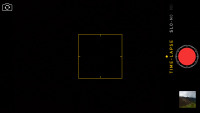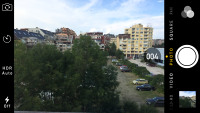 Time Lapse and Burst in the Camera app
In Burst mode, upon a tap and hold of the camera shutter, the iPhone will be snapping pictures until you release. Every burst series is shown as one in the Photos app until you decide to expand it. Then you can select the one or few photos to keep. You can opt out of uploading burst sequences into the iCloud Drive until you've chosen the keepers.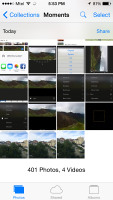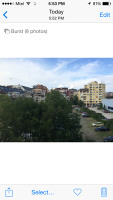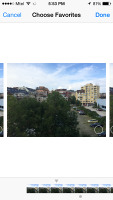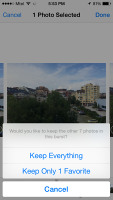 Burst images in Photos app – browsing and choosing what to keep
Apple has unlocked its Camera API to developers, which means third-party apps will be able to use the original camera features and algorithms. That may mean more advanced camera tricks after the iOS 8 launches.
Safari gets plugins
The Safari web browser welcomes third-party developers too. It now supports extension access via its contextual menu. They will be able to auto-fill forms, use the Touch ID security features and translate webpages. It's up to the developers to come up with creative uses and hopefully we'll get a lot of those at launch.
Other than the Safari extensions, Apple has improved its Private Browsing. It's more intuitive now and won't make you convert all of your currently opened tabs into Private ones.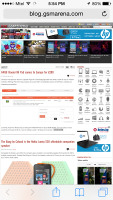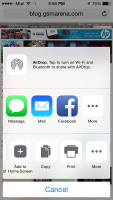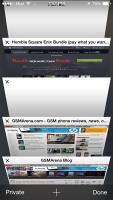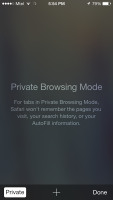 Safari
As we mentioned in the user interface chapter, the smart suggestions from Wikipedia and the App Store/iTunes Store work within the Safari browser, too.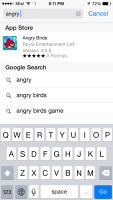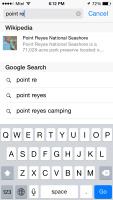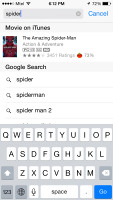 Other pre-installed apps
Apps such as Calendar, Notes, Weather, Calculator and Alarm received very few upgrades, if any. The only thing worth mentioning is the rich text editing in the Notes app.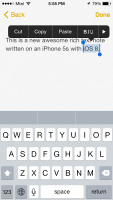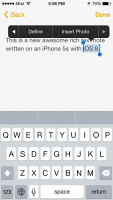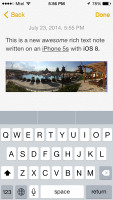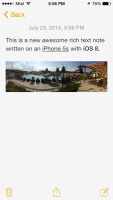 Rich Text editing in Notes
There is a new app coming with iOS 8 – Tips. It will show new tips from Apple in your notification area each week, helping you make better use your iDevice better with intuitive demos and suggestions.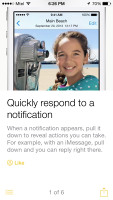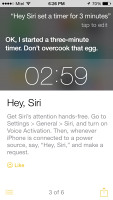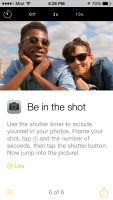 Tips app
The iBooks is now part of the iOS package and will be pre-installed once you upgrade to iOS 8. Its interface mimics that of the App Store, but the first tab is still your virtual bookshelf.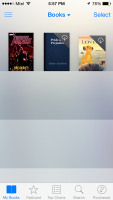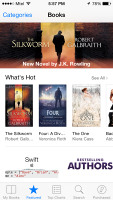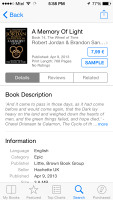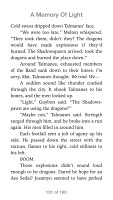 iBooks
Health Kit
As of its 8th version, iOS features a HealthKit suite which gathers all data collected from the device's tracking apps and various third-party accessories. Apple has teamed up with a number of partners on the health suite including Nike and the Mayo clinic.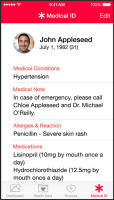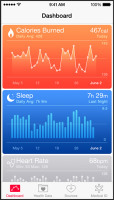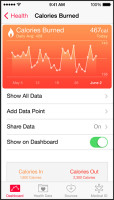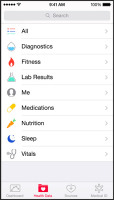 Health app
The app offers a Medical ID card that lists all of your health-related data, emergency contacts, medication, intolerances and doctors' contacts.
The Health app will store and track stuff like calorie burnout, periods of sleep and activity, among others. Its dashboard is where you are supposed to find all important data at a glance.
Sure, health-related apps and accessories compatible with the iOS 8 are yet to arrive and third-party software developers taken on board.
App Store gets beta apps, bundles
During the iOS 8 announcement, Apple unveiled several new features for its App Store. Better and smarter search with a new interface, App Bundles offered by devs, embedded videos in the app descriptions a la Google Play Store, and devs will be able to invite users to closed beta testing of future versions of their apps.
We've yet to see a beta section in the App Store this fall and how the beta app seeding will work. The promised App Bundles functionality isn't available yet either.
We can at least show you what the new search interface looks like.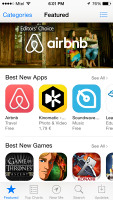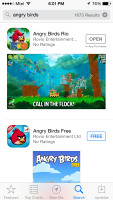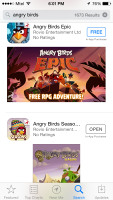 The App Store
We guess there will be a lot new stuff to explore on the App Store later this year.