Apple caved to market pressure and created a phablet. This may sound as blasphemy but it's not the first time Cupertino is seen reacting to rivals getting too confident, too aggressive – too close for comfort. The first iPad mini had to respond back in its time to the rise of the compact Android tablets. That was different though – and not in a way perhaps that Apple will like.
The iPad mini was very much in a league of its own, by virtue of its screen size and aspect ratio. The phablet, on the other hand, is dragged into a tougher game away from home. For the first time, Apple is playing by someone else's rules. They're in it to win though. Second year in a row, users will be choosing from a pair, but this time it's a pair that doesn't have a straightforward first choice this time around. It's an iPhone and a bigger – better? – version of it.
The iPhone 6 Plus marks the biggest leap in iPhones since the iPhone 4 and will have implications for the iPads as well. With a large 5.5″ screen to straddle the difference between the iPhone and the iPad Air.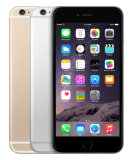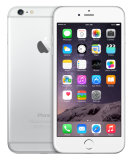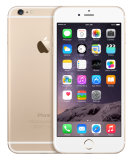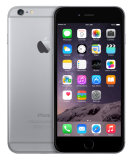 Apple iPhone 6 Plus official images
Apple abandoned scaling the original 320 x 480 resolution by various factors and jumped to an industry standard of 1080p. This means that for the first time the iPhone can show FullHD video at 1:1 and also represents the first jump in pixel density since the iPhone 4 (even the smaller iPhone 6 is still at 326ppi).
The screen is the defining feature of the iPhone 6 Plus but another important update is the addition of Optical Image Stabilization to the camera, which has otherwise only seen iterative updates for the last four years.
Key features:
Metal unibody, 7.1mm slim, 172g of weight
LTE connectivity (Cat. 4, 150Mbps downlink)
5.5″ 1,080 x 1,920 LED-backlit IPS LCD with 401 ppi pixel density
Apple iOS 8; iPad-like split-screen functionality
Dual-core 1.4 GHz Apple A8 chipset, M8 motion co-processor, PowerVR GX6450 GPU, 1GB of RAM
8MP F/2.2 camera with True tone LED flash, Optical Image Stabilization, phase detection auto focus, 1080p@30fps and @60fps video recording, 720p@120fps and 240fps video recording, 1.2MP F/2.2 front-facing camera with BSI sensor and HDR mode.
16/64/128GB of built-in storage
Touch ID fingerprint sensor built into the Home button
2,915mAh battery
Main disadvantages:
Hard to use single-handedly, unimpressive screen to body ratio (6″ Androids fit in the same footprint)
No microSD slot
Pricey memory upgrades, 32GB version should be standard for such an expensive phone
No user-replaceable battery
Protruding camera lens makes the phone wobble if you don't have a case on
Camera is still merely 8MP four years in a row (granted, it's getting better every with every new generation)
No 4K video and video sound is still mono
No enhanced resistance to liquids or dust
NFC functionality limited to Apple Pay
Rather pricey for a flagship (without carrier subsidies) that misses some of the extras of the competition, such as stereo speakers, wireless charging, an infrared port, or FM radio
The iPhone 6 Plus will require a big adjustment from longtime Apple faithfuls who have grown used to the iPhone's classic size. That said, it may eat into iPad mini sales as people get to carry a large, usable screen in a pocket.
Also, changes between generations are generally small, such is the Apple way. This means the camera kept its still and video resolution and it still can't record stereo. The chipset was sped up a bit, but only about 20%, not as nearly as big a jump as between last generations.





The largest iPhone yet
Apple introduced a new design with the Sixes, an aluminum unibody with rounded sides and corners. Comparisons with the iPod touch are inescapable – the design isn't old (though not exactly new either) but it proved to have a weak point – causing it to bend in people's pockets.
The Tim Cook era is seeing Apple venture into new territories but with the iPhone 6 Plus it finds itself in a house built by Android, the house of phablets. Has the company changed enough to successfully upscale iOS to 5.5 inches? iPads certainly work great but there's more to it than that. Let's start exploring.
Unboxing the Apple iPhone 6 Plus
The Apple iPhone 6 Plus came in a large white box with the usual accessories: a 1A charger, a detachable Lightning cable, a pair of EarPods and a SIM eject tool.



Big white box with the standard assortment of accessories
We read reports that using a more powerful charger can fill up the battery faster so we decided to investigate. We used a 2.4A iPad Air charger and a tool to measure the power draw. It showed that the iPhone 6 Plus takes in 1.25A from the iPad charger and 1A from its own and other chargers. Overall, that shaves off 25% of the charge time if you have an iPad charger at hand.
Apple iPhone 6 Plus 360-degree spin
The Apple iPhone 6 Plus measures 158.1 x 77.8 x 7.1mm and weighs 172g. For comparison a 5.5″ LG G3 measures 146.3 x 74.6 x 8.9mm, while a 6″ Huawei Ascend Mate7 measures 157 x 81 x 7.9mm. That's another way of saying that Apple's design is rather tall for the screen size.
Design and hardware
The original iPhone featured a rounded aluminum body and Apple returned to metal with the iPhone 4 design (but with a glass back). The iPhone 5 dropped the glass in favor of an aluminum unibody but kept the flat sides of the iPhone 4.





Original iPhone • iPhone 6 Plus
We've come almost a full circle now with an aluminum iPhone with rounded sides, though with years of improvements to the manufacturing process the iPhone 6 Plus and its smaller sibling appear closer to the iPod touch and the new iPads.
Even with all that, the new design is a cause for excitement – the iPhone 6 Plus is impressively thin for a device its size and doesn't feel heavy despite its all-metal body. What it does feel is large, though Apple expects a lot of Android converts who will feel right at home with the form factor.



Even big hands can struggle with the iPhone 6 Plus
It's long-time iPhone users that will have the toughest time to adjust. The Plus is too big for one-handed use but it's not an iPad mini 2 so it will feel cramped at first for two-handed use. As numerous large Androids have demonstrated users accustomed to it.





iPhone 6 Plus size comparison with the LG G3 (left) and Samsung Galaxy Note 3 (right)
The front of the device is Ion-strengthened glass, which is rounded at its edges. That design has proved beneficial when swiping gestures are involved. Since iOS puts the Back button in the top left (that was the standard until now) we suspect that the swipe Back gesture will see a lot more use, especially on the iPhone 6 Plus.
The iPhones are available in Space Gray, Silver and Gold and we have to say the Gray version look gorgeous, while the Silver (which has a white front) looks a bit cheap. As usual, Gold is an acquired taste.


Ion-strengthened glass with beveled sides
The curve of the screen's sides continues fairly smoothly down the aluminum sides of the device, which curve around to the flat back. This makes the handset feel a bit thinner than it is.
The 7.1mm thin chassis feels exquisite – slightly thinner than the iPad Air and mini 2 and perfectly machined, it feels worthy of the price tag (but we'll talk money for the conclusion).
That said the combination of a slim body and rounded sides make the device slippery – aluminum never offered the best grip, but we feel more comfortable holding the iPhone 5s. Of course, a large part of that is the massive size compared to the old model.





iPhone in three sizes: 4″ iPhone 5s, 4.7″ iPhone 6 and 5.5″ iPhone 6 Plus
A flaw that users discovered after owning the 6 Plus for barely a week is that it has a structural weak point where the volume buttons are – the drilling for the buttons weakens the aluminum chassis enough for the phablet to bend in pockets.
Below the screen is the Touch ID fingerprint sensor, which has improved slightly since its introduction last year but, true to self, Apple doesn't give away much detail. Touch ID finally comes into its own with the introduction of NFC-based Apple Pay but more on that later.
Above the screen is the earpiece, the ambient light and proximity sensors, plus an aging 1.2MP camera. Apple moved it to the side of the earpiece from its previous central position and widened the aperture to f/2.2 (from f/2.4) but we were hoping for 1080p videos and higher-resolution selfies.



The new position of the front-facing camera • the improved Touch ID fingerprint sensor
As usual, the Mute switch is above the volume rocker on the left side of the phablet.
The right side of the iPhone 6 Plus is the new place for the Power button. With the new devices (especially the Plus) much taller than their predecessors this move makes complete sense. Below the power button is the nanoSIM card tray, which requires a tool (or at least a paper clip to open).





Volume rocker and Mute switch • repositioned Power key and the nanoSIM card slot
This leaves the top bare, as the 3.5mm audio jack was moved several generations ago to the bottom of the device, near the Lightning port. Also is the loudspeaker grille and the main microphone.




The bare top • 3.5mm audio jack, microphone, Lightning port and the loudspeaker
The back of the iPhone 6 Plus is made of a sheet of aluminum, plastic ridges splitting it at the top and bottom (for radio transmission reasons) but this time around the dividing lines are much thicker and more visible.
They proved a bit controversial but not nearly as the camera, which protrudes from the back for the first time in iPhone history. This raises practical concerns as the camera is more exposed to scratches (it is protected by sapphire glass though) and it makes the iPhone wobble on a level surface. It also puts the opposing corner of the device under bigger risk of getting scratched.
The big news about the camera is that it now features Optical Image Stabilization (OIS), exclusive to the 6 Plus in the iPhone family (though Windows Phone and Android got there first). We'll discuss the implications of OIS in the dedicated camera chapter.
The flash is circular but still comprises of two LEDs of different color, Apple's True tone flash. Between it and the camera is the secondary mic, as we complained earlier Apple still records only mono audio in videos.



Display
The iPhone 6 Plus features Apple's first standard display on a mobile device, a unit of 1080p resolution. It has the 16:9 aspect ratio first adopted by the iPhone 5 but is sharper than the Retina displays standardized with the iPhone 4. It has a pixel density of 401ppi (Apple's first) though there's barely a perceptible difference between the two.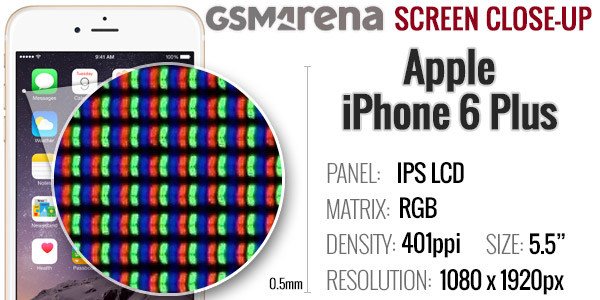 Another first for the iPhone is that the 6 Plus supports landscape mode and some apps offer split-screen in landscape, two things that were so far reserved for the iPads.




The brilliant screen of the iPhone 6 Plus
Anyway, the screen is an IPS LCD with picture perfect viewing angles – you can tilt it in any direction and the image stays put as if printed on top of the screen.
Excellent color rendering and great contrast also help the overall image quality, the iPhone 6 Plus has one of the very best mobile displays on the market.
Display test
50% brightness
100% brightness
Black, cd/m2
White, cd/m2
Contrast ratio
Black, cd/m2
White, cd/m2
Contrast ratio
Apple iPhone 5s
0.14
163
1145
0.49
596
1219
Apple iPhone 6
0.17
207
1230
0.61
740
1213
Apple iPhone 6 Plus
0.17
208
1197
0.52
705
1361
LG G3
0.14
109
763
0.72
570
789
Samsung Galaxy Note 3
0
149
∞
0
379
∞
Samsung Galaxy S5
0
274
∞
0
529
∞
Oppo Find 7
0.22
248
1135
0.4
448
1123
The large 5.5″ screen is almost as bright as the 4.7″ iPhone 6 screen and one of the brightest LCDs we've tested. The reflectivity is slightly higher though, so sunlight legibility isn't quite as good but still among the best. There are few challengers in this screen size category, it's down to Samsung's Super AMOLED screens.
Sunlight contrast ratio
Sort by Label
Sort by Value
Expand
Nokia 808 PureView

4.698

Samsung I9000 Galaxy S

3.155

Samsung Ativ S

3.129

Samsung I9190 Galaxy S4 mini

3.127

Samsung Galaxy S4 zoom

3.118

Nokia N9

3.069

Apple iPhone 6 Plus

3.023

Samsung Galaxy Note

2.97

Samsung Galaxy Premier

2.958

Sony Xperia Z1

2.95

HTC One S

2.901

Samsung I8730 Galaxy Express

2.861

Samsung Galaxy mini 2

1.114
The iPhone 6 Plus screen is much larger than what Apple users are accustomed to, we made the table below to illustrate our point if the comparison shots above aren't clear enough. Using the 4″ iPhone 5s screen as base, the iPhone 6 Plus screen offers nearly twice as much room. That dwarfs even the size increase offered by the iPhone 6 over its predecessor.
| | | | |
| --- | --- | --- | --- |
| | Screen diagonal | Relative size | PPI |
| iPhone 5s | 4″ | 100% | 326 |
| iPhone 6 | 4.7″ | 138% | 326 |
| iPhone 6 Plus | 5.5″ | 189% | 401 |
| LG G3 | 5.5″ | 189% | 534 |
| Galaxy Note 4 | 5.7″ | 203% | 515 |
While we love the extra screen real estate we're not pleased with the screen bezels. The LG G3 has the same screen size (and with nearly 80% more pixels at that) and a much more compact body. We get it that Apple needs the Home key at the bottom for Touch ID but the bezel above the screen could have been smaller, especially since the front-facing camera is no longer stacked above the earpiece.
Faster connectivity
The Apple iPhone 6 Plus wireless connectivity is a dizzying array of GSM, CDMA and LTE. You'll have to consult your local carrier to check if the correct bands are supported by the version of the phablet you're buying but that's only if you're importing it.
The standard quad-band GSM and CDMA support ensures voice connectivity around the world. Then there's 3G GSM with up to 42Mbps downlink speeds and 3G CDAM (1xEV-DO) for a much slower 3.1Mbps.
The real speed for mobile Internet comes from the LTE connection though, which has been promoted to Cat. 4. That means the iPhone 6 Plus is theoretically capable of downloads of up to 150Mbps and uploads of up to 50Mbps. That's an improvement over the Cat. 3 LTE (100Mbps downlink) of the iPhone 5s and as fast as is practical today, carrier support for the faster category is lagging.
Note that Apple has enabled Voice-over-LTE (VoLTE), which includes support for high quality audio in calls with HD Voice. Keep in mind that to use these technologies your carrier must support it and so must the receiving phone.
Local connectivity has grown faster too, the new iPhones support Wi-Fi 802.11ac alongside the traditional a/b/g/n. If you have an Wi-Fi 802.11ac -capable router and a fast home connection you should feel a boost in speed. Apple has also added Wi-Fi calling to the list of chops the new iPhones possess. Of course, availability of the feature is carrier-dependent.
Bluetooth is at version 4.0 with Low Energy support, which is Apple's preferred connection for sports accessories.
The iPhone 6 Plus supports the short-range NFC standard but that's exclusively for use with the new Apple Pay system. It seeks to replace your credit cards with your phone but sharing files locally is still done via the Air Drop system, there's no tap to pair or tap to send functionality (yet).
Wired connectivity brings no surprises, it uses the ubiquitous (on Apple products) Lightning adapter. It's symmetrical so it can be plugged in regardless oforientation. It provides charge to the phone, carries data to a computer, does TV out (with the right adapter) and supports various accessories.
Battery life test
The Apple iPhone 6 Plus has a 2,915mAh Li-Po battery, which stacks up very well against Android competition (for comparison the LG G3 has a 3,000mAh battery). The smaller iPhone 6 has just 1,810mAh in its tank and the previous iPhone 5s has about half of the 6 Plus' capacity.
We mentioned the charging rumors that you can fill up faster with an iPad charger in the unboxing chapter. There's a grain of truth to that, the iPhone 6 Plus does indeed charge about 25% faster on an iPad Air charger but it doesn't use anywhere near the full 2.4A capacity (it draws 1.25A).
The larger battery is a boon for talk time, helping the iPhone 6 Plus rebound from the disappointing time of its smaller sibling. The web browsing test lasted a bit over 9 hours, a solid performance though we've seen better, while the video playback test ran on for 11 hours. The new screen is the perfect resolution to watch FullHD videos but keep in mind we use an SD video for the video battery test.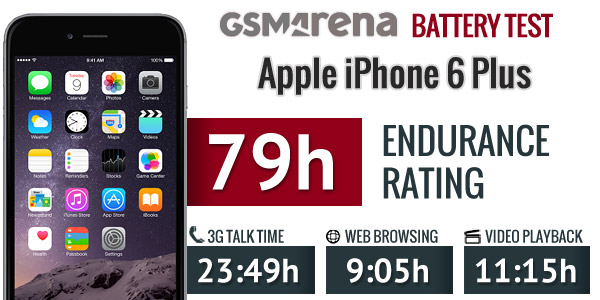 Our proprietary score also includes a standby battery draw test, which is not featured in our battery test scorecard but is calculated in the total endurance rating. Our battery testing procedure is described in detail in case you want to learn more about it.
You can also have a look at our detailed battery life test for the Apple iPhone 6 Plus.
Apple iPhone 6 Plus optimizes the iOS 8 UI for landscape view
The Apple iPhone 6 Plus, just like the iPhone6, runs buttery smooth with iOS 8. Apple knew the bigger screen would require some additional touches on the iOS and that's why the company has redesigned some of its core apps for landscape use. The entire Spring Board is rotatable, while the Safari web browser, the Mail client, the Messages app, the Calendar, Notes, Stocks, even the Settings menu – they all have been given new layouts in order to utilize better the bigger display estate.
Apple iOS 8 looks the same as its predecessor. All of your apps are on the homescreen, folders are available and there is the familiar dock that can take up to four shortcuts. System icons, color themes and transparency – everything is like we left it in iOS 7.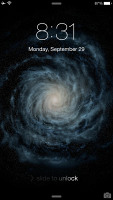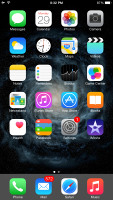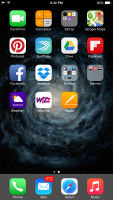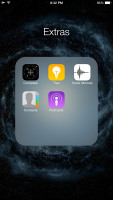 Apple iOS 8 user interface
The lockscreen hasn't changed either – there is a camera shortcut, playback controls are available too if the Music app is active. If you think the lockscreen could use some shortcuts or widgets, your only hope is for Apple to open up the lockscreen to developers too – but that's not on the cards on this release.
There are three different unlock methods for you to choose from. TouchID (via your fingerprint), but there's also the classic 4-digit passcode. If that's too insecure for your taste, you can also opt for a custom passcode. This will bring you a text field where you can enter a virtually limitless security combination.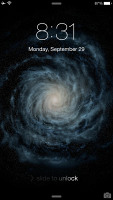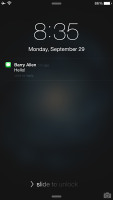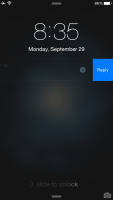 The lockscreen
The iPhone 6 Plus introduces a rotatable homescreen for the first time in iOS. It works pretty much as expected, though it's nice to see Apple finally decided to make this happen.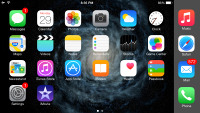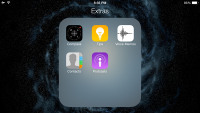 Apple iOS 8 in landscape mode
The Control Center that's pulled up from the bottom of the screen, has been slightly redesigned though it keeps the same layout of toggles, shortcuts and media controls.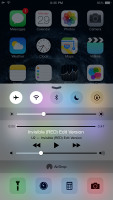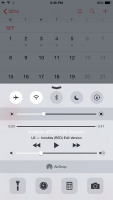 The iOS 8 Control Center
The Notification Center has changed a bit more sine iOS 7. The All and Missed tabs are now gone, replaced by a unified Notification tab. The Today section has been improved and you can jump to its editing options from the bottom of the page.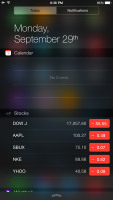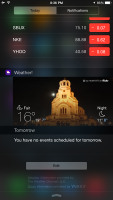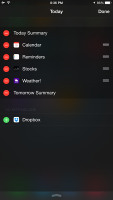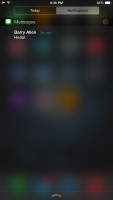 The Notification Center – Today tab • adding widgets • Notifications
The interaction with the pop-up notifications has been improved. Now you can quickly reply right inside the notification banner, discard calendar alarms, mark tasks as complete, comment and like on Facebook, among others.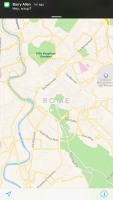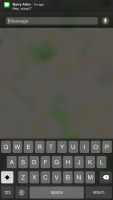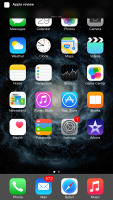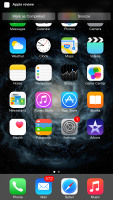 Interacting with popup notifications
While the refined Notification Center might look insignificant, it is among the places expected to make a big difference, in terms of usability. It has been unlocked to developers and various apps already offer interactive widgets. Unfortunately those have a long way ahead before they turn out as useful as Apple had in mind in the first place.
With the new generation of bigger iPhones Apple has implemented an easier way to reach what's on top of your screen, including the status bar for notification access. All you need to do is tap (not click, tap) twice on the Home key and your entire UI will drop down at your fingertips. It isn't pretty, but it works.
This quick access works within all apps opened in portrait mode, too.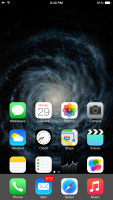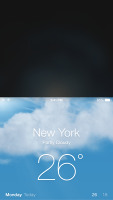 Reachability in action
The task-switcher interface is invoked with a double tap on the Home key. It looks a lot like the webOS cards of old and, more recently, the HTC Sense Task switcher – all apps are presented with cards that you can swipe up to close. Each card has the respective app icon so you can easily recognize what's what.
The Task Switcher got an extra row at the top – a list of your recently contacted Favorites followed by your recent contacts. A tap on a contact here will reveal additional options: call, message.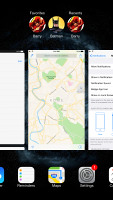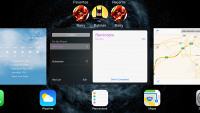 The new Task Switcher
Apple made a big deal of the Spotlight update – the unified search tool now supports smart suggestions. Spotlight is now capable of pulling suggestions from Wikipedia, IMDb, an assortment of news sources, nearby places, App Store and iTunes content, iBooks and more. This is indeed a tremendous usability boost. By the way, suggestions work within the Safari browser too.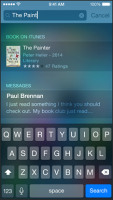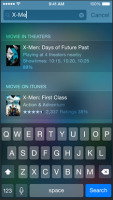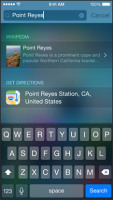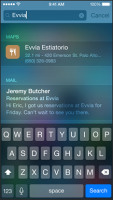 Spotlight suggestions
Another notable improvement over the previous iOS version is enabling developers to add their own sharing options or actions in the iOS contextual menus. For example, if you have an app that sends files over Bluetooth, it can integrate with the iOS contextual menus and there you go – you get standard Bluetooth file sharing in just one click. You can edit the available sharing options and actions in these menus, so they don't get cluttered.
Open In option is available as well – you can redirect any file of unknown format from anywhere to any app you want. For example you open a document within your Dropbox and they you can choose Open In and open (a copy of) the file with an office editor of your choice.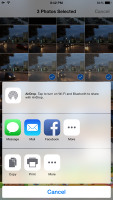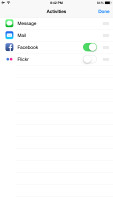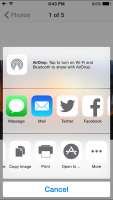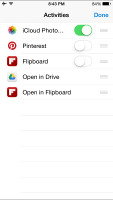 This is where the new sharing and action plugins appear • Open In
Apple has finally added battery usage stats in the Settings menu. There you can find which app drained your battery and how (low signal, background usage, etc.). You get daily and weekly stats.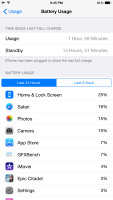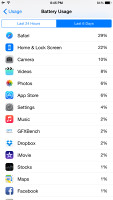 Battery stats
The intelligent voice assistant Siri got better with iOS 8. Its most important new addition is the Shazam integration. There is no need to ask Siri to recognize a song – just open Siri and let it listen – then it will tell you the name of the song and will provide you with an iTunes link. Another new cool option is voice activation. If your iDevice is hooked up on a charger/cable you can summon Siri by saying "Hey, Siri".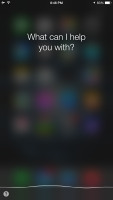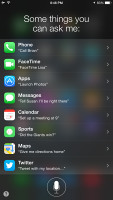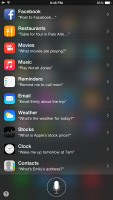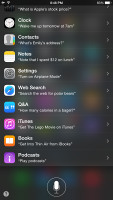 Siri UI
Siri can carry out commands affecting the iOS – it can turn Bluetooth or Wi-Fi on/off, increase brightness, play voicemails, check other people's social network status, play iTunes Radio stations, etc. It is a really powerful voice assistant capable of even POI search. Assistance with restaurant booking is part of Siri's set of skills. It will find you exactly the restaurant you are looking for and filter the results based on user reviews. You can run impressively detailed searches based on food type, location, outdoor, pool, price range, ratings, etc. This feature is not available in every country, though.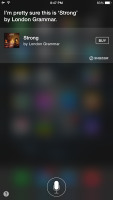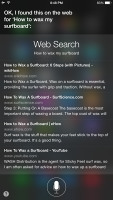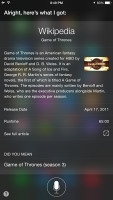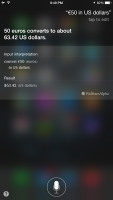 Siri in action
Siri also answer slots of questions and including game scores. History, stats, player bios, player comparison, teams, records, etc. Siri should be able to return most of the info right onto its own screen, without switching over to the browser. The same applies to movies. You will get all of your movie-related answers right inside the Siri window – anything about actors, directors, awards, movie stats, premieres and tickets, reviews, trailers, etc. Siri also comes with Wikipedia integration.
Finally, Siri in iOS 8 can take dictation in 24 new languages, which will spare lots of people some typing on the keyboard.
iOS 8 brings a very familiar user interface and logic of operations with minor improvements towards better customization. We've yet to see how this will turn out once the developers start offering various interactive widgets, sharing options and actions, but the platform should benefit a lot.