This is Apple like we've never seen before. Apple like we never thought we'll see. To begin with, there's supposed to be no better iPhone than the iPhone 6. That's the sort of thing you'd expect of Apple. Come September every year, the world grabs a bag of popcorn and gets ready to watch Apple's bestest iPhone yet come on stage in all its glory.
That's what we did too, minus the popcorn, which by the way would've had nothing to do with the bitter aftertaste the presentation left. And no, we don't mean Apple's live streaming blunder.
Things actually started off nicely with the announcement of the long overdue screen size bump, and we didn't get a cheaper option this time – we were treated to possibly a bigger, better iPhone to go with the best iPhone to date. How Apple – it takes another iPhone to beat the iPhone.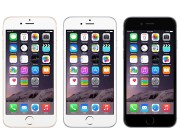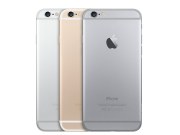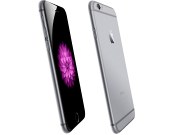 Apple iPhone 6
It felt though like they're telling the audience, you don't have to go to the competition to do better. We never thought we'd see Apple do that – imply that. We missed the usual arrogance if you will. The kind that preached that screens bigger than 4″ are a nonsense. The kind that insists on the retina resolution while the competition is at QHD.
Rounded corners? 8MP camera? NFC? This must be year 2012. Apple's not about cutting-edge hardware, but content and user experience. We've heard enough of that. And hey, it's a valid strategy. But this year even the most loyal iPhone users among us have a feeling they're being fed a feature a year with Apple withholding significant upgrades that would make the iPhone technologically superior, or equal to the flagships of the competition.
If it wasn't for the different looks, we'd say all we got this September is another incremental upgrade, an iPhone 5ss, if you will. And the looks – the phone looks gorgeous but once we picked it up, the slippery curves made us miss the sharp machined chamfered edges. Gone is the premium glass material on the back, replaced by cheap looking antenna strips that can't seem to decide whether they belong to the back or the sides. Oh, and the protruding camera lens – bumper cases will be in high demand again it seems.
Anyway, we're here to see how much better the new iPhone 6 is compared to last year's model and we can start with a look at its key specs. Who knows, we might succumb to its charms.
Key features:
Metal unibody, 6.9mm slim, 129g of weight
LTE connectivity (Cat. 4, 150Mbps downlink)
4.7″ 1,334 x 750px LED-backlit IPS LCD of 326ppi
Apple iOS 8
Dual-core 1.4 GHz Apple A8 chipset, M8 motion co-processor, PowerVR GX6450 GPU, 1GB of RAM
8MP F/2.2 camera with True tone LED flash, phase detection auto focus, 1080p@30fps and @60fps video recording, 720p video recording @120fps and 240fps, 1.2MP F/2.2 front-facing camera with BSI sensor and HDR mode.
Comes in 16, 64, and 128GB of built-in storage
Touch ID fingerprint sensor built into the Home button
New Barometer sensor for tracking elevation
1,810mAh battery
Main disadvantages:
Has unimpressive screen to body ratio (the Nexus 5 fits a 5-inch screen in this size of a body)
No microSD slot
Pricey memory upgrades, 32GB version should be standard for such an expensive phone
No user-replaceable battery
Protruding camera lens makes the phone wobble if you don't have a case on
Camera is still merely 8MP four years in a row (granted, it's getting better every with every new generation)
No 4K video and video sound is still mono
Lacks the optical image stabilization of the iPhone 6 Plus
No enhanced resistance to liquids or dust
NFC functionality limited to Apple Pay
Rather pricey for a flagship (without carrier subsidies) that misses some of the extras of the competition, such as stereo speakers, wireless charging, an infrared port, or FM radio
Feel free to disagree – but the biggest upgrade Apple has delivered in years has left the feature gap wide open – denying them their usual excuse: "We do things our way, we don't care about anyone else's screen size or resolution". And that list goes on to waterproofing, 4K videos, lossless video zoom, OIS, high-res imaging, stereo speakers.
Perhaps we started this review off on the wrong foot, so please forgive us the rant. But the irony in it is that it was Apple's iPhones driving the competition to heap feature upon feature in hope they can steal users from the superior ecosystem and user experience which, we must say, got even better with iOS 8. It now looks like Apple were wrong about screen size. They're in a position to explain why it took them a couple of generations to catch up to the screen size of Android… minis – but still fail to match many of the intriguing features the competition has been offering.
The Apple iPhone 6 is not without its merits. It's just that this year you have to look even harder to spot them. We like how iOS looks and feels on a bigger screen. We love the curvature along the edges of the front glass. The new chipset is more power efficient and yet gets an edge on the 64-bit A7 chip in the iPhone 5s, both in terms of processing power and graphics rendering.



Apple iPhone 6 at HQ
We bet there's plenty more to discover as we put the iPhone 6 through its paces in our usual review routine. Stick around to see whether this fellow will be able to turn things in its favor. It will be a tough battle, but we're more than willing to give it a fighting chance.
iPhone 6 retail package
The iPhone 6 comes in a box that's not much different from what we're used to. Perhaps the only change is that there is no longer a real image of the phone printed on the box, but an outline instead. The box is always white no matter which color version you go for.
The box contents are the same as before as well – there is the Apple's USB cable with a Lightning connector, an AC adapter, and the Apple EarPods headset with volume controls and microphone in their separate box. There is a SIM eject tool as well. Inside we also found a quick user manual and a couple of Apple fan stickers.



Apple iPhone 6 retail box
The bundled charger is a regular 1A unit, but we've heard reports that unlike the last year's iPhone, the iPhone 6 would actually charge faster if you hook it to a 2+A charger like the one supplied with the Apple iPads. Our test showed a 25% increase in the current when the iPhone was hooked to a 2.4A iPad Air charger so we'd say these reports are somewhat exaggerated.
Apple iPhone 6 360-degree spin
Having in mind that the screen size has increased, the iPhone 6 is understandably bigger than the iPhone 5s. It's also heavier at 129g (as opposed to 112g), but it's almost a millimeter slimmer at 6.9mm.
If you ask us, even the last two iPhones were already slimmer than the regular user's needs. Perhaps, as the reports of a "bend gate" keep coming in, it's perhaps too thin for its own good.
Easily bendable or not, we would pick a beefier battery over an ultra thin profile any day. We can only imagine the extra battery capacity we could have enjoyed had the iPhone 6 had just a single millimeter of extra thickness.
Design and handling
At 4.7 inches, the iPhone 6 is more comparable size-wise to the Android minis rather than the competing flagships, which it will have to battle for the public affection.
Its screen-to-body ratio is nothing to write home about either although the side bezels are relatively unobtrusive. Still, with the Nexus 5, LG has managed to fit a good 5-inch screen inside a similarly-sized body frame, while Samsung's Galaxy Alpha fits a 4.7-inch screen within a smaller (and even thinner!) body.





Apple iPhone 6 compared to LG Nexus 5 (left) and the Samsung Galaxy Alpha (right)
If cheaper smartphones can do it, we think the most expensive smartphone on the market should be able to offer more impressive screen-to-body ratio.
That said, Apple indeed offers a class leading build quality. There are hardly any flaws in the unibody construction. All parts fit perfectly and in usual Apple style, everything feels the part.
The changes to the last year's model are numerous and are visible from a distance. Gone are the glass panels on the back and plastic trimmings line the top and bottom. These are needed so the internal antennas can pick up signal through the metal back. The strips are all plastic, and look it, honestly are our least favorite part of this year's redesign. They feel cheap and are nowhere near as classy as last year's glass finish.
The rounded edges are probably the most prominent new design change and although appreciating them is strictly a matter of personal taste, we think they make the phone rather slippery, even more so when you are stretching your thumb across the larger screen diagonal.





Apple iPhone 6 • the iPhone 6 compared to the iPhone 5S (the iPhone 6 Plus easy to spot as well)
The front is covered with a scratch-resistant glass (the strongest one in the industry, Apple claims), but we already managed to inflict a small scratch on ours during our tests (no dropping involved).
The edges thereof are bent (in a good way) – an effect which is more clearly perceivable on the version with a black front. In either case, swiping gestures across the screen feel great with the curved corners and we very much enjoy this design decision (although for the record, it's not an Apple's first).
Handling the iPhone 6 is an altogether new feeling and thanks mainly to the rounded edges, it feels completely different to last year's iPhone. The size is just about right and thanks to the rounded corners, it feels quite slimmer than what the 0.7mm difference to the iPhone 5S profile suggests.



Handling the iPhone 6
Most of the front is taken up by the 4.7″ display, with a resolution of 750 x 1334 pixels. Compared to the 640 x 1136 pixels on the iPhone 5S the jump in resolution is not a lot but it's enough to work out to a pixel density of 326ppi sharp – the same as last season's.
The display is of the LED-backlit IPS LCD variety, but more on that in the dedicated chapter.
The layout on the front is the same as on the iPhone 5s. The Home key below the screen doubles as a TouchID sensor and above the screen there is the earpiece and the usual array of sensors – proximity and ambient light, as well as the front camera.



iPhone 6 up front
The 1.2MP front facer hasn't seen an increase in resolution, but has a wider F/2.2 aperture (up from F/2.4) and can make use of the Auto HDR feature not just for photos but for videos as well. The camera has also moved to the left side of the earpiece instead of being placed dead center.
The Home button hides the Touch ID fingerprint sensor. It can store up to several authorized fingerprints and reportedly has even faster operation than the iPhone 5s thanks to a wider scanning area and iOS 8 optimizations but we noticed no difference in actual usage. Reports suggest it's slightly harder to fool with a fake fingerprint than the 5s, but is in no way hack-proof.
On the iPhone 6, a double tap on the sensor (as opposed to a double press on the button) activates the Reachability mode, which scales the interface down so it's easier to reach across in single-hand use. The iPhone 5S doesn't have that functionality.




Above and under the screen • the Touch ID sensor
On the left, you get the usual three buttons: volume up, volume down and a Mute toggle. The toggle is protruding more than before and seems a bit easier to switch accidentally now, but we guess they made it this way to be comfortably usable with a case on.



The left side of the iPhone 6
The top of the iPhone 6 is bare as opposed to the iPhone 5s. The reason is that the power key has been relocated to right side on this taller device – and that's the right thing to do. The button placement is quite convenient. Next to it on the right is the nanoSIM tray.





The top side power button
The bottom is busier, featuring the Lightning port in the center, the 3.5mm headphone jack to the left along with the main microphone and a single speaker under a micro-drilled holes that form the grille.
The benefit of the Lightning jack compared to regular microUSB is that it can be inserted either face up or down into the iPhone 6.



The lightning connector at the bottom and the 3.5mm audio jack
Finally, we come to the back of the iPhone 6. The protruding camera lens is certainly an eye sore and it makes the phone wobble when put on a flat surface.
The camera on the iPhone 6 is still 8MP – some four years and four different models in a row. But under the hood it's a new camera altogether. There is a new sensor with built in phase detection auto focus (Focus pixels, as per Apple PR talk), the camera shoots faster, focuses faster and has an even better digital video stabilization. There is also new high speed video modes in 120fps and 240fps, but still no 4K video.
It is certainly the best 8MP camera from Apple to date, but we are not sure that alone qualifies as the major upgrade Apple pretends it to be. It's like they are withholding the higher resolution camera and the 4K video recording just so they have a proper new feature to promote on the iPhone 6s.
Next to the camera lens is the dual color LED flash, similar to the one on the last year's iPhone, but it's a perfect circle instead of an oval shape. The flash, dubbed True tone by Apple marketing, features one white and one amber-colored LED. It is quite a successful concept, where the phone can dynamically mix the two colors of light in varying proportions, allowing it to match the ambient light and thus achieve more realistic photos.





The protruding camera lens and the True tone LED flash
Display
Apple has increased the resolution on the iPhone 6 just enough so is keeps the pixel density at 326 ppi. The screen is again a spectacular IPS LED-backlit LCD, but this time the resolution is 750 x 1334 pixels as opposed to last year's 640 x 1136 px resolution.
While we are as happy as a puppy about finally getting to enjoy iOS on a bigger screen, we can't but frown upon on the excessive bezels top and bottom of the screen. With the Galaxy Alpha, Samsung has managed to fit a 4.7-inch screen into a device smaller than the iPhone 6, while the Nexus 5 fits a 5-inch screen within a body frame as big. This alone should tell you that Apple is not challenging itself enough with creating a smaller footprint for the iPhone and has rather wasted effort into making it thinner to no one's benefit (except perhaps PR).



Compared to iPhone 5s, iPhone 6 Plus
Here's the iPhone 6 display matrix shot from up close with our digital microscope. It's a regular LCD matrix with equal number of red, green and blue pixels.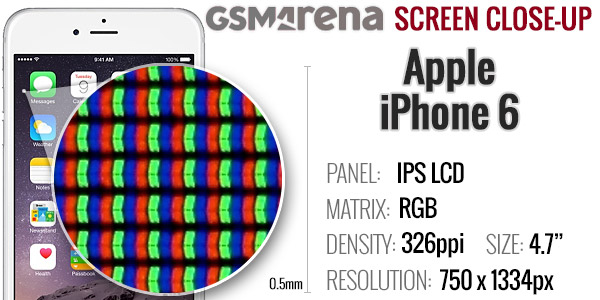 The screen of the iPhone 6 has different properties than the one on the iPhone 5s. For one, the blacks on the iPhone 6 are not as deep as on the 5s, but the display is brighter so the new iPhone's screen contrast ratio ended up in the same ballpark.
Display test
50% brightness
100% brightness
Black, cd/m2
White, cd/m2
Contrast ratio
Black, cd/m2
White, cd/m2
Contrast ratio
Apple iPhone 6
0.17
207
1230
0.61
740
1213
Sony Xperia Z3 Compact
–
–
–
0.77
725
942
Apple iPhone 5s
0.14
163
1145
0.49
596
1219
LG Nexus 5
0.31
298
948
0.54
526
967
Samsung Galaxy Alpha
0
228
∞
0
456
∞
Samsung Galaxy S5
0
274
∞
0
529
∞
HTC One (M8)
0.2
245
1219
0.46
577
1256
As far as sunlight legibility is concerned, the higher brightness of the iPhone 6 allows it score better than its predecessor, the 5s, but it's still falls short of the contrast ratio the iPhone 5 achieved under direct sunlight. However the contrast in direct sunlight remains excellent in all three cases.
Sunlight contrast ratio
Sort by Label
Sort by Value
Expand
Nokia 808 PureView

4.698

Apple iPhone 5

3.997

Samsung Galaxy Note 3

3.997

Apple iPhone 6

3.838

Samsung Galaxy K zoom

3.675

Nokia Lumia 930

3.567

Apple iPhone 5s

3.565

Samsung Galaxy S5

3.549

Alcatel Idol X+

3.527

Samsung Galaxy mini 2

1.114
You can find more information on our various display tests here.
Battery life test
The iPhone 6 is equipped with a non-removable Li-Po 1810mAh battery, which is only about 15% bigger than the one of the iPhone 5s. The pixel count on the iPhone 6 is almost 40% higher than the 5s so just by looking at these numbers we guessed that battery life with the screen on won't be as hot. But we turned out wrong.
The standby endurance wasn't that good but it wasn't any better on the iPhone 5s when we last tested it. The manufacturer rates the iPhone 6 batteries for up to 250h of standby but our unit only lasted about 160h. The iPhone 5s lasted way less.
The iPhone 6 scored 9:24h in our own video playback test (10:31h for the iPhone 5s) and 10:29h in our Wi-Fi web browsing test (9:58 h for the iPhone 5s). These are respectable numbers on their own and as you'd see quite similar to the iPhone 5s.
UPDATE: After resetting the iPhone 6 we decided to run a new call test and see what's what. The result turned out to be a better 12 and a half hours, besting the mediocre 8:11 hours and more in line with the 14h stated by Apple themselves.
Our overall endurance rating for the iPhone 6 is 61h, which is how long the battery should last you if you use the phone for an hour of calling, an hour of video playback and an hour of web browsing each daily. In comparison, the iPhone 5s scored 54h, the iPhone 5 – 51h, while the Samsung Galaxy Alpha managed about 52h.
The result is by all means not breath-taking, but it's impressive that it managed to score a better battery rating than the iPhone 5s given the modes battery upgrade and the much bigger screen, which certainly draws more power.
Our battery testing procedure is described in detail in case you want to learn more about it.
You can see our detailed battery life test of the Apple iPhone 6 here.
Connectivity
The Apple iPhone 6 comes with a bunch of wireless connectivity features. It supports LTE Cat. 4 (up to 150Mpbs down, 50Mbps up) and even though competing smartphones support up to 300Mbps down we won't hold it against it. Regular 2G and 3G connectivity is all safely covered with a multitude of supported network bands.
The iPhone 6 also supports the latest Voice over LTE (VoLTE), HD Voice and Wi-Fi calling protocols, but those are carrier dependent features so not everyone will enjoy them.
Compared to the iPhone 5s, the iPhone 6 now has an upgraded Wi-Fi functionality – it supports all the current Wi-Fi a/b/g/n/ac standards. AirPlay is the only way to wirelessly cast your screen's contents to an HDTV, but you'd need to have an Apple TV for that.
Additional local connectivity includes Bluetooth 4.0 LE. There is also support for NFC, but its functionality is only limited to Apple's newly introduced and regionally-restricted payment system that's called Apple Pay.
The iPhone 6 uses a proprietary Lightning connector for wired data transfers and charging.
There is no support for USB On-the-go or USB host but your can pair a Bluetooth keyboard to the phone should you need this sort of peripheral.
Apple iPhone 6 runs on latest iOS 8
The Apple iPhone 6 runs buttery smooth with iOS 8. The user interface of iOS 8 is where Apple sufficed with just a few finishing touches but backed up with many new services. Having gone through a complete overhaul last year, there wasn't much to change at the iOS looks.
Apple iOS 8 looks the same as its predecessor. All of your apps are on the homescreen, folders are available and there is the familiar dock that can take up to four shortcuts. System icons, color themes and transparency – everything is like we left it in iOS 7.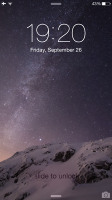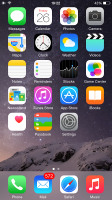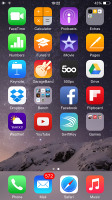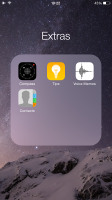 Apple iOS 8 user interface
The lockscreen hasn't changed either – there is a camera shortcut, playback controls are available too if the Music app is active. If you think the lockscreen could use some shortcuts or widgets, your only hope is for Apple to open up the lockscreen to developers too – but that's not on the cards on this release.
There are three different unlock methods for you to choose from. TouchID (via your fingerprint), but there's also the classic 4-digit passcode. If that's too insecure for your taste, you can also opt for a custom passcode. This will bring you a text field where you can enter a virtually limitless security combination.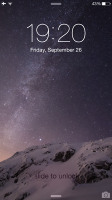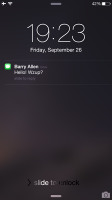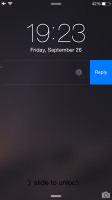 The lockscreen
The Control Center that's pulled up from the bottom of the screen, has been slightly redesigned though it keeps the same layout of toggles, shortcuts and media controls.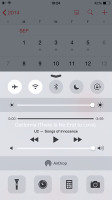 The iOS 8 Control Center
The Notification Center has changed a bit more. The All and Missed tabs are now gone, replaced by a unified Notification tab. The Today section has been improved and you can jump to its editing options from the bottom of the page.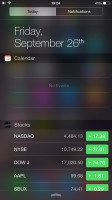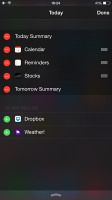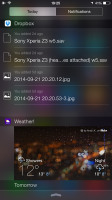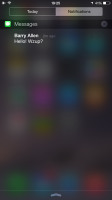 The Notification Center – Today tab • adding widgets • Notifications
The interaction with the pop-up notifications has been improved. Now you can quickly reply right inside the notification banner, discard calendar alarms, mark tasks as complete, comment and like on Facebook, among others.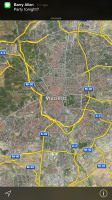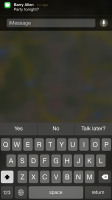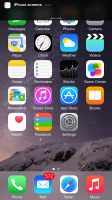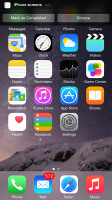 Interacting with popup notifications
While the refined Notification Center might look insignificant, it is among the places expected to make a big difference, in terms of usability. It has been unlocked to developers and various apps already offer interactive widgets. Unfortunately those have a long way ahead before they turn out as useful as Apple had in mind in the first place.
With the new generation of bigger iPhones Apple has implemented an easier way to reach what's on top of your screen, including the status bar for notification access. All you need to do is tap (not click, tap) twice on the Home key and your entire UI will drop down at your fingertips. It isn't pretty, but it works.
This quick access works within all apps opened in portrait mode, too.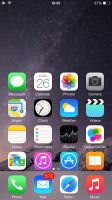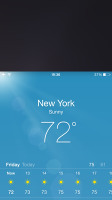 Reachability in action
The task-switcher interface is invoked with a double tap on the Home key. It looks a lot like the webOS cards of old and, more recently, the HTC Sense Task switcher – all apps are presented with cards that you can swipe up to close. Each card has the respective app icon so you can easily recognize what's what.
The Task Switcher got an extra row at the top – a list of your recently contacted Favorites followed by your recent contacts. A tap on a contact here will reveal additional options: call, message.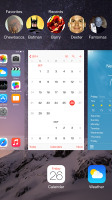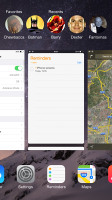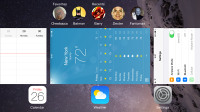 The new Task Switcher
Apple made a big deal of the Spotlight update – the unified search tool now supports smart suggestions. Spotlight is now capable of pulling suggestions from Wikipedia, IMDb, an assortment of news sources, nearby places, App Store and iTunes content, iBooks and more. This is indeed a tremendous usability boost. By the way, suggestions work within the Safari browser too.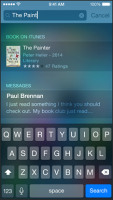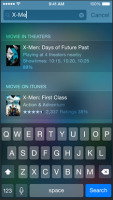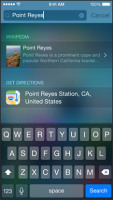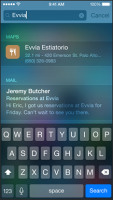 Spotlight suggestions
Another notable improvement over the previous iOS version is enabling developers to add their own sharing options or actions in the iOS contextual menus. For example, if you have an app that sends files over Bluetooth, it can integrate with the iOS contextual menus and there you go – you get standard Bluetooth file sharing in just one click. You can edit the available sharing options and actions in these menus, so they don't get cluttered.
Open With option is available as well – you can redirect any file of unknown format from anywhere to any app you want. For example you open a document within your Dropbox and they you can choose Open With and open (a copy of) the file with an office editor of your choice.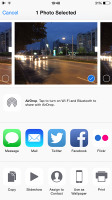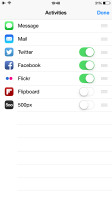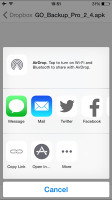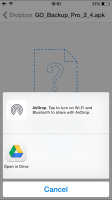 This is where the new sharing and action plugins appear • Open With
Apple has finally added battery usage stats in the Settings menu. There you can find which app drained your battery and how (low signal, background usage, etc.). You get daily and weekly stats.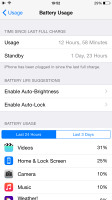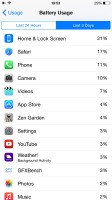 Battery stats
The intelligent voice assistant Siri got better with iOS 8. Its most important new addition is the Shazam integration. There is no need to ask Siri to recognize a song – just open Siri and let it listen – then it will tell you the name of the song and will provide you with an iTunes link. Another new cool option is voice activation. If your iDevice is hooked up on a charger/cable you can summon Siri by saying "Hey, Siri".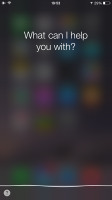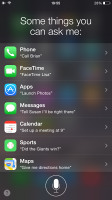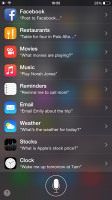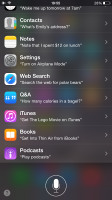 Siri UI
Siri can carry out commands affecting the iOS – it can turn Bluetooth or Wi-Fi on/off, increase brightness, play voicemails, check other people's social network status, play iTunes Radio stations, etc. It is a really powerful voice assistant capable of even POI search. Assistance with restaurant booking is part of Siri's set of skills. It will find you exactly the restaurant you are looking for and filter the results based on user reviews. You can run impressively detailed searches based on food type, location, outdoor, pool, price range, ratings, etc. This feature is not available in every country, though.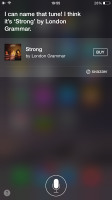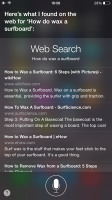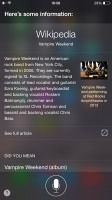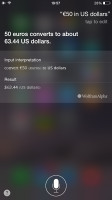 Siri in action
Siri also answer slots of questions and including game scores. History, stats, player bios, player comparison, teams, records, etc. Siri should be able to return most of the info right onto its own screen, without switching over to the browser. The same applies to movies. You will get all of your movie-related answers right inside the Siri window – anything about actors, directors, awards, movie stats, premieres and tickets, reviews, trailers, etc. Siri also comes with Wikipedia integration.
Finally, Siri in iOS 8 can take dictation in 24 new languages, which will spare lots of people some typing on the keyboard.
iOS 8 brings a very familiar user interface and logic of operations with minor improvements towards better customization. We've yet to see how this will turn out once the developers start offering various interactive widgets, sharing options and actions, but the platform should benefit a lot.