Introduction
3D Touch or curved Edge screen? Metal or glass? LCD or AMOLED? iOS or Android? Speed and silky-smooth response or heavy-duty multitasking? These are the questions and no one's got better answers than you. And if the answers consistently put you on this or that side of the line, you know all there is to know.
Yet, Apple or Samsung? Having looked at each in depth, we know for sure that the side-by-side comparison will be even more exciting. No lengthy introductions needed, get ready for the spectacle.
Even though it looks exactly like the one from last year, the Apple iPhone 6s Plus is a massive upgrade on the inside. It's powered by a blazing fast A9 chip and delivers a long overdue camera upgrade on both sides. The pressure-aware display tech, faster Touch ID, and a tougher aluminum chassis complete their season's tally.
Samsung on the other hand, had a 6-month old device that wasn't in desperate need of an upgrade. That's what you'd think though while Samsung knew a phablet was due in time for Apple's big release this year.
The new S6 edge+ just got a bigger screen compared to the S6 edge – 5.7 inches of curved Quad HD AMOLED, and kept the hardware package intact: an Exynos 7420 powerhouse, a great 16MP camera, a plethora of sensors and superb design.
Apple iPhone 6s Plus over Galaxy S6 edge+:
More powerful GPU
Pressure-aware 3D Touch display
Live Photos functionality
Higher resolution slo-mo video: 1080p@120fps
128GB version
Faster fingerprint sensor
Dual-LED flash vs. single LED
Samsung Galaxy S6 edge+ over Apple iPhone 6s Plus:
Bigger, sharper and curved display – 5.7″ QHD vs. 5.5″ 1080p
Higher resolution still camera – 16MP vs. 12MP
Stereo sound in video recording
General-purpose NFC connectivity
Heart rate and oxygen saturation sensors
Slightly higher battery capacity
Wireless charging support
Faster LTE category
Optional dual-SIM
USB Host support
So, Samsung or Apple? In the coming pages, this big question will be stripped of all intangible forces at play such as brand loyalty and investment in the ecosystem – and will boil down to the physical experience and aesthetic perception of metal, glass, screen and camera resolution, interface and design.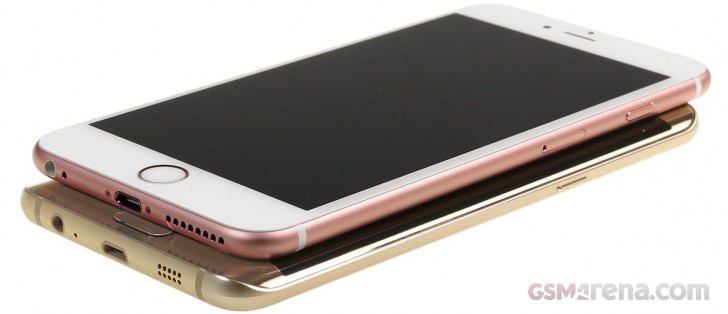 We have a couple of fine phablets fully prepared for action. Two of the finest smartphones and cameraphones one can get if price is of no object. Let's get to it, shall we?
Hardware comparison
The iPhone 6s Plus is as big as the Galaxy S6 edge+. The Samsung's flagship is thinner and comes with a bigger display. This means the iPhone 6S plus has bezel where the S6 edge+ has screen. The size comparison is clearly not in the iPhone's favor.
And there is more bad news. The iPhone 6s Plus has gained some extra weight at 192g, which makes it 40g heavier than the Galaxy S6 edge+. The extra layer of screen pressure sensors not only took a toll on the battery capacity but probably accounts for much of the added weight.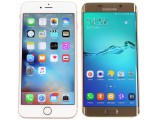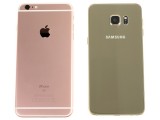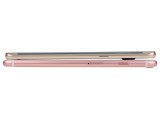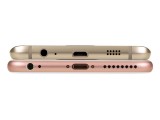 Apple iPhone 6s Plus next to the Samsung Galaxy S6 edge+
The Apple iPhone 6s Plus has a familiar design, though its chassis is made of higher-grade Aluminum Series 7000, the same used on the Apple Watch. Even a year later though, most of the people find the subtly curved metal unibody quite attractive. It's just the plastic strips covering the antennas that spoil the excellent impression. But you can have it in rose gold now.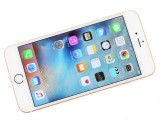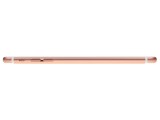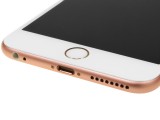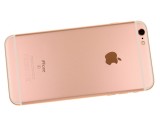 The Apple iPhone 6s Plus
The Galaxy S6 edge+ design isn't fresh off the board either. It's been around for about half a year courtesy of the original Galaxy S6 edge. The curved display is great, the metal frame beautifully connects the rear glass with the front. There are no strips or interruptions of the seamless design.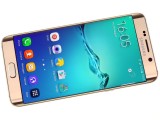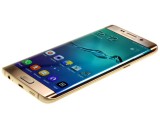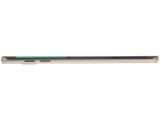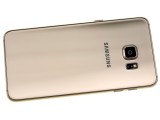 The Samsung Galaxy S6 edge+
Samsung hasn't yet jumped the rose/pink bandwagon and is sticking to its recent paintjobs, which still look great on the edge devices.
The control set of both devices is kept to minimum – both iPhone 6s Plus and the Galaxy S6 edge+ offer discreet home keys, which double as fingerprint scanners. The second generation Touch ID is blazing fast compared to its predecessor, while the Galaxy edge+ is just a hair behind though its shape isn't as comfy.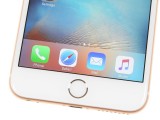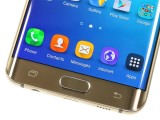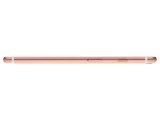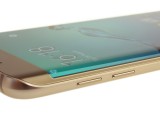 The controls on the iPhone 6s Plus and the Galaxy S6 edge+
Both flagships are big and single-handed operations are almost no-go. Samsung has a lot to offer with the Multi-Window feature running two apps side by side, while Apple's only improvement is the double tap on home to bring the status bar closer.
Let's take a closer look now. The front of the iPhone 6s Plus features a new 5MP f/2.2 selfie snapper and the option to use the screen as a selfie flash. The S6 edge+ also comes with an even wider 5MP f/1.9 camera, which often produces better pictures.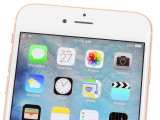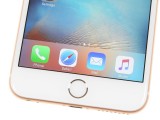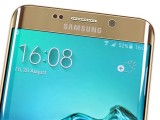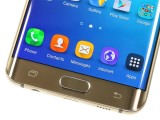 Apple iPhone 6s Plus vs Samsung Galaxy S6 edge+
Flipping both phones around reveals the main camera sensors. Here Samsung's offer has a huge advantage specs-wise – its 16MP Sony IMX240 sensor is much better than the 12MP Apple put on the iPhone 6s duo. It has much wider lens, more pixels and overall produces better pictures. Apple has an edge with the dual-LED true-tone flash though vs. a single-LED one on the S6 edge+.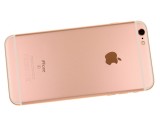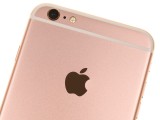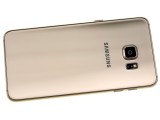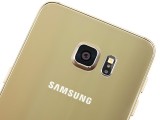 The rear cameras
Taking a peek at the bottom of both models reveal a rather similar arrangement. The iPhone 6s Plus has a proprietary Lightning port, which might be more comfortable because of its reversible nature, but we'd prefer the Galaxy S6 edge+ microUSB standard connector because of its wider compatibility with accessories.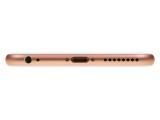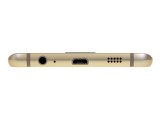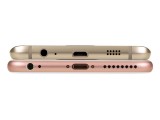 The bottom of the iPhone and the Galaxy
And finally, handling those two gems is a real pleasure, but the iPhone 6s Plus is quite slippery without a case on and this compromises the day-to-day handling. The Galaxy S6 edge+ isn't much better, but its metal frame provides for a more secure grip.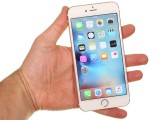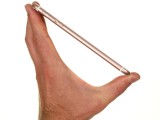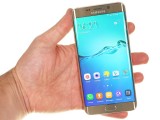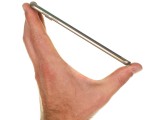 Handling the iPhone 6s Plus and the Galaxy S6 edge+
Winner: Samsung Galaxy S6 edge+. The Galaxy S6 edge+ looks are fresher and more innovative than the year-old iPhone 6s Plus design and it's definitely the eye catcher of the two. Add to that the fact it has fitted a bigger screen in the same footprint and the fact it's 40g lighter and you get the picture.
Sure, the iPhone 6s Plus looks and feels premium, as it should, but it's not as premium as a Galaxy S6 edge, not this year at least.
Displays
Apple iPhone 6s Plus has an extra layer of pressure-aware sensors but other than that, the screen is the same as last year's – a 5.5″ 1080p IPS panel of 401ppi density and an RGB matrix. Specs only tell you as much though as we can testify that when viewed at a steep angle the screen is noticeably better than last year's iPhone 6 Plus.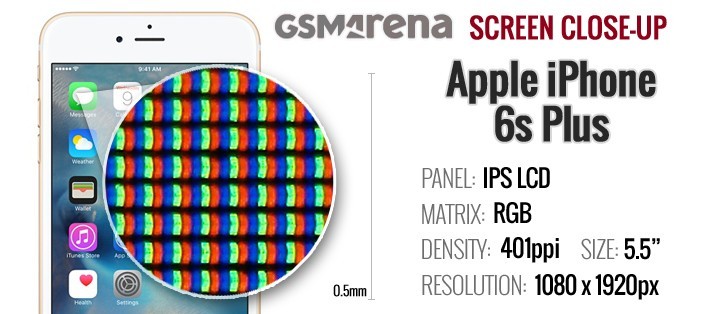 Samsung Galaxy S6 edge+ brings a bigger 5.7″ Super AMOLED display of Quad HD resolution. The pixel density is lower than the original edge model at 518ppi, but it's still a lot higher than the one on the iPhone 6s Plus.
Colors are a matter of taste and Samsung gives you an option of multiple screen modes that adjust both saturation and the white balance. The contrast ratio is exceptional due to the deep blacks. Samsung has maintained their partnership with Corning (those two have a joint venture) and uses Gorilla Glass 4 on both sides.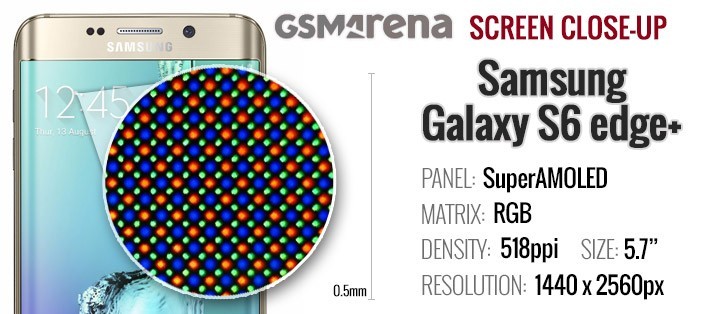 While the Super AMOLED screen has the deepest blacks possible, the iPhone 6s Plus measurements are show its LCD unit is spectacular for an LCD too. It also has higher maximum brightness than the S6 edge+, though the maximum auto brightness (usually used under bright sunlight) of the Samsung's flagship can go as high as the iPhone's screen.
The AMOLED contrast is absolutely great, but the iPhone 6s Plus IPS display offers one of the best contrast ratios in its class.
So, when it comes to these numbers, the iPhone is often brighter, while the S6 edge+ has an edge in displaying the blacks and the overall contrast.
Display test
50% brightness
100% brightness
Black, cd/m2
White, cd/m2
Contrast ratio
Black, cd/m2
White, cd/m2
Contrast ratio
Apple iPhone 6s Plus
0.10
150
1563
0.43
590
1382
Apple iPhone 6 Plus
0.17
208
1197
0.52
705
1361
Apple iPhone 6s
0.10
148
1542
0.36
536
1481
Samsung Galaxy S6
0
208
∞
0
363
∞
Samsung Galaxy S6 max auto
–
–
∞
0
619
∞
Samsung Galaxy S6 edge+
0.00
172
∞
–
410
∞
Samsung Galaxy S6 edge+ max auto
–
–
–
–
540
–
LG G4
0.09
108
1240
0.43
532
1238
HTC One M9
0.15
175
1180
0.44
534
1221
Sony Xperia Z5 compact
0.10
106
1060
0.65
680
1053
Maximum brightness is usually only used in broad daylight and it turns out the Galaxy S6 edge+ doesn't need all that brightness. In our sunlight legibility test it showed an impressive result, the second-best we've seen to date.
The Apple iPhone 6s Plus is still among the best performers we've seen, a lot better than its predecessor and it will serve you great even in the brightest of days.
Sunlight contrast ratio
Sort by Label
Sort by Value
Expand
Nokia 808 PureView

4.698

Samsung Galaxy S6 edge+

4.615

Samsung Galaxy E7

4.485

Samsung Galaxy A3

4.241

Samsung Galaxy S6 edge

4.124

Samsung Galaxy S6

4.124

Samsung Galaxy Note5

4.09

Apple iPhone 6s Plus

3.53

Samsung Galaxy mini 2

1.114
Winner: Samsung Galaxy S6 edge+. We wish there was more than a clash of screen specs but it's not – the S6 edge+ has a bigger display, with higher resolution and higher pixel density. Its contrast and sunlight legibility are better, too. And we really appreciate the flexibility of having different display modes, which Apple doesn't offer.
Apple's 1080p display is nothing short of top notch, with one of the best contrast ratio and sunlight performances in the class, it's just not as good as a Quad HD AMOLED display by Samsung.
Connectivity
With 2G and 3G connectivity practically maxed out on both devices, it's the LTE that matters. The Galaxy S6 edge+ maxes out the LTE with Cat.9 support with up to 450Mbps downlink. The iPhone 6s Plus offers LTE Cat.6 with download speeds up to 300Mbps. The iPhone 6s models cover a lot more LTE bands worldwide than the Galaxy S6 edge+ though.
The Apple iPhone 6s Plus also supports HD Voice as well as Voice-over-LTE (VoLTE). There's HD Voice support on the Galaxy S6 edge+ as well, but for both handsets you'll need carrier support for the feature to work.
Both devices also support Wi-Fi calling (aka UMA), which can use a Wi-Fi connection to place voice calls. You need carrier support for this to work and a generous carrier will let you use any Wi-Fi hotspot, no matter which country you are in (great for calling home from abroad).
In terms of local connectivity, both devices can use the latest Wi-Fi 802.11ac standard, if you have the router for it. Otherwise it's dual-band a/b/g/n. The Galaxy S6 edge+ supports Wi-Fi Direct (and Samsung's similar alternative) for sending files between devices, while Apple uses its proprietary Air Drop system to exchange files between Apple devices (quite limiting indeed).
For Bluetooth both the iPhone and the Galaxy supports the latest v4.2 standard, and both support the Low Energy mode. That mode is used for wearables – smartwatches, sport bands, etc. – but the Samsung Galaxy S6 edge+ also offers ANT+ for wider support of third-party sports accessories.
The other important wireless standard is NFC, which enjoys full support on Android, while Apple only piggybacks it for its Apple Pay system and nothing else.
Wired connectivity is handled by USB 2.0 but with different connectors. Samsung uses a standard microUSB 2.0 port with MHL support, while Apple sticks to its proprietary Lightning adapter (which is more user-friendly as it's reversible).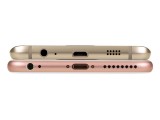 The ports are different
Both ports can be connected to an HDMI cable via an adapter, though Lightning seems limited to 1080p, while MHL will get out full UHD TV resolution. How else are you going to watch those 2160p videos you shot? Well, wireless Miracast is an option, which works with Smart TVs, Chromecast (and similar) sticks and the new Android TV. The iPhone 6s Plus can do wireless screen mirroring too, but only if you have an Apple TV hooked to your HDTV.
Winner: Samsung Galaxy S6 edge+. Several small wins secure the victory: the 450Mbps LTE option (if your carrier even supports it), full NFC, 2160p video over MHL, ANT+. You can dismiss each individually as something you won't use, but things pile up.
The Apple iPhone 6s Plus covers pretty much every LTE band you will ever need plus CDMA, so if you are a worldwide traveler then it's definitely the right choice.
Software overview
Interface
Apple iOS and Android used to be very different beasts but over the years they have borrowed from each other and from other OSes so much that they function in more or less the same way. Of course, iOS is purely an Apple creation, while the OS that runs on the Galaxy S6 edge+ is heavily influenced by Samsung but primarily developed by Google.
As of the time of writing this, the Galaxy S6 edge+ runs Android 5.1.1 Lollipop dressed with the latest TouchWiz on top. The iPhone 6s Plus launched with iOS 9 and you can already download v9.0.2. This is the advantage of Apple developing software for Apple devices – updates are lightning-fast.
The two devices start in pretty much the same place – a lockscreen with time and date, plus a camera shortcut. The latest iOS and Android allows for push notifications on the lockscreen.
Simple unlock methods can be used but what both companies will have you use is the fingerprint reader. It's a fairly secure way to lock your device, that's actually quicker than the various PIN and pattern locks. The iPhone's new Touch ID is a bit faster and more comfortable.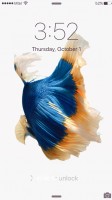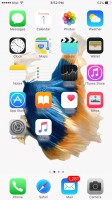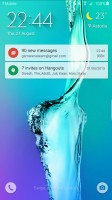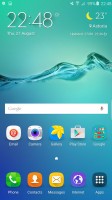 Apple iPhone 6s Plus lockscreen and homescreen • Galaxy S6 edge + lockscreen and homescreen
Samsung does offer a cool extra feature here called Private mode. It hides a folder where you can stash sensitive files, and the folder can only be accessed with your fingerprint.
Samsung also offers Smart Lock, which disables the secure locking options when a trusted device is connected (Bluetooth smartwatch or car stereo or an NFC sticker) or when the phone is in a trusted location. Unfortunately, that's determined by geo-positioning only, you can't add a trusted Wi-Fi network.
Samsung Galaxy S6 edge+ supports themes unlike the vanilla iOS. Themes can change the wallpaper and icons, core apps such as dialer, contacts, and messages, as well as the notification area.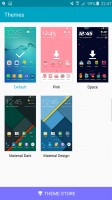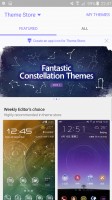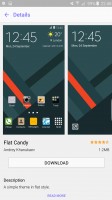 Theme support
The two platforms differ in where the widgets go – Android puts them on the homescreen, while iOS stuffs them in the notification area. Apple supports landscape view on the iPhone 6s Plus, while the Galaxy S6 edge+ keeps its homescreen portrait-only.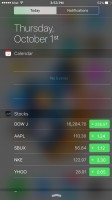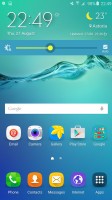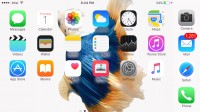 Widgets on the iPhone and the Galaxy • landscape is available for the iPhone
Samsung has enriched the homescreen with a Flipboard-powered My Magazine screen called Briefing, where you get both news and social networking updates. Apple on the other hand only has their News app, but it's only available in the States for now.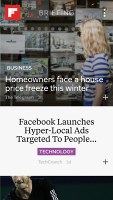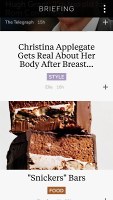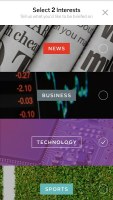 Briefing
Samsung's notification area may not have widgets, but it's still pretty busy. There's a scrollable row of quick toggles (which can be rearranged), followed by a brightness slider (which can be hidden), two buttons and only then the actual notifications.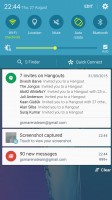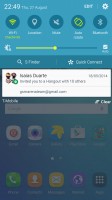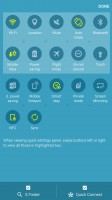 Samsung's notification area
Apple has placed its quick toggles in a different slide-out menu, one which is pulled from the bottom. The so-called Control Center has four shortcuts too, but it's not customizable like on TouchWiz. Third party apps appear on the Share with and Open with lists.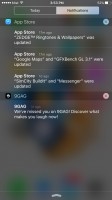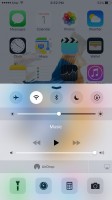 Apple's Notification and Control centers
One cool thing that Apple did for notifications is that they appear on the top row of the screen and you can tap them for a short interaction. The currently active app stays in place so you get back to it instantaneously.
Multitasking
Samsung has a more PC-like approach to multitasking with the Multi-Window feature. It splits the sizeable Galaxy S6 edge+ screen in half so two apps can be used at the same time – there are certainly enough pixels and CPU power for that.
An alternative approach is the Pop-up screen, which puts apps in a movable, floating window so you can drag and drop content from one to the other.
Both multi-view and pop-up screen are activated from the App Switcher interface.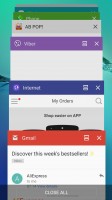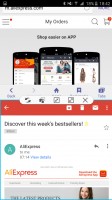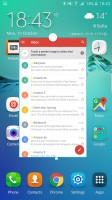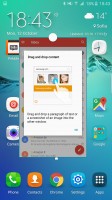 Multi-Window and floating apps for multitasking
Switching between actual apps on the Galaxy S6 edge+ is similar to the Lollipop experience where a 3D carousel of apps is shown. This lets you see only four apps at a time, for three of which you can actually see more than the app name.
On the iPhone 6s Plus the app switcher is identical to that of the smaller iPhone and shows only three apps (one plus two halves, actually) in portrait mode and four apps in landscape mode. There are shortcuts to your favorite and recent contacts, which may be of some help too.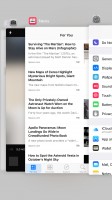 The iPhone 6s Plus app switcher
One-handed use
Big screens are a boon, but also an inconvenience for one-handed use. The Galaxy S6 edge+ answer is to scale down the screen (which you can move and resize) to make sure you can reach everything. Even the hardware keys can be swapped for on-screen alternatives.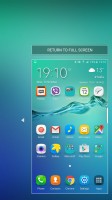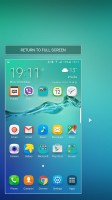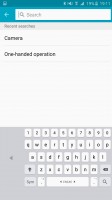 One-handed optimizations for the Galaxy S6 edge+
Apple's solution, Reachability, is more limited – you double tap the Home button (double tap, not double-press ), which lowers the UI half way down the screen. By Apple design, apps put the Back button (along with other controls) on the top row of the screen, which worked great for 3.5″-4″ screens but not so great on the 5.5″ iPhone 6s Plus. In the past year third-party apps have gradually transitioned to use a swipe-across-the-screen gesture to move back to previous screens.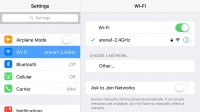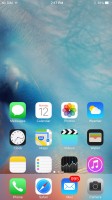 Apple's Reachability
Search
With booming storage options, sometimes it can be hard to find your files, which is where Spotlight comes in. It will search more than files though, it will go through Wikipedia, IMDb, assorted news sources and Apple stores (for apps, music, books and more). It has been updated and can now do simple calculations and conversions. It also supports finding sport scores and weather forecast information. And finally, you get shortcuts for making a call or sending a message to any of the contact results in the Spotlight searches.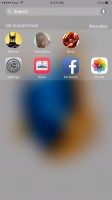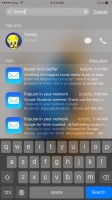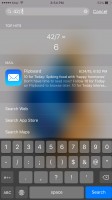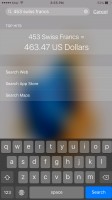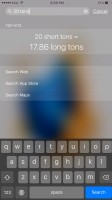 Spotlight in action
A similar functionality is offered by Samsung's S Finder. The results list files, installed apps, contacts, settings and you can do a Google search, but that's an extra tap.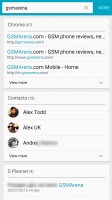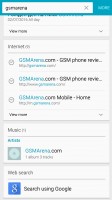 S Finder
Digital assistants
Of course, you don't have to type, both phones have digital assistants, which understand spoken requests. Apple's Siri has been gaining new skills with every new release of iOS – it can now search through your photos and videos based on dates, locations and the album names. It supports custom reminders from things you've been searching for in Safari, Mail, Notes and Messages and it got support for public transit navigation too. It also does song recognition, but you can also make it do a web search, turn off Wi-Fi or increase the brightness, Siri can even help you with booking a restaurant. Siri's conversational skills are not bad either, it can answer questions about games, teams, players, movies, actors and more.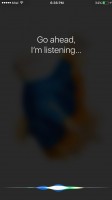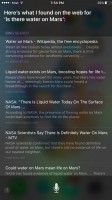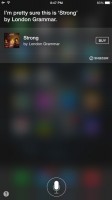 Siri
S Voice is less chatty but it can handle commands too, like calling someone, playing a track or launching an app. It can take down notes or schedule an event in the calendar, even type up your SMS for you or answer trivia questions.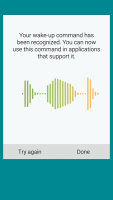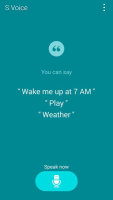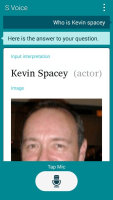 Samsung maintains its own digital assistant, despite Google Now
Working with computers
One of the coolest features in the iOS is called Continuity. It makes the transition between Apple devices seamless – you can start typing an SMS on your iPhone and finish it on your MacBook. Or you could be reading a web page on your Mac and continue on your iPhone 6s Plus if you have to leave. This syncing works for other apps too, including Mail, Pages, Numbers, Keynote and Maps.
While not quite as polished, Samsung SideSync offers similar functionality but in very a different way. It lets you use your computers keyboard and mouse to interact with your Galaxy smartphone, including text copy and paste, even moving files between the devices. You can mirror the phone's screen on the computer and operate with it remotely.
Winner: Samsung Galaxy S6 edge+. Phablet interfaces is something Samsung has been working on for generations before the S6 edge+ and TouchWiz is quite versed in this respect- you can have multiple apps, floating apps or maybe just shrink the screen temporarily. The Private mode is a great addition too.
Apple did enable landscape mode and Reachability, but overall it's like using a stretched out version of the iOS interface you get on a 4″ iPhone 5s. Siri is the better digital assistant of the two but we don't put much weight on this as a feature.
3D Touch vs Edge screen
3D Touch
The support for 3D Touch on the Apple iPhone 6s Plus allows for another level of interaction, press the screen for a bit longer (and harder). This gets you access to extra actions and contextual options and we can't wait to see how say, game developers put that to use in the months to come.
Currently 3D Touch gestures are available only on selected system app. You can use it on the lockscreen, the homescreen and within apps. We already talked about the lockscreen gimmick, let's see what it does on the homescreen.
Force pressing on a supported app icon pops up a balloon. For example the Messages app gives you a New Message shortcut and a short list of your most recent messaging contacts. Force clicking on the Phone app gives you a – Create New Contact key and a short list of recently contacted people.
Continuing on Safari – you get Show Reading List, Bookmark list, New Private tab and New tab; Mail offers shortcuts to Inbox, VIP, New message and Search; Music has Play Beats; and Notes – New Note, New Sketch and New Photo note.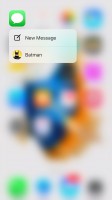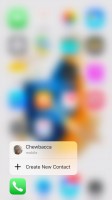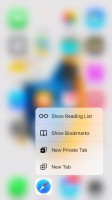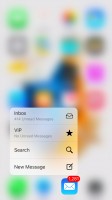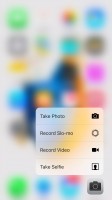 Pressing on system apps
As you can see those force taps on the homescreen are indeed useful sometimes, but are hardly something you can't live without. What really matters is what you can do within the apps with 3D Touch.
3D Touch is meant to allow you to get more content than you normally get on a screen, so that you can give it a quick glance and let it go – all of this with just one firm long press.
If you press hard on an email within the Mail app, first it will be selected by blurring all the others. Applying slightly more force will pop its contents into a balloon for you to see it. Here you can either apply more force to open the whole email, or release your finger thus you'll be back on the email list.
This logic of opening content in balloons and eventually discarding or expanding it works on quite a few apps such as Photos, Messages, Notes, Calendar (events). It works in Safari as well – just hit a link firmly and you get a pop up with the linked page and if you like what you see you can press harder to open it, or just release it for discarding.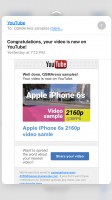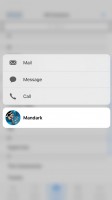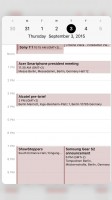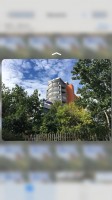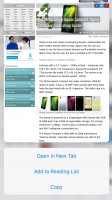 Pressing on: an email • a contact • a day in the Calendar • a photo • a link
Finally, one of the most meaningful uses of the Force Touch is selecting text. If you do a standard tap and hold on text you'll begin scrolling through the words. And when you apply force to activate the Force Touch, you begin text selection from this very moment. This eases the entire text selection process tremendously – just scroll to your desired place and force touch from there and continue scrolling until you're done.
That's basically all of it at the moment – it's not much and certainly most of the functionality feels, if you pardon the pun, forced rather than intuitive and helpful. However, we get the feeling that Apple is simply trying to give hints to developers with those. Those are just ideas with the hope that developers will actually pick it up and will put the feature to great use in their apps.
Given the chance, 3D Touch may turn to be a breakthrough that will shape smartphone usage for years to come. Similar to what Apple did with multi-touch or the fingerprint sensor.
Edge screen
Just like its more compact relative, Samsung Galaxy S6 edge+ offers the cool Edge screen functionality. One of the highlight modes is the so-called Night clock. It shows the time and date on one of the edge strips during the night (or for any interval of the day you choose, but up to 12 hours). You don't need to do anything to wake this strip up – it's always on.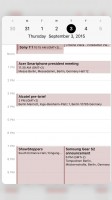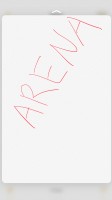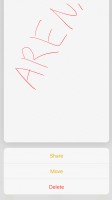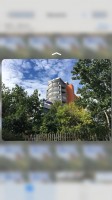 Edge screen settings
The edge strip, no matter if the Night clock is active or not, can be awaken with a short swipe and then swipe down gesture and it will light up brightly. If Information Stream is active, you can scroll between the different info strips.
People edge, another proprietary feature, is really cool as well – when you have missed notifications from one of your favorite contacts, you will get a tab of their respective color on the side of the edge. You just need to drag it to the left to see what it's about.
Another swipe from the people edge screen brings a row of customizable app shortcuts. The feature premiers on the Samsung Galaxy S6 edge+ and offers cool, quick, and convenient way to access commonly used apps.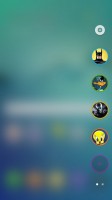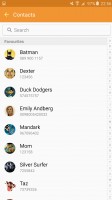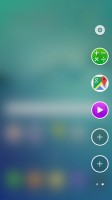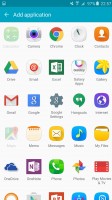 People edge • The customizable app shortcuts are quite convenient
You can choose the edge strip position – there is no scenario where you can use both edges for notifications. The exact area to swipe for access to the edge strip can also be tweaked on the large screen of the S6 edge+.
Edge lighting is activated by a notification from one of your favorite contacts, it will even light up in their specific color. You can even reject a call with a pre-defined message by placing a finger on the heart-rate sensor for 2 seconds. The phone must be lying on its screen for those features.
Winner: Apple iPhone 6s Plus. While Samsung has the cooler edged design, 3D Touch offers a lot more useful features and massive potential for evolution. We get the feeling that Apple is simply trying to give hints to developers with the examples in the iOS 9. Those are just ideas with the hope that developers will actually put the feature to great use in their apps.
What does add more fuel to the 3D Touch fire is that other manufacturers began announcing phones with similar tech shortly before Apple's event, so there will be more companies that want to see it succeed and in turn more developers willing to give it a proper consideration. We can't say the same for the edged display though, which looks more like a gimmick rather than a technology breakthrough.