Introduction
With the smartphone market driven towards equilibrium, tablets will be the new battleground. The Apple iPad Air and the Samsung Galaxy Note 10.1 2014 emerge as the archrivals in the 10-inch category, marching towards their inevitable clash.

Casual browsing and gaming have long been the strong suit of tablets, but in the post-PC era they have a big issue to deal with – content creation. The Galaxy Note 10.1 2014 addresses this with the S Pen stylus and a number of productivity apps linked to it, while Apple keeps pushing ease-of-use and unmatched user experience as the biggest advantage.
Here's how these two tablets stack up against each other.
Apple iPad Air over Galaxy Note 10.1 2014
Much lighter – 469g over 7.9mm, 540g
Thinner 7.5mm over 7.9mm
Aluminum body
CDMA connectivity
ARMv8-based 64-bit processor
Cheaper base price
Samsung Galaxy Note 10.1 2014 over iPad Air
S Pen stylus
Sharper screen – 299ppi over 264ppi
3GB RAM over 1GB
Expandable storage
Cat. 4 LTE support (150Mbps downlink) over Cat. 3 (100Mbps)
Wi-Fi 802.11ac
8MP main camera with LED flash over 5MP and no LED
1080p video capture @ 60fps over 1080p @ 30fps
1080p-capable front-facing camera over 720p
Standard microUSB port
Samsung KNOX enterprise security
IR blaster for remote control functions
Simple spec by spec comparisons like this don't usually tell the whole story – this article would've been much shorter if they did. Instead, we'll be looking at the two contenders from a use-case point of view – which one is best for a specific task.
Obviously, we'll need to start with the basics like how good the hardware is, will the battery last you the full work day and so on. And things will only get more focused after that. Which tablet is best for multimedia consumption? What about gaming? Which one will give you the most in terms of productivity? Are the cameras just decorations or actually usable?




Samsung Galaxy Note 10.1 2014 and Apple iPad Air side by side
We've already dealt with these things to a degree. The S Pen on the Samsung Galaxy Note 10.1 2014 fills the void left by the lack of a mouse – yes, tablets are all about touch but computer mice have long provided us with accuracy and additional control options that fingers just don't have.
Apple killed the stylus in the first place and is not about to bring it back. Instead, Cupertino offers a first-rate experience within its own ecosystem. Office suite, maps, cloud, even music creation, all Apple made. Samsung on the other hand outsources much of that to Google, Polaris Office, Dropbox and so on.
The first round will be fought over hardware – the build, the looks, the good and the bad – right on the next page.
Hardware comparison
Tablet design by its very nature is defined first and foremost by the screen and here the two tablets seem fundamentally different. Apple sticks to the original 9.7″ screen of 4:3 aspect ratio, while Samsung uses the common 16:10 10.1″ screen format.





Size comparison: Samsung Galaxy Note 10.1 2014 and Apple iPad Air
Surprisingly, the two tablets are aren't that different in size – the Apple iPad Air measures 240 x 169.5 x 7.5, while the Samsung Galaxy Note 10.1 2014 is a bit bigger on the sides, 243.1 x 171.4 x 7.9 mm. Thin, iPad mini-like bezels is what allowed Apple to make the square-ish screen fit into the body of a widescreen tablet.
The difference in screens is nonetheless profound, and it will be properly covered in the next chapter.
Screens aside, the two tablets differ in something as simple as orientation – the button and front-facing camera placement of the iPad Air favor portrait usage, while those of the Galaxy Note 10.1 2014 lean towards landscape. Obviously you can use both tablets either way, but you'll find yourself sticking to the manufacturer-suggested orientation most of the time.



The iPad Air favors portrait orientation • the Note 10.1 2014 prefers landscape orientation
To be honest, we prefer on-screen buttons on tablets as they offer more flexibility and rotate with the rest of the screen.
Anyway, the wide-screen Galaxy Note 10.1 2014 shows its multimedia nature with two loudspeakers positioned on the left and right side of the tablet. This creates a a more immersive audio experience than the stereo speakers on the iPad Air, which are both located at the bottom (or rather on the side as you'll be watching videos in landscape orientation). The Samsung tablet also pulls ahead with audio enhancements from SoundAlive and Adapt Sound technologies.





Stereo speakers on the Galaxy Note 10.1 2014 • stereo speakers on the iPad Air too
The multimedia aspect is also seen in the addition of a microSD card slot. Sure, you can get a 128GB iPad Air, while the Galaxy Note 10.1 2014 tops out at 64GB of built-in storage, but let's be honest- a 128GB Air costs an insane amount of money. 64GB microSD cards are around $50 a pop, so a 16GB Note 10.1 2014 is still an option for heavy multimedia consumers. A cheap option at that, Apple charges a $100 premium every time the built-in storage doubles.


microSD card slot on the Galaxy Note 10.1 2014
The front-facing camera on the iPad Air is in the middle of one of its short sides, similar to the placement on the iPhone. This is good for one-on-one video chatting and selfies. The camera on the Galaxy Note 10.1 2014 is positioned near the middle of one of its long sides, which fits the widescreen better with multiple people involved.



The front-facing cameras are positioned differently on the two tablets
And while you're holding the Note 10.1 2014 horizontally, you'll notice the IR blaster at the top. It can control home equipment like TVs, disc players and set top boxes, placing it in charge of your home theater setup. At the very least, you have the option to change the channel if you're on the tablet while the TV runs in the background, a scenario that is probably well familiar to most users.



The IR blaster on top of the Galaxy Note 10.1 2014
On the connectivity side, Apple uses the proprietary Lightning adapter, which can be plugged in regardless of the orientation. However, microUSB cables are far more common than Lightning cables, which you'll feel instantly if you need to borrow a cable. They are also much cheaper if you need to get a second one for the office.



Lightning adaptor on the iPad Air • microUSB port on the Note 10.1 2014
The iPad Air connector boasts TV Out functionality, though you'd need an adapter. Still, it's a great option to have – either for watching movies or for doing presentations. The upside of the Note 10.1 2014's microUSB port is that you can plug in peripherals like external storage, keyboards and mice if you get a USB OTG cable (those are quite cheap and easy to find). With the proper adapter you can get HDMI out too.
Speaking of connectivity, both tablets come in either Wi-Fi only or 4G LTE versions. The Apple iPad Air has only one 4G LTE version, which covers 3G UMTS, CDMA and 4G LTE. The Samsung Galaxy Note 10.1 2014 comes in 3G (powered by a Samsung Exynos chipset) and 4G (powered by Snapdragon 800). Note that the 4G LTE on the Samsung is Cat. 4, which offers downlink speeds of up to 150Mbsp, over the Cat. 3 of the iPad, which tops out at 100Mbps. But neither Note 10.1 2014 version has CDMA connectivity, which limits the choice of carriers for North American users.
Apple's iPads have always had aluminum unibodies, but the one on the iPad Air is the best yet, by far. It's the slimmest too (iPad 3 and 4 were thicker than 2, Air is thinner than 2) and noticeably lighter. The thinner side bezels help a great deal in handling the tablet, but it's still a two-hand device. Then again, so is the Note 10.1 2014. Anyway, the aluminum design of the iPad Air is attractive and isn't out of place anywhere.





iPad 3 next to iPad Air
Samsung's designs are best known for their glossy plastic but the 2014 edition of the Galaxy Note 10.1 2014, just like the Galaxy Note 3, has a faux-leather back. It feels reasonably close to leather to the touch and looks pretty attractive. Less subjectively, the textured plastic feels warmer and offers more grip than the naked metal of the iPad.





The Galaxy Note 10.1 2014 design has a new leather and metal look (but both are plastic)
Winner: Samsung Galaxy Note 10.1 2014. It was close, but the Note 10.1 2014 is more flexible in terms of storage, has better connectivity (unless you're a Verizon or Sprint user), including an IR blaster.
Some will prefer the metal looks of the Apple iPad Air and maybe value wired TV-Out over cheap storage. North American users also have to consider the CDMA support, unless they're looking for a Wi-Fi tablet.
Displays
The Apple iPad Air has a 9.7″ IPS LCD with a resolution of 2,048 x 1,536 pixels, which works out to 264ppi. It's covered by scratch-resistant glass with oleophobic coating.



Two beautiful LCD screens
The Samsung Galaxy Note 10.1 2014 has 10.1″ Super Clear LCD of 2,560 x 1,600 resolution for a higher 299ppi. There's no mention of scratch-resistance though. It does have an additional digitizer, which is used with the S Pen – it can detect it from several inches away and will detect presses of the S Pen's button, even though the stylus doesn't have a battery.
You'd think that because the Note 10.1 2014 screen has a 0.4″ bigger diagonal, the Samsung tablet has an advantage in screen real estate. Due to the different aspect, however, that's not the case – the difference is negligible, around 1%.
That's not always the case though, sometimes how much of the screen is actually used depends on the content. Most photos, for example, have a 4:3 aspect, matching the iPad perfectly. Recently, many cameras default to 16:9 though, which would fit the Galaxy Note 10.1 2014 better. Same goes for most video content, which is 16:9, even movies you got from mobile-centric video stores.
A 4:3 screen is better suited for text and documents – an A4 page is pretty close to a 4:3 aspect ratio. Even web pages mostly have relatively narrow columns, which fit portrait screens quite well – in this orientation, the iPad Air screen is wider than the Note 10.1 2014's giving you the opportunity to zoom in closer and get bigger text.
While the high pixel density makes it impossible to see individual pixels, the pixels on the iPad Air screen and the Galaxy Note 10.1 2014 screen are quite different when viewed under a microscope. The iPad has a standard RGB matrix, while the Galaxy tablet has an RGBW matrix, which should in theory improve brightness.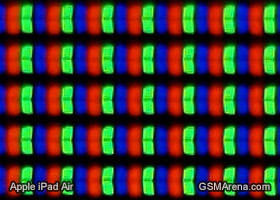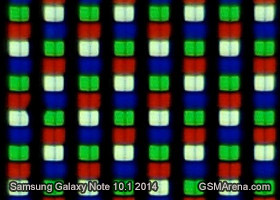 The results show the reality is quite the opposite, however, the iPad Air is brighter than the Note 10.1 2014 and has better contrast across the brightness range. Black levels go from equal at full blast, to noticeably better for the iPad as the brightness goes down.
Display test
50% brightness
100% brightness
Black, cd/m2
White, cd/m2
Contrast ratio
Black, cd/m2
White, cd/m2
Contrast ratio
Apple iPad Air
0.19
181
968
0.53
508
964
ASUS Transformer Pad TF701T
0.40
450
1125
0.71
755
1119
Samsung Galaxy Note 10.1 2014
0.27
221
831
0.53
440
821
Google Nexus 10
0.26
223
859
0.50
443
878
Sony Xperia Tablet Z
–
–
–
0.53
531
996
Sony Xperia Tablet S
0.35
334
947
0.67
526
783
Samsung Galaxy Note 3
0
149
∞
0
379
∞
Apple iPad mini
0.25
208
838
0.51
458
812
Apple iPad 3
0.21
167
809
0.6
477
779
Apple iPad 4
0.21
163
797
0.63
476
762
Samsung Galaxy Tab 7.7
0
200
∞
0
328
∞
Asus Google Nexus 7
0.25
244
954
0.36
327
908
Samsung Galaxy Note 10.1
0.27
223
832
0.49
406
821
Samsung Galaxy Tab 10.1
0.31
257
826
0.55
502
915
Samsung Galaxy Tab 7.0 Plus
0.17
196
1141
0.34
424
1236
Viewing angles are excellent for both tablets and color reproduction is very pleasing. The Samsung Galaxy Note 10.1 2014 has a slight edge here with the proprietary Screen mode option. It gives you three options to adjust the color profile of the screen (it changes saturation and white balance), plus an automatic mode, which adjusts the screen based on the current image or video.
It's not as flexible as the Nokia Lumia color profile, which has not one but two sliders – one for saturation and another for white balance – but it's better than nothing. Apple uses multiple suppliers for its screens, so getting a warm or a cold screen is a matter of luck.
Winner: Tie. Widescreen has conquered everything from phones through tablets and laptops all the way to large TVs, so most content targets that aspect. The higher pixel density (even with the unusual matrix) and the adjustable screen modes are enough to put the Note 10.1 in pole position.
The Apple iPad Air however has a slightly brighter screen with a better contrast, plus the 4:3 aspect ratio is good for text, so it's up to personal preference here.
Battery life
The two tablets are powered by sealed Li-Po batteries of similar capacity. The Apple iPad Air has a slight advantage with its 8,820mAh battery, while the Samsung Galaxy Note 10.1 2014 has a 8,220mAh juice pack.
Note that the Galaxy tablet screen is a bit brighter than the iPad Air when both are set at 50% brightness (which is what we use for the test). Even so, the advantage of the iPad is more than can be explained with simple brightness alone. There's that extra 600mAh, but that's insignificant compared to the total.
Web browsing over Wi-Fi drains the battery quite slowly, the iPad Air lasted over 10 hours of that. The Galaxy Note 10.1 2014 failed to crack 8 hours. That's a good 30% advantage for the Apple tablet in such a key area.
Web browsing
Sort by Label
Sort by Value
Expand
ASUS Transformer Pad w/ Dock

13:48

Acer Liquid E2

12:39

LG G2

11:22

Sony Xperia ZR

11:20

Apple iPad mini 2

10:47

Apple iPad Air

10:10

Samsung Galaxy S4 mini duos

10:10

BlackBerry Q5

10:04

HTC One

9:58

Apple iPhone 5s

9:58

Apple iPhone 5

9:56

Galaxy Note 10.1 2014 Edition

7:39

Samsung Galaxy Nexus

3:01
The margin grows in the video playback test, with the Apple iPad Air almost reaching 13 hours, while the Samsung Galaxy Note 10.1 2014 gave up after 9 hours. Granted, the Note 10.1's screen is better suited for widescreen video, but 4 hours is a massive difference.
To put things in perspective, if both tablets start playback at the same time at full charge, the iPad will still have over 30% left in the tank by the time the Note 10.1 dies.
Video playback
Sort by Label
Sort by Value
Expand
Motorola RAZR MAXX (ICS)

16:35

Nokia Lumia 1020

13:12

Samsung Galaxy S4 mini

13:12

Samsung Galaxy S4 mini duos

12:52

Apple iPad mini

12:51

Samsung Galaxy Premier

12:51

Apple iPad Air

12:49

Samsung Galaxy S4 GPE

12:32

Samsung Galaxy S4 (S600)

12:30

BlackBerry Q5

12:28

Apple iPad mini 2

12:22

Huawei Ascend Mate

12:18

Galaxy Note 10.1 2014 Edition

9:02

Nokia Lumia 710

3:27
We suspect the custom designed chipset by Apple and the brand new screen backlight (using just 36 LEDs instead of 84 on the iPad 4) are very much to thank for the excellent results. We'll see later on if the Galaxy Note 10.1 2014 can compensate with better performance of its Snapdragon 800 chipset.
Winner: Apple iPad Air. This was a walkover for the iPad. The Galaxy Note 10.1 2014 has decent battery life, but the iPad will consistently outlast it in similar workloads.
User interface
The user interface of a tablet can greatly affect the user experience. Since both Apple and Samsung have overwhelming presence on the market, you probably have at least passing familiarity with both UIs. Still, here are a couple of hands-on videos to refresh your memory.
There's not much to be said about the iPad Air – the focus is on one app at a time, though the notification area and quick toggles show some additional info and allow basic control over the tablet.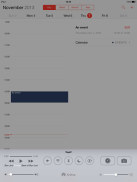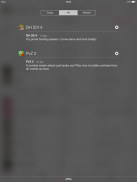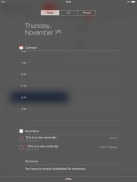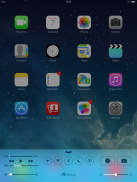 Control Center and Notification area on iOS 7
The four finger gesture that moves between apps is not the most comfortable, but it's quicker than going through the app switcher if you need to move between apps often. The system-wide swipe left for Back is another nice though not very comfy trick (it works better on the iPhone).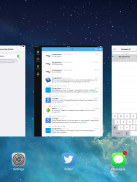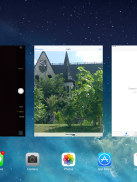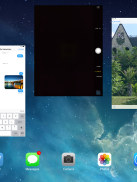 iOS 7 app switcher
The TouchWiz interface on the Samsung Galaxy Note 10.1 2014 is quite the opposite – it has two separate ways to multitask that can co-exist for even more multi-app action. One is the split-screen option called Multi Window – half of the 10.1″ screen is about the same surface area as a 7″ screen, so usability really isn't hampered in any way.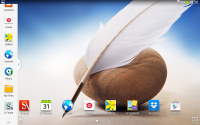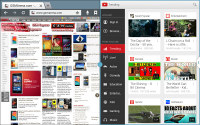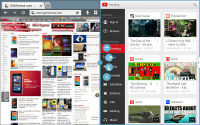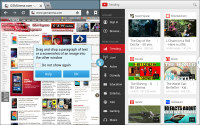 Multi Window on Samsung Galaxy Note 10.1 2014
The other option is the Pen Window option that allows you to launch floating mini apps that can be resized and minimized so that they're out of the way, but always accessible.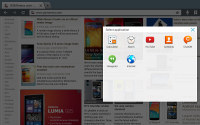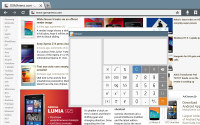 Mini apps with Pen Window
The one downside of Multi Window and Pen Window is that only supported apps can be used in those modes. Still, the basics like the web browser, email and chat are covered and there are a growing number of apps in the Play Store that do support Samsung's proprietary API.
Android's widget system – both on the homescreen and on the lockscreen – is a lot more powerful and flexible in terms of at a glance information delivery. The Samsung Galaxy Note 10.1 2014 comes with a great set of widgets that cover everything from news and stocks, through email and notes to Dropbox and Twitter.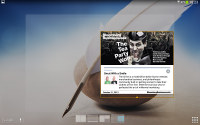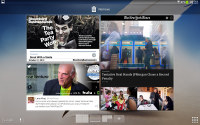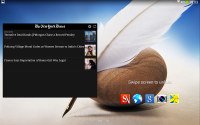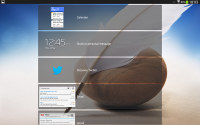 Widgets on the homescreen and on the lockscreen
The Galaxy Note 10.1 2014 also comes with a dedicated homescreen page that serves as both a news reader and a way to stay up to date with social networking updates.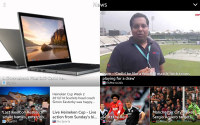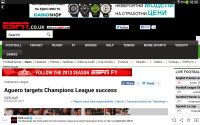 The dedicated news reader
Siri is available on the iPad Air. It's there to answer quick questions, perform basic tasks (e.g. set reminders and alarms) and do voice dictations. The Note 10.1 has S Voice as its default assistant with similar functionality, but also Google Now, which is great at anticipating what info you need. The best thing about Google Now is that it requires no user interaction to work.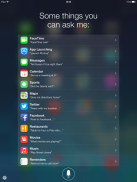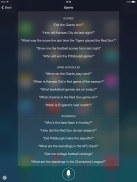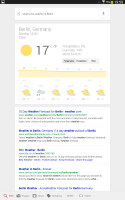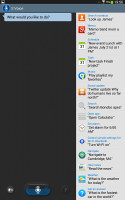 Siri in action • Google Now and S Voice
Another important difference between the two tablets is their respective cloud backups. Apple uses its own iCloud service that syncs all the basics (contacts, Keychain, photos and so on), plus app info, so apps will retain their settings and files even if you've uninstalled them for months. All of this goes into 5GB of free storage.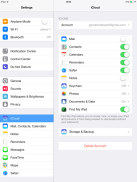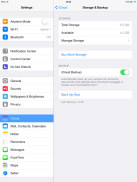 iCloud settings
Samsung's Cloud service syncs your phonebook and calendar, browser settings, plus your Scrapbook. You can link a Dropbox account to sync your pictures, videos and documents. Samsung throws in 50GB of Dropbox storage for free for two years.
Apple also has a nifty Do Not Disturb (DND) feature that mutes all notifications except for messages and calls from a select group of people. This is great for both school and meetings as the tablet will keep quite unless there's an important message you need to answer immediately.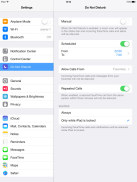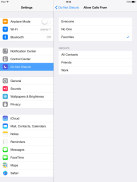 Do not disturb
Winner: Samsung Galaxy Note 10.1 2014. Some people don't like TouchWiz much, but it's undeniable that it's very functional and has a high degree of customization. Heavy multitaskers will really appreciate Multi Window and Pen Window.
The Apple iPad Air interface is nice, but it plays out exactly like that of the iPhone and the much larger screen begs for some extra options.