Apple did what was once the unthinkable while predictable Samsung delivers again. Right or wrong, this is a fight of old versus new, the Galaxy Note is in its fourth generation while the iPhone 6 Plus is Apple's first phablet ever.
Samsung's release cadence dictates that the Galaxy Note is the H2 flagship, keen to assert its superiority over an already feature-rich Galaxy S. iPhones come once a year, even the first-time iPhone 6 Plus phablet. The situation is similar though, the Plus is better equipped than the vanilla iPhone 6.
Apple iPhone 6 Plus over Galaxy Note 4:
Thinner – 7.1mm vs. 8.5mm
Phase-detection autofocus
Slo-mo video – 240fps mode vs. 120fps mode
64GB and 128GB versions
Tap-to-scan (no swipe) fingerprint sensor
Dual-LED flash vs. single LED
Samsung Galaxy Note 4 over iPhone 6 Plus:
Bigger, sharper display – 5.7″ QHD vs. 5.5″ 1080p
Higher resolution still camera – 16MP vs. 8MP
Better video recording – 2160p (stereo sound) vs. 1080p (mono)
Expandable storage
General-purpose NFC
Heart rate and blood oxygen saturation sensors
Better front-facing camera – 3.7MP/1440p vs. 1.2MP/720p
Bigger, user-replaceable battery
Faster LTE (on Snapdragon version only)
Optional dual-SIM
Samsung is known for its feature-rich (some would say "overflowing"), utilitarian designs but it's slowly coming around to metal designs with the Alpha and now the Galaxy Note 4. It's just a metal rim, so the user-replaceable battery and microSD card slot are intact.
The screen size also remained unchanged (5.7″) to keep the device manageable single-handedly, but resolution increased to QHD. The defining feature of the Note series, the S Pen, was also improved and Samsung included optical image stabilization (OIS) to the list of camera specs.





Apple iPhone 6 Plus and Samsung Galaxy Note 4 getting ready for a fight
The biggest change for Apple is the screen – after years of keeping just about the same size and sharpness, the company took the plunge. The design language changed more than it did for the Galaxy and is now smooth and rounded like an iPod Touch, it's impressively slim too. It's the OIS-enabled camera that is the other advantage over the vanilla iPhone 6.
With bigger screens, both phones and their respective platforms (iOS and Android + TouchWiz) have their ways of boosting usability.
Hardware comparison
Both devices have roughly the same size. The Apple iPhone 6 Plus is taller but thinner than the Samsung Galaxy Note 4, which has the bigger screen. For years Apple was concerned about the usability of a device this size, but it has finally come around.





The iPhone 6 Plus and Galaxy Note 4 have roughly the same footprint
The iPhone 6 Plus shares its design with its sibling and has close connections to the iPod touch and the Apple iPad. This means a slender 7.1mm body that's all glass and aluminum. The sides are softly rounded, unlike the squared off sides of previous iPhones.
This makes the iPhone feel like a metal ingot in the hand but it's not without a downside – the round sides offer less grip. We're not happy either with the plastic strops on the back cover. They used to be thinner and better positioned on previous devices, now they just look too intrusive.
The top and bottom bezels are rather thick, making the iPhone 6 Plus taller than average for its screen size. Apple has tried to make up for it in the software – a double tap (not press) on the Home button brings the screen image halfway down to make top controls easier to reach. Even better, Apple took the first steps in capitalizing the extra screen real-estate with landscape mode and split-screen interface options on some apps (but not multiple apps).
Samsung refined its metal-and-leather design in the Galaxy Note 4. This time the rim is actual metal rather than plastic with a metal-like finish. The leather is still faux but, while looks can be faked, the in-hand feel of metal is tangibly more premium.
The Galaxy Note 4 is slightly thicker and taller than its predecessor, but the difference isn't too big. It's nearly half a centimeter shorter than the iPhone 6 Plus despite having slightly bigger screen. Hardware buttons put a lower limit on bezel size but Samsung managed to include its trio of buttons (complete with a fingerprint reader on the Home key) in less space than Apple. The top bezel is smaller too.
Samsung has offered a number of options to improve the one-handed use in software over the years but its real advantage lies in the mature Multi-Window implementation that lets you run two apps simultaneously. Bigger screens offer a better reading and media experience but, equally important, they make apps more efficient to use.
Let's break down the components by function. Apple put a wider aperture on its FaceTime camera but the essential specs – 1.2MP stills and 720p video – were untouched. It clearly has not bought into the selfie craze.
Samsung meanwhile settled on QHD for the front-facing camera's resolution – both for stills (3.7MP) and for video (1440p, three different names for the same thing). It's not quite an 8MP selfie machine but it complements the main camera well with the Dual Shot feature. The above-screen area also houses a gesture sensor used for some of TouchWiz's proprietary goodies.



Apple is losing the selfie race • Samsung's front-facing camera matches the screen's QHD resolution
Below the screen both phones have fingerprint readers. Apple's hardware just requires you to place your finger on the key, while Samsung requires a swipe. The angle of your thumb while you hold the phablet makes this uncomfortable so it takes some getting used to.



Fingerprint readers disguised as Home buttons
Samsung also has two capacitive keys below the screen, which simplifies the UI somewhat – a dedicated Back key means you don't have to reach for the upper-left corner and an App switcher key means the Home key doesn't have to take on multitasking duties. "Simpler is better" may as well be Apple's moto but when one key has so many uses (press, double-press, double-tap, long press) it starts to feel overloaded.
As both devices do an about-face, we find their backs are almost as interesting as their fronts. Apple drew some ire with the iPhone 6 family camera that protrudes from the slender chassis, but Samsung cameras have stuck out the back for quite a while now. At least, it doesn't make the phone wobble like the iPhone's.
The cameras themselves are quite interesting. Apple did a second polish on the iPhone 5 camera by adding phase-detection autofocus and optical image stabilization to the iPhone 6 Plus as the cherry on top of the vanilla iPhone 6 camera. The dual-LED flash is reshaped into a circle but it remains in place.
The Samsung Galaxy Note 4 camera has a new 16MP sensor with 16:9 aspect ratio. It seems it's a Sony sensor instead of Samsung's own ISOCELL, but either way it's Samsung's first phone camera with optical image stabilization. The higher resolution sensor also allows for 2160p video capture but we'll reserve the "resolution vs. framerate" discussion for a later chapter.
Both phablets have their Power keys on one side and their volume rockers on the other. The iPhone 6 Plus also has Apple's traditional Mute switch, which is by far the simplest way to silence your phone when necessary (in a meeting, in the theater, etc.).









Side-mounted keys, switches and slots
Also on the side is Apple's nanoSIM slot, which can only be opened with a SIM eject tool. Samsung has positioned both cards – that is the microSIM and microSD – below the back cover. The SIM is blocked by the battery so it's not hot-swappable but the microSD is readily accessible.



User-accessible battery and microSD card slot on the Galaxy Note 4
Expandable storage has never been Apple's thing, but we keep hoping for a saner base storage option – your music library alone could top 16GB, plus an iOS upgrade can require as much as 5GB free, which means you'll have to delete stuff. We appreciate the more accessible 64GB option but we still think 32GB should have been the starting point, at least for the iPhone 6 Plus.
Apple has positioned the loudspeaker on the bottom and it's still a single piece. The Galaxy Note 4 has just the one loudspeaker as well, it's on the back, we'll find out which one is louder later on.



Loudspeaker on the bottom for the iPhone 6 Plus and on the back for the Galaxy Note 4
Winner: Samsung Galaxy Note 4. It may not be as thin as the iPhone, but it's roughly the same size while offering a bigger screen. It's easier to service too, with easily accessible storage and battery.
The Apple iPhone 6 Plus is impressively thin and as an all-metal device gets a bonus point, but bezels remain chunky and the device is completely sealed against user access. Apple does have the better fingerprint sensor.
Display
For software reasons, Apple stuck with multipliers of its original 320 x 480 pixels resolution. The iPhone 5 stretched out the screen to 16:9, leaving apps with a black bar until they were updated. The iPhone 6 Plus is the first to break away from the HVGA legacy and moves to an industry-standard 1080p resolution with a "desktop class" image scaler for apps that don't support the new screen yet.
Apple's bet is that the higher pixel density – 401ppi, better than Retina's 326ppi – is enough to hide upscaling artifacts. Truth be told the gamble has worked well enough, text remains readable even at small font sizes.
The screen itself is an IPS LCD with excellent colors, contrast and viewing angles. It's protected by the new Ion-strengthened glass. Apple claims it's tougher than Gorilla Glass 3, which we can't feel in our fingertips but what we can feel are the chamfered edges, which make side-swipes smooth as butter.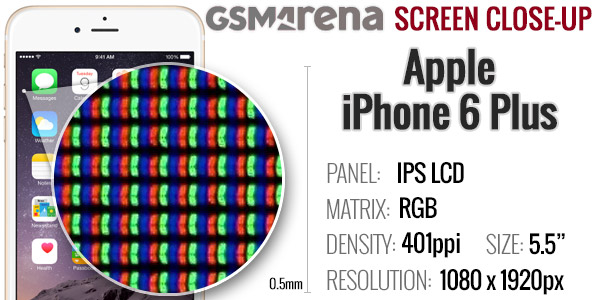 Samsung saved its first phone QHD screen for the Galaxy Note 4, while keeping the screen size from the Note 3. The result is an impressive 515ppi, a number that melts away the difference between PenTile and RGB matrices (for the record, the Note 4 has a PenTile Super AMOLED screen).
Colors are a matter of taste and Samsung gives you an option of multiple screen modes that adjust both saturation and the white balance. Viewing angles and contrast are perfect, as can be expected from an advanced OLED display. Samsung continues its relationship with Corning (those two have a joint venture) and uses Gorilla Glass 3. The glass has chamfered edges too, but the sharp metal rim makes off-screen swipes a bit less comfortable.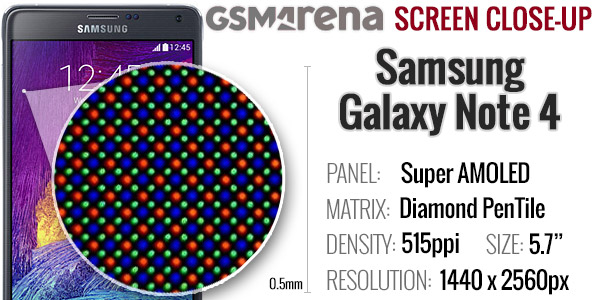 Perhaps due to the increased resolution, the Galaxy Note 4 screen is not the brightest AMOLED Samsung has produced recently, it tops out at 400nits. That doesn't compare too well against the 700nits or so of the iPhone 6 Plus. The LCDs employed by Apple are top quality too, with an impressive 1361:1 contrast ratio.
Display test
50% brightness
100% brightness
Black, cd/m2
White, cd/m2
Contrast ratio
Black, cd/m2
White, cd/m2
Contrast ratio
Samsung Galaxy Note 4
0
291
∞
0
399
∞
Apple iPhone 6 Plus
0.17
208
1197
0.52
705
1361
Samsung Galaxy S5
0
274
∞
0
529
∞
Sony Xperia Z3
–
–
–
0.65
866
1333
LG G3
0.14
109
763
0.72
570
789
HTC One (M8)
0.2
245
1219
0.46
577
1256
Maximum brightness is usually only used in broad daylight and it turns out the Galaxy Note 4 doesn't need all that much. In our sunlight legibility test it showed an impressive result, virtually equal to the likes of the Note 3 and the iPhone 5 – and better than the brighter Galaxy S5's screen.
The Apple iPhone 6 Plus doesn't do as well as its smaller sibling and while its result is certainly good enough, you'll have to bump up the brightness on a sunny day.
Sunlight contrast ratio
The Galaxy Note family is not only the bestselling phablet, but it's also the last bastion of the stylus. It's a feature that didn't quite catch on but much of the Note experience is centered around the S Pen and we certainly find it useful in daily usage.
The new S Pen and the screen digitizer are more accurate, with increased sensitivity to pressure and even the angle of the stylus. Hand-written notes turn out great even if you don't have the best handwriting (and we must admit after so much on-screen and hardware keyboards, our penmanship has waned).





The S Pen is the defining feature of the Galaxy Note series
The Galaxy Note 4 screen is extra-sensitive and can detect the S Pen from a distance (hover is used in parts of the UI), but also gloved fingers.
Winner: Samsung Galaxy Note 4. A slightly bigger screen fits into about the same frame and it's sharper to boot. On a more practical note, the sunlight legibility is better and the S Pen grows on you.
The Apple iPhone 6 Plus has a top-notch screen, though early, upscaled apps don't use it to its full potential and the sunlight legibility isn't as good as the iPhone 6.
Connectivity
With 2G and 3G connectivity practically maxed out, it's the LTE that matters. Here the Samsung Galaxy Note 4 comes in two versions – Cat. 6 (300Mbps) with the Snapdragon chipset and Cat. 4 (150Mbps) with the Exynos chipset. Both upload at 50Mbps.
The Apple iPhone 6 Plus has a Cat. 4 modem, but it supports HD Voice with Voice-over-LTE (VoLTE). There's HD Voice support on the Galaxy Note 4 as well, but for both handsets you'll need carrier support for the feature to work.
Both devices also support Wi-Fi calling (aka UMA), which can use a Wi-Fi connection to place voice calls. You need carrier support for this to work and a generous carrier will let you use any Wi-Fi hotspot, no matter which country you are in (great for calling home from abroad).
In terms of local connectivity, both devices can use the latest Wi-Fi 802.11ac standard, if you have the router for it. Otherwise it's dual-band a/b/g/n. The Galaxy Note 4 supports Wi-Fi Direct (and Samsung's similar alternative) for sending files between devices, while Apple uses its proprietary Air Drop system.
For Bluetooth the Galaxy supports the latest v4.1 standard, while the iPhone offers v4.0, both support Low Energy. That mode is used for wearables – smartwatches, sport bands, etc. – but the Samsung Galaxy Note 4 also offers ANT+ for wider support of sport accessories.
The other important wireless standard is NFC, which enjoys full support on Android, while Apple only piggybacks it for its Apple Pay system and nothing else.
Wired connectivity is handled by USB 2.0 but with different connectors. Samsung dropped the faster USB 3.0 and now uses a standard microUSB 2.0 port with MHL support, while Apple sticks to its proprietary Lightning adapter (which can be plugged in two ways).



USB 2.0-based wired ports: proprietary Lightning adapter and standard microUSB 2.0
Both can be turned to HDMI via an adapter, though Lightning seems limited to 1080p, while MHL will get out full UHD TV resolution. How else are you going to watch those 2160p videos you shot? Well, wireless Miracast is an option, which works with Smart TVs, Chromecast (and similar) sticks and the new Android TV. The iPhone 6 Plus can do wireless screen mirroring too, but only if you have an Apple TV hooked to your HDTV.
While on the topic of multimedia, the Galaxy Note 4 has an IR blaster for digital equipment at home. The app is mostly limited to A/V tech, but you can install third-party apps too.


The IR blaster is transmit-only, it can't learn commands from existing remotes
Winner: Samsung Galaxy Note 4. Several small wins secure the victory: the 300Mbps LTE option (if your carrier even supports it), full NFC 2160p video over MHL, IR blaster, ANT+. You can dismiss each individually as something you won't use, but things pile up.
The Apple iPhone 6 Plus is the best connected iPhone yet (on par with the 6), things like the 150Mbps LTE and Wi-Fi 802.11ac, which we consider standard on Android flagships were not available on the iPhone 5s. The property limits of Apple's walled garden are easily seen in the proprietary Lightning adapter and the lobotomized NFC though.
Battery life
Apple continues to push for thinner devices, even when some users are calling out "it's thin enough, give us more battery!" Still, with Apple's complete control of the hardware and software ecosystem, it has always managed to provide great battery life out of relatively few milliamps.
Still, with its first time phablet-sized screen that has more pixels than the regular Retina screens every milliamp counts. And the count shows the Samsung Galaxy Note 4 has a 10% advantage with 3,220mAh versus 2,915mAh. The Note's battery is easy to swap out for a fresh one too.
Anyway, our battery test show the 10% difference in the Endurance rating – the Galaxy Note 4 gets 87 hours, while the iPhone 6 Plus gets 79 hours. Note that we used the Snapdragon 805 version of the Galaxy phablet.
Phablets are known for their great battery life and these two don't disappoint though a clear winner emerges quickly. It starts with a 5 hour lead in the Talk time test. Not that you'll ever talk for 24+ hours straight, but this just means voice calls don't have much of an impact to the overall battery life.
Talk time
This gives you more battery juice for things like browsing where the Samsung Galaxy Note 4 scores another victory with 1 hour and 40 minutes lead. We put the brightness sliders on both phablets at 50% but the Galaxy Note 4 is brighter at that setting (290nits vs. 210nits) so you can squeeze out more out of the Note 4.
Web browsing
A decisive victory comes in the video playback test – both devices have large, 1080p screens that let you view FullHD footage at 1:1. Here the Galaxy Note 4 wins by over 50% with a whopping 17 and a half hours, while the iPhone manages the still-respectable 11 hours.
Video playback
In the end, it's the iOS' efficient standby that allows the iPhone 6 Plus to remain this close to the Galaxy. Android has more lax multitasking rules, which enables plenty of helpful background services but that does have an impact on battery life.
Ultimately, you can get three days of moderate usage with both devices, but under heavy use the Galaxy Note 4 will easily outlast the iPhone 6 Plus.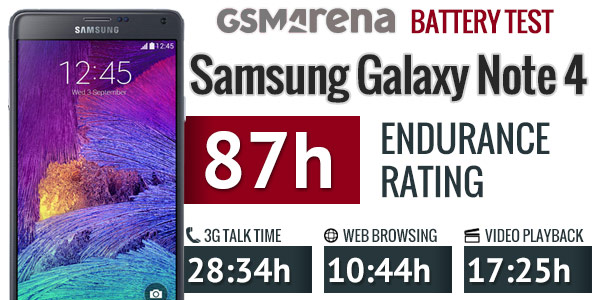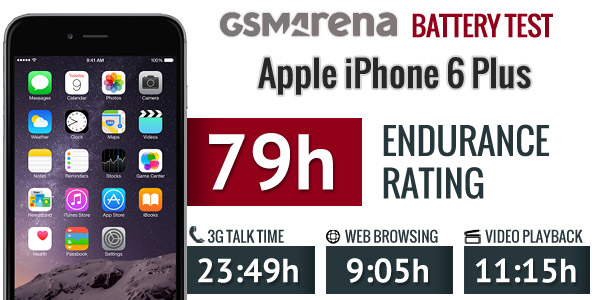 Winner: Samsung Galaxy Note 4. It won all three tests by good margins and while its standby is not the most efficient, the Galaxy Note 4 battery is a long distance runner. And you can have two if you want.
The Apple iPhone 6 Plus numbers are good on their own but heavier usage impacts battery more than it does the Galaxy and the only option to extend it is a bulky battery pack.
User interface
iOS and Android used to be very different beasts but over the years they have borrowed from each other and from other OSes so much that they function in more or less the same way. Of course, iOS is purely an Apple creation, while the OS that runs on the Galaxy Note 4 is heavily influenced by Samsung but primarily developed by Google.
In the state we're testing it, the Galaxy Note 4 is running Android 4.4.4 KitKat with the latest TouchWiz on top, but in a few months there will be a major switch to 5.0 Lollipop and a new TouchWiz. The iPhone 6 Plus launched with iOS 8 and you can already download v8.1. This is the advantage of Apple developing software for Apple devices – updates are lightning quick.
The two devices start in pretty much the same place – a lockscreen with time and date, plus a camera shortcut. The latest iOS puts notifications on the lockscreens, Android 5.0 Lollipop does too, but this is still KitKat.
Simple unlock methods can be used but what both companies will have you use is the fingerprint reader. It's a fairly secure way to lock your device, that's actually quicker than the various PIN and pattern locks.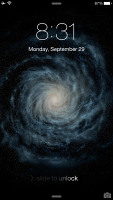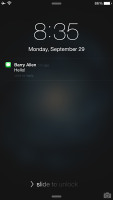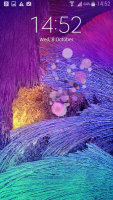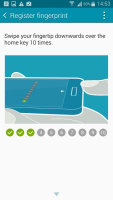 Fingerprint-protected lockscreens • Apple puts notifications on the lockscreen
Apple's implementation is a bit better, it just requires you to put your finger on the Home key, while with the Galaxy Note 4 you have to swipe it. Getting the swipe angle right can be difficult at first, considering you're holding a large phablet and aiming for its bottom (your thumb bends at an awkward angle).
Samsung does offer a cool extra feature here called Private mode. It hides a folder where you can stash sensitive files, the folder can only be accessed with your fingerprint.
The two platforms differ in where the widgets go – Android puts them on the homescreen, while iOS stuffs them in the notification area. Apple added landscape support on the iPhone 6 Plus, while the Galaxy Note 4 keeps its homescreen portrait-only.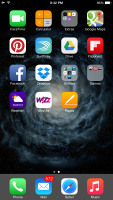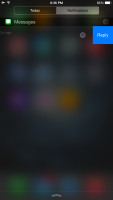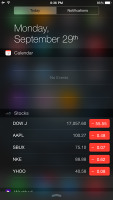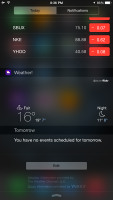 Apple keeps app shortcuts and widgets separate
Samsung has enriched the homescreen with a Flipboard-powered My Magazine screen where you get both news and social networking updates. You can turn it off if you don't like it.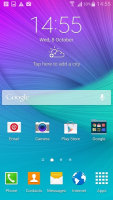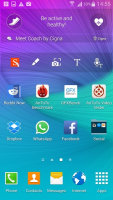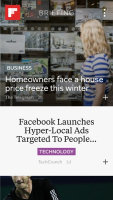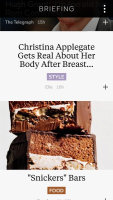 Samsung enhanced the lockscreen with My Magazine
Samsung's notification area may not have widgets, but it's still pretty busy. There's a scrollable row of quick toggles (which can be rearranged), followed by a brightness slider (which can be hidden), two buttons and only then the actual notifications. A quick toggle view is also available either via a tap of a button or a two-finger swipe.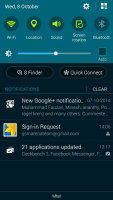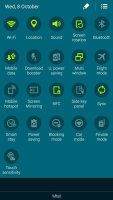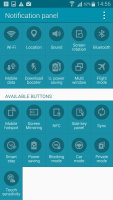 The busy TouchWiz notification area
Apple has placed its quick toggles in a different shade, one which is pulled from the bottom. The so-called Control Center has four shortcuts too, but it's not customizable like on TouchWiz. Starting with iOS 8 third party apps appear on the Share with and Open with lists.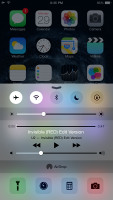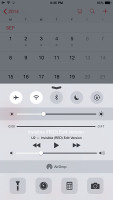 The Control Center holds the toggles and other controls on iOS, not the notification area
One cool thing that Apple did for notifications is that they appear on the top row of the screen and you can tap them for a short interaction. The currently active app stays in place so you get back to it with no overhead, which really improves multitasking.