We're looking for the best phone with a sub-5″ screen. At a time when the best features seem to only come with the largest display, there's a strange, almost rebellious feel to it. No need to tell you, we're enjoying it. The Apple iPhone 6, Samsung Galaxy Alpha and the Sony Xperia Z3 Compact are probably having the time of their life too. These three are not just exceptions to the rule. They're making their own rules.
It's a sad reality for those who prefer compact – not small! – phones. Each year manufacturers come out with new features but like a movie sequel they feel compelled to go bigger than last time. It's how we ended up with 5.5″ monsters being called "phones" (we can name several 5.5-inchers off the top of our heads, they are that popular).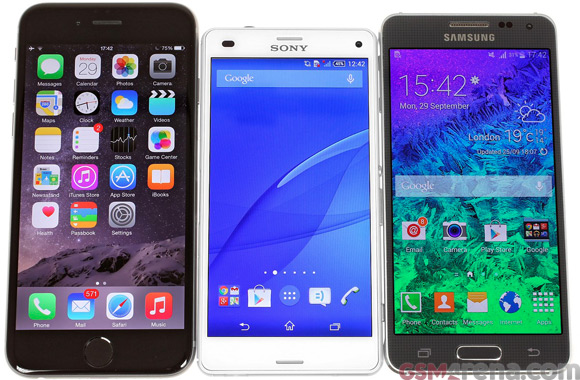 The Sony Xperia Z1 Compact opened up a whole new niche early this year by squeezing flagship specs in a smaller body. And it was only just starting – Sony came up with the Xperia Z3 Compact, which is easily one of the best-equipped phones out there, regardless of size.
Samsung couldn't bother beefing up the mini and started from scratch. The Galaxy Alpha put metal back in Samsung's lineup, shaving off some thickness and weight along the way. It all worked out just fine and the new design was shared by the almighty Galaxy Note 4.
Apple took pride in having the best small phone for years but even Cupertino had to admit 4 inches just wasn't enough. The Apple iPhone 6 is the golden mean between the old 4″ design and Apple's first phablet, the 5.5″ iPhone 6 Plus. The aluminum unibody get even more refined.
In a three-way fight punches will be flying left and right so let's introduce the contestants before the commotion starts. Each phone has a few features the other two can't match, and that works the other way around too.
Sony Xperia Z3 Compact
Best features
Biggest weaknesses

Big, high resolution sensor: 1/2.3″, 20.7MP
IP68 rating: dust tight, waterproof beyond 1 meter for over 30 minutes
Front-facing stereo speakers
Big 2,600mAh battery, 2x the battery life
Lowest price of the bunch
Most compact of the three

Glass and plastic exterior
Smallest storage out of the box: 16GB (but it's cheaply expandable via a microSD)
No fingerprint scanner
Apple iPhone 6
Best features
Biggest weaknesses

Aluminum unibody
Phase-detection autofocus
240fps video (at 720p)

Low still camera resolution
No 2160p video, mono sound
Non-expandable storage and the cheapest 16GB version is barely enough
Relatively large body for the screen size
Samsung Galaxy Alpha
Best features
Biggest weaknesses

Thinnest and lightest of the three
Screen with best sunlight legibility of the three
Heart rate monitor

No TV out
Lowest battery rating (by a small margin)
Comes with 32GB non-expandable storage, no storage options
Sony pulled out all the stops and the Z3 Compact is the cheapest of the three, with the iPhone 6 on top and the Galaxy Alpha sitting in the middle. The company resolved the biggest outstanding hardware issue – the ample bezels – but it remains to be seen if it can address the biggest issue ahead of it, that the Xperia brand is nowhere near as popular as iPhone or Galaxy.
The Apple iPhone is a household name, many casual users say "iPhone" when they mean "smartphone." It reached this status with consistent quality and measured updates, there are no leaps in iPhone features.
Samsung is the only company that can challenge Apple in brand recognition right now and it's making the most of it. The Galaxy Alpha isn't one of the dozens lookalike Galaxies though. The tentative step towards a premium build is a big one for utilitarian Samsung.
If you're wondering why LG and HTC are not in the fray, the answer is that they don't have flagships in this class – the HTC One mini 2 is a midrange device (we recently compared it to the Galaxy Alpha) and the LG G3 mini is yet to be unveiled.
The three phones at hand have surprisingly different designs for being rounded rectangles. The Samsung Galaxy Alpha and the Sony Xperia Z3 Compact are more similar than it seems at first, both have metal frames with components sandwiched between two panels of glass/plastic.
The Apple iPhone 6 uses an aluminum unibody with a glass panel sealing the components inside. That gives it the biggest exposed metal surface, which adds a lot of "premium" weight. We have to dock it a few points for the bezels though, it's the biggest device here by some margin (a full centimeter taller than the Z3 Compact).




Apple iPhone 6
Samsung became known for its plastic phones, despite brief flirtations with metal like in the now defunct Wave series. The Galaxy Alpha replaces the silver plastic rim with a proper aluminum frame. It doesn't cover nearly as much surface as the iPhone and the plastic on the back is not the best even by Samsung standards. Still, the phone feels more premium than the Galaxy S5 and the sparing use of metal kept the Alpha light, at 115g it weighs as much as the old 4″ iPhone 5s.




Samsung Galaxy Alpha
Sony had a similar design for the upper Xperia range but for the Z3 Compact the company covered the metal frame in soft-touch, semi-transparent plastic. The edges are separate pieces, which should absorb some of the force if the phone lands on edge (the worst case scenario). Still, the glass back is impractical – not as cool as metal, as easy to scratch as plastic and it shatters too (unlike metal and plastic).




Sony Xperia Z3 Compact
A premium feel is certainly important but the other key factor we're looking for is compactness. After all, we can have all the premium we can stomach in the large-screen segment we're trying to get away from. Here are the dimensions for direct comparison.
| | | | |
| --- | --- | --- | --- |
| | iPhone 6 | Galaxy Alpha | Xperia Z3 Compact |
| Screen diagonal | 4.7″ | 4.7″ | 4.6″ |
| Height | 138.1mm | 132.4mm | 127.3mm |
| Width | 67mm | 65.5mm | 64.9mm |
| Thickness | 6.9mm | 6.7mm | 8.6mm |
| Weight | 129g | 115g | 129g |
Sony's phones are usually bigger on average than devices with similarly-sized screen. The Sony Xperia Z3 Compact surprised everyone with just how little bezel there is – it has a slightly smaller screen sure, but it's easily the most compact device here. And Sony still found room for two speakers at the front.


A close-up of one of the front-facing speakers
The Samsung Galaxy Alpha doesn't have speakers but it does have hardware buttons, which do add some bulk. As a result the Alpha is half a centimeter taller than the Xperia.
The Apple iPhone 6 has the thickest bezels of the three – it's 11mm taller than the Sony and it's slightly wider than the two Androids. It's not even the thinnest in this comparison, iPhones usually had that advantage. Sure, the Galaxy Alpha's camera protrudes from the back but we're not sure this is an argument Apple wants to make.
Despite what Apple may have claimed in the past, a handset the size of an iPhone 6 is perfectly usable with one hand. Still, for the most expensive smartphone (and we don't mean just in this article) we think it's fair to expect excellence and we're not quite getting the best out of it here.





Size-comparison: Apple iPhone 6 • Sony Xperia Z3 Compact • Samsung Galaxy Alpha
The Sony is the thickest of the three but its camera is flush with the back and has a significant advantage in battery capacity (to which will come up later). Speaking of batteries, the one in the Galaxy Alpha is user-replaceable, while the other two are sealed.


Removing the battery from the Samsung Galaxy Alpha
It's time for Sony to pull out the ace from its sleeve – the Xperia Z3 Compact has an IP68 rating, making it completely dust tight and able to dive beyond 1 meter of water. To achieve that Sony has had to protect most ports and slots with flaps (not the 3.5mm audio jack though).
The only real problem with this is that the microUSB port is covered, so you have to open the flap every time you want to charge the device or transfer files with a cable (which isn't as common as it used to be). You can buy a magnetic charger stand from Sony and avoid the hassle of opening the flap to charge but the stand is sold separately.




Access to some ports and slots is restricted by flaps but they do keep water out and you get a microSD slot
One of the flaps covers a microSD card slot, making the Xperia Z3 Compact the only phone with expandable storage here. It starts off with 16GB internal storage (as does the iPhone) and there are no other options, but memory cards are dirt cheap these days.
The Samsung Galaxy Alpha could have had an IP rating as well, the Galaxy S5 has it by default. It has a flap too, but we still feel it's a bit of a missed opportunity. iPhones, iPads and iPods never had water resistance so we weren't expecting it either (though there were some rumors).
While we're on the topic of practicality, we should cover the hardware keys offered by each device. Apple uses only one on the front – the Home key – that also contains a fingerprint reader. On the left are easy to use volume controls (volume rocker and dedicated ring/silent switch), on the right is the Power key. All keys are big and comfortable to use.





The Home button is a fingerprint reader • big, comfortable keys
The Samsung Galaxy Alpha has a similar arrangement, including a fingerprint sensor on the Home key. You have to swipe your finger though, not just put it on the key, which takes some getting used to. The volume rocker and the Power key are on the thin side and not as easy to use.




The Home button is a fingerprint reader hear too • thin, not so comfortable side keys
The Sony Xperia Z3 Compact keys are somewhere in the middle with a trademark round aluminum power key. There's a hardware two-stage shutter key, too, which some prefer over on-screen keys. It also serves to launch the camera from a locked phone as quick as possible. What it lacks is a fingerprint sensor, which reduces the security options for screen lock and money transactions.





Thicker, more comfortable keys • the trademark Power button
The Galaxy Alpha has something so far exclusive to a few Samsung phones – a heart monitor. It does sound as if it turns the Alpha into the better exercise assistant by allowing it to measure your heart rate but in reality, it's nowhere as convenient as it sounds, and an external sensor is always easier to use and more accurate.
Winner: Apple iPhone 6. No, it's not the most compact 4.7″ phone but the aluminum unibody feels crafted rather than assembled. Despite the bezels, the iPhone 6 is perfectly usable with one hand and it's beautiful (though we could have done without the plastic lines on the back).
Runner up: Sony Xperia Z3 Compact. We're not too happy that Sony covered up the metal rim but it makes the phone more durable so we can live with it. The Xperia Z3 Compact is the most practical of the three with an IP68 rating and a card slot, plus it's the most compact.
Third place: Samsung Galaxy Alpha. The metal rim makes the phone feel more expensive but parts of it still look like a midrange Galaxy. It's thin and light but the plastic on the back isn't the best even by Samsung standards. The user-accessible battery is nice but we change microSD cards more often than we change batteries.
Display
It's two LCDs versus an AMOLED, all three around the same size. Samsung the only company that consistently uses AMOLED displays on its flagships – no wonder since it's making them in-house.
The Galaxy Alpha packs a 4.7″ Super AMOLED with 720p resolution and 312ppi pixel density. It's a diamond-pattern PenTile matrix so the actual sharpness isn't quite as high as it sounds on paper. If you know what to look for you can notice some fuzziness in high-contrast areas but it's nothing major and it's more of a nitpicking.





A comparison of displays
Both Apple and Sony stick to LCD, specifically IPS LCD for some great side viewing angles. Compared to SuperAMOLEDs, LCDs tend to be brighter but have lower contrast, and then there's the whole color accuracy debate.
The Apple iPhone 6 has a 4.7″ display with the unusual resolution of 750 x 1,334px or just over 720p, giving it the 326ppi pixel density. Note that apps that don't support the new resolution will be upscaled from 640 x 1,136px, which would actually reduce the subjective image sharpness significantly.
The Sony Xperia Z3 Compact has the smallest display of the bunch, 4.6″, with 720p resolution. The difference in surface area is pretty small, less than 5%, but the Sony is the only one with on-screen buttons, which makes more of a difference. They take up an extra 8% of the screen surface area.
Before we jump on to image quality, let's cover the available screen protection first. All three phones use various brands of shatterproof glass. The one on the iPhone 6 has a smoothly chamfered edge, which very pleasantly curves into the sides of the curved metal body of the phone.
The two LCDs in this fight are some of the brightest we've tested, hitting 720-740 nits. That gives them a very clear lead on the Super AMOLED, which tops out at 450 nits. The black levels on the LCDs stay acceptable even at full blast, the iPhone 6 manages a respectable 1,200:1 contrast ratio while the Xperia slips under 1,000:1. As usual the AMOLED screen offers the best contrast, which makes images really pop.
Display test
50% brightness
100% brightness
Black, cd/m2
White, cd/m2
Contrast ratio
Black, cd/m2
White, cd/m2
Contrast ratio
Samsung Galaxy Alpha
0
228
∞
0
456
∞
Sony Xperia Z3 Compact
–
–
–
0.77
725
942
Apple iPhone 6
0.17
207
1230
0.61
740
1213
Sunlight legibility is a function of the screen's brightness and reflectivity. The very bright iPhone 6 screen does very well here, coming in behind only a few phones, notably the iPhone 5 and Galaxy Note 3. Samsung's Super AMOLED assembly keeps reflectivity low so it achieves a very good result too, despite the deficit in brightness.
The Xperia Z3 Compact disappoints here, despite being one of the brightest screens it's very reflective too, earning it only an average mark.
Sunlight contrast ratio
Sort by Label
Sort by Value
Expand
Nokia 808 PureView

4.698

Apple iPhone 5

3.997

Samsung Galaxy Note 3

3.997

Apple iPhone 6

3.838

Samsung Galaxy K zoom

3.675

Nokia Lumia 930

3.567

Apple iPhone 5s

3.565

Samsung Galaxy S5

3.549

Alcatel Idol X+

3.527

Samsung Galaxy Alpha

3.509

Sony Xperia Z3 Compact

2.616

Sony Xperia Z1 Compact

1.772
We mentioned colors before, mainly because AMOLEDs have a reputation for oversaturating. That's true but Samsung has added several modes to let you manage the exact level of saturation, you can pick between several settings until you find the one that suites you best.
Sony also have display tuning options, but those give you sliders so you can control the white balance. There's also a choice of X-Reality and Super-vivid image enhancing modes. Apple offers no screen calibration options.
Putting the phones side by side, the iPhone 6 screen is closest to the mark in terms of white balance (it's slightly warm). The Xperia Z3 Compact is close behind (a bit too cool), while the Galaxy Alpha has a noticeable yellow tint. We tried switching the color modes but those mainly affected color saturation and not the white balance.
For viewing angles, the iPhone 6 and Galaxy Alpha perform beautifully with no noticeable changes in color and contrast. The Xperia Z3 Compact screen did exhibit some shift but that's only under the widest of angles.
Before the conclusion of this chapter, there are just a couple of features left to cover. Both the Samsung and Sony phones have dedicated high-sensitivity touch modes so they can be operated with gloves. The Xperia Z3 Compact also has a double tap to wake feature, which is a personal favorite in our team.
Winner: Apple iPhone 6. It's the brightest, with the best legibility and with great colors and viewing angles. The chamfered glass is pleasant and the overall image quality is wonderful.
Runner up: Samsung Galaxy Alpha. The white balance is off, but you only notice when you have something to compare it to. The Super AMOLED does very well in direct sunlight and has stunning contrast, but it's not as bright as the LCDs.
Third place: Sony Xperia Z3 Compact. It's smaller both due to its diagonal and due to the omnipresent on-screen buttons, though the bigger issue is that it's just too reflective. It also has the biggest contrast shift when looked at a really wide side angle.
Connectivity
Connectivity – both wide area and local – has mostly evened out. There are still some differences between the three devices that might prove crucial for some. Note that the specs might differ by region, you should consult the specifications and your carrier for exact details.
The main market of the Apple iPhone is the US so it comes with both GSM and CDMA connectivity (plus TD-SCDMA for the Chinese version). The fastest connection is on LTE (again with TD-LTE for China), reaching theoretical speeds of up to 150Mbps downlink.
Apple has upgraded the call functionality so the iPhone 6 can use Voice over LTE (VoLTE), which offers high-quality audio with HD Voice, as well as Wi-Fi calling (also known as UMA this solves some reception issues). Of course, both need to be supported by your carrier.
The Samsung Galaxy Alpha and the Sony Xperia Z3 Compact are pure GSM devices. They have 150Mbps LTE as well though the Snapdragon 801 version of the Galaxy is rated at 300Mbps (not that you'd find such a carrier). The Xperia Z3 also supports VoLTE.
In terms of local connectivity, all three phones have dual-band Wi-Fi a/b/g/n/ac with hotspot support. Both iOS and Android have separate ways to send files over Wi-Fi, but iOS lacks native DLNA functionality. Bluetooth v4.0 with Low Energy mode is supported on all three devices, the Androids also have ANT+ for sports accessories.
NFC is available on all three phones though Apple has limited it to Apple Pay only. On the other two you can use it to pair devices, transfer files and read/write NFC tags.
GPS and GLONASS are available for positioning, the iPhone 6 and Xperia Z3 Compact have barometers to speed up the initial lock.
Finally, we come down to wired connectivity. Apple is sticking to its own standard, the Lightning port, which can be plugged-in two ways for added convenience. It serves the purposes of charging and transferring data and audio/video but you'll need Lightning cables and adapters and they usually cost more than their USB equivalents.
Sony and Samsung use the industry standard microUSB 2.0 port (Samsung is stepping back from microUSB 3.0). The main duties of the port are charging and data, but Sony has also added included MHL (for HDMI out) and USB On-the-go functionality to their port. Samsung has not, leaving the Galaxy Alpha with no wired TV Out option.
None of the three phones have IR blasters for what that's worth.
Winner: Sony Xperia Z3 Compact. It offers VoLTE and its microUSB port is equipped with MHL and USB OTG functionality. ANT+ and NFC are nice to have and the barometer is also a nice perk, which can speed location services in densely built areas.
Runner up: Apple iPhone 6. Having VoLTE, Wi-Fi calling and CDMA is valuable for US users, but Apple's reluctance to add proper NFC support, plus the proprietary port and the more expensive connectivity accessories keep the iPhone 6 from grabbing the victory. The addition of Wi-Fi 802.11ac and a barometer are welcome improvements though.
Third place: Samsung Galaxy Alpha. The 300Mbps LTE options will leave you looking for a carrier to use it on and no wired TV out is less than perfect.
Battery life
The current trend in smartphones is for razor-thin devices with enormous displays. This article rails against the massive screens but there's a case to be made against thin phones too – many people consider battery life more important than a slim profile (as long as it's kept under 9-10mm, of course).
The Sony Xperia Z3 Compact is the poster boy, being the thickest of the three but also enjoying a significant advantage in battery capacity. At 2,600mAh it has a good 40% more juice than the 1,810mAh and 1,860mAh batteries of the Galaxy Alpha and iPhone 6 respectively.
We should note that we're using the Exynos 5430 version of the Galaxy Alpha for these tests.
If you read our review of the Z3 Compact you'll know it's an absolute battery champ, falling behind only much larger devices. The iPhone 6 is not bad either, it helps that Apple gets to optimize both software and hardware (including a custom chipset). The Galaxy Alpha did surprisingly well for its battery capacity – Android is more resource hungry than iOS.
The Sony managed an impressive 16 hours 40 minutes of talk time on a single charge. That's 3-4 hours ahead of the other two and essentially means that talk time won't have much of an impact on your total battery life. The Galaxy Alpha beats the iPhone 6 by an hour here.
Talk time
Sort by Label
Sort by Value
Expand
Huawei Ascend Mate2 4G

33:19h

Sony Xperia ZR

17:48h

HTC One (E8)

17:47h

Samsung Galaxy Note II N7100

16:57h

HTC Desire 700 dual sim

16:56h

Samsung Ativ Odyssey I930

16:41h

Sony Xperia Z3 Compact

16:40h

LG Nexus 5

16:40h

Nokia Lumia 930

16:40h

Samsung I9295 Galaxy S4 Active

16:40h

Sony Xperia M2

16:40h

Sony Xperia M2 Aqua

16:39h

Samsung Galaxy Alpha

13:20h

Apple iPhone 6

12:26h
The Xperia Z3 Compact stunned us with its stamina while browsing the web – it went on for nearly 15 hours before it finally ran out of charge. Speaking of, the phone has a power-saving feature called Stamina mode if you really need to stretch the remaining milliamps in the battery. The Galaxy Alpha has a similar feature, while the iPhone does not have anything of the sort.
Anyway, the iPhone 6 did a respectable 10 and a half hours – surprisingly, not much different time than it achieved in the call test. The Galaxy Alpha loses the fight with a 2-hour deficit to the iPhone. Keep in mind that for most phones lasting 8 and half hours is an amazing result – the 5.5″ LG G3 only manages 6:40, for example.
Web browsing
Sort by Label
Sort by Value
Expand
Huawei Ascend Mate2 4G

16:41h

Sony Xperia Z3 Compact

14:52h

Samsung Galaxy S5 mini

13:14h

Sony Xperia C

12:45h

Nokia Lumia 1520

12:40h

Sony Xperia Z1 Compact

12:37h

HTC Desire 700 dual sim

12:30h

Apple iPhone 6

10:29h

Samsung Galaxy Alpha

8:25h

Sony Xperia L

6:40h
For video playback the Xperia Z3 Compact pulls another 15-hour shift, beating the other two by a huge margin. It lasts nearly twice as long as the Galaxy Alpha and its 8 hour time. The Apple iPhone 6 does slightly better – 9 and a half hours – but it doesn't close the margin.
Video playback
Sort by Label
Sort by Value
Expand
LG G Flex

19:57h

Huawei Ascend Mate2 4G

18:01h

Samsung Galaxy Note 4

17:25h

Motorola RAZR MAXX

16:35h

Sony Xperia Z3 Compact

15:03h

Motorola DROID RAZR MAXX

14:17h

Samsung Galaxy Note 3

13:32h

Sony Xperia T2 Ultra

13:12h

Samsung I9190 Galaxy S4 mini

13:12h

Nokia Lumia 1020

13:12h

Apple iPhone 6

9:24h

Samsung Galaxy Alpha

8:05h

LG Optimus G E975

7:16h
The final tally shows a stunning 101-hour endurance rating for the Sony Xperia Z3 Compact. Small wonder with these individual times. And it's not just the battery capacity either – 40% more milliamp hours is a good start but the Z3 Compact opened up a bigger margin in some of the tests.
The Apple iPhone 6 and Samsung Galaxy Alpha have relatively similar endurance ratings but part of that is due to the efficient standby of the Galaxy Alpha. The iPhone beat it in two out of three tests with a decent margin.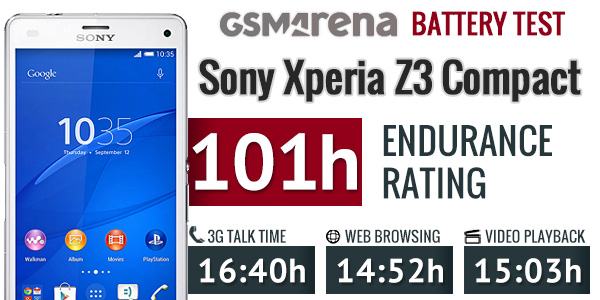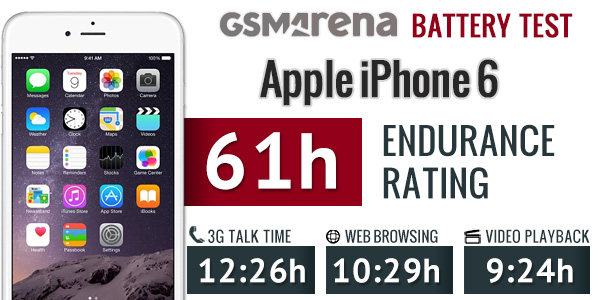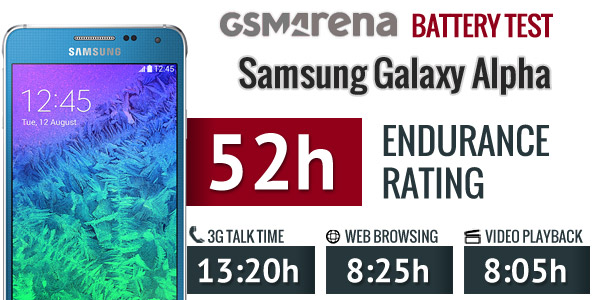 Winner: Sony Xperia Z3 Compact. It will last you four days of moderate usage, two days of heavy usage and we can't imagine a scenario where you kill it in a day under normal usage.
Runner up: Apple iPhone 6. Getting two days of moderate usage will be a breeze. Even with heavy usage you'll still get two days, though it might die on the second day before the night is out.
Third place: Samsung Galaxy Alpha. It achieves good results with what it has but most of the time it won't make it through two full days of heavy usage.
User interface
iOS was always polished but closed off to users wanting to customize their experience, unlike Android, which gives users (and vendors) nearly unlimited control over the system. Well, the latest iOS 8 version loosens up the Apple reins, which tangibly improves the user experience.
iOS 8 itself doesn't change much – the Big Change came with iOS 7 when Apple dropped skeuomorphism and followed the flat UI trend. The major difference between 7 and 8, however, is that users can now have widgets, custom keyboards and better app integration into the OS menus.
The widget system isn't nearly as powerful as the Android one, widgets can only live in the notification area. They have become much more interactive, so you can accomplish more without ever leaving the current app. The homescreen of the OS is still the simple grid of shortcuts and folders.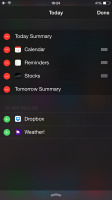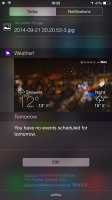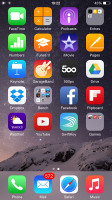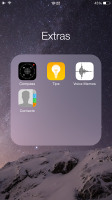 Widgets in the notification area • standard grid of shortcuts and folders
Sony sticks close to stock Android (4.4.4 KitKat in this case) and has a multi-pane homescreen filled with few shortcuts and folders, but mostly widgets. The apps go into the app drawer so only the important ones take up space on the homescreen.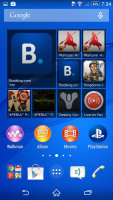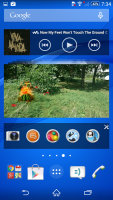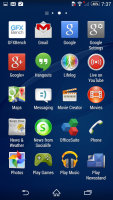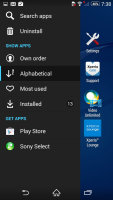 Android keeps widgets on the homescreen • most shortcuts go in the app drawer
Samsung has fiddled with this formula a bit to add the My Magazine pane – subscriptions to Internet news sources go in here so you always have access to a Flipboard-like feed, unless you chose to disable My Magazine.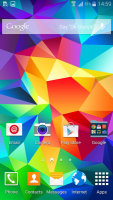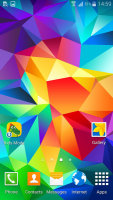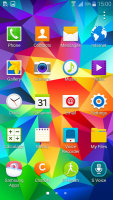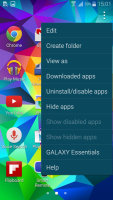 Samsung's homescreen and app drawer
The lockscreens of the three phones agree on one thing – a camera shortcut is all you need, plus playback controls if you're listening to music. Apple and Samsung add an extra layer of security with their fingerprint readers (both on the Home button). They are quicker to enter than a password, arguably more secure too.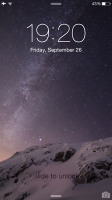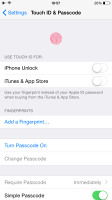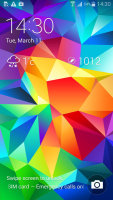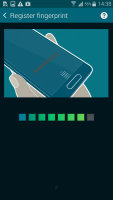 Apple and Samsung lockscreens with fingerprint readers
One key difference here is that the Apple reader only needs you to put your finger on top, while Samsung's needs you to swipe your chosen finger. This can be difficult to get right with the angle your finger (usually your thumb) will be at.
Apple has opened access to the fingerprint reader for third-party apps and it will be a part of the new Apple Pay system. Samsung allowed app access to the reader from the get go and has a deal in place with PayPal for mobile payments.
On the Galaxy Alpha the fingerprint reader can also be used to protect your files, locked away in Private mode, which can only be opened with your finger.
Sony does have a nice lockscreen trick, you can wake the phone with a double tap on the screen, so you don't need to reach for the Power button (not that it's much of a stretch). You can also add widgets to the lockscreen if you wish.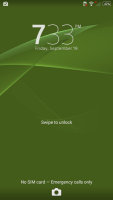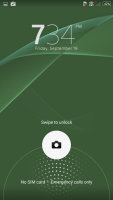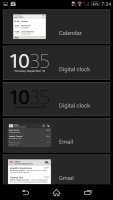 Lockscreen with camera shortcut and optional widgets
On the iPhone Apple decided to split the notification area – notifications go in the top drawer, while toggles and other controls go in the bottom drawer (the so-called Control Center). With iOS 8 widgets can be added in the top drawer by third party developers instead of the few Apple-made stock widgets like stocks.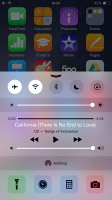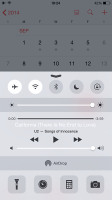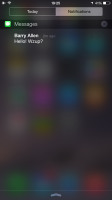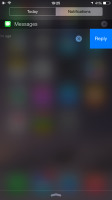 Control Center from below • notification area from the top
Android keeps both notifications and toggles under one roof. In TouchWiz that is literally the case as toggles, two buttons, a brightness slider and notifications are visible simultaneously, though you can switch to a toggles-only view. Sony takes the stock Android approach of splitting notifications and toggles into tabs, which leads to less clutter. You can choose and pick your toggles on both Android phones, while Apple has locked the Control Center layout.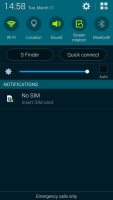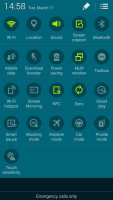 TouchWiz notification area and toggles • Xperia notifications and toggles
Both platforms can multitask but they differ in their approach. Android offers true multitasking with apps running in the background, while iOS is much more restrictive. In practice the user experience isn't too different but this frugal use of resources allows iOS 8 to run smoothly on just 1GB of RAM, while its opponents have 2GB or more. There's only so much that fits in 1GB though, so you might notice some reloading as you switch between apps, say Safari refreshing the page when you return to it.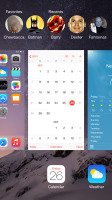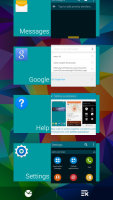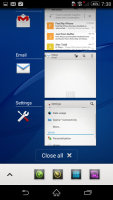 App switchers: iPhone • Galaxy • Xperia
Speaking of multitasking, TouchWiz on the Samsung Galaxy Alpha has the split-screen functionality we've seen on bigger phones. While a 4.7″ screen isn't ideal to run two apps side by side you can do it and it's actually useful in some scenarios.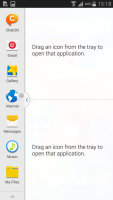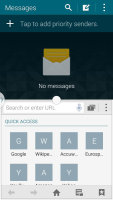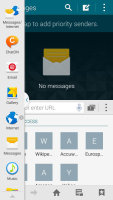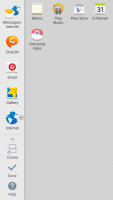 Multi-window split-screen multitasking
Sony takes a slightly different approach, small, floating apps can be launched from the Xperia Z3 Compact app switcher. They take up a precious portion of the 4.6″ screen but are good for a quick check and easily dismissed without exiting the current app.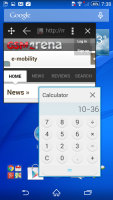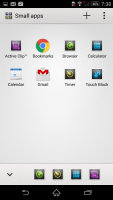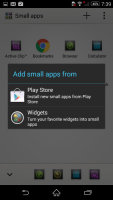 Floating apps for multitasking
iOS on the iPhone 6 has not multitasking improvements – the bigger iPhone 6 Plus got a split-screen interface for some apps in landscape mode (the same app but displaying two panels), but Apple keeps such functionality for larger screens.
The Spotlight feature has been updated and can now search through more resources – Wikipedia, news articles, nearby places, Apple's digital stores and so on. Google Search is quite thorough as well, but also allows installed apps to provide search results, something Spotlight does not. Also, once you search for something, say an address, Google Now will remember it and pop up with helpful info or interaction right on time (e.g. a Navigate to option in your notification area).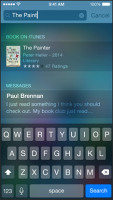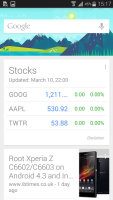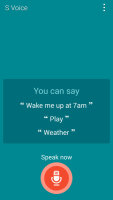 Spotlight • Google Now • S Voice
Siri is the best-known digital assistant and it can now recognize songs with Shazam integration. You just start Siri, you don't even need to say anything. You can activate Siri with a voice prompt too – "Hey, Siri!" – but that only works while the phone is charging.
Samsung has been in the digital assistant game a long time too and while Google Now has overshadowed most vendor efforts, S Voice still provides some helpful options (like toggling settings) that keep the Galaxy Alpha on par with the iPhone. The Xperia Z3 Compact relies on Google voice actions.
As for song recognition, Sony preloads TrackID and you can always get a free app from the Play Store.
A major change in iOS is that apps can insert themselves into the Share with and Open with context menus of the OS. This is one of the most powerful features on Android, allowing for a seamless experience with both native and third-party apps.
Yet another Android-inspired change is that iOS users can now install custom keyboards – alternative typing methods can improve your speed and accuracy or just add a silly, fun feature like responding with GIFs.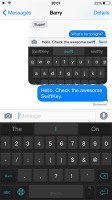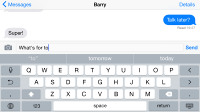 The keyboard was set free with iOS 8
And we're not done yet, iOS 8 also offers an app-by-app breakdown of how the battery charge was spend, something introduced with the ancient Android 2.3 Gingerbread.
Winner: Samsung Galaxy Alpha. The fingerprint reader enables extra security and Private mode pushes it beyond unlocking the phone and securing payments. With a proprietary voice assistant, split-screen multitasking and My Magazine the company went perhaps too far but it can't be accused of not doing enough.
Runner-up: Apple iPhone 6. The new iOS 8 adds many of the features we missed compared to Android and the fingerprint reader setup is better than Samsung's. Siri and Spotlight getting better are welcome additions too.
Third place: Sony Xperia Z3 Compact. Sony did little to mess with the vanilla Android recipe and mini apps aren't quite enough. Some will prefer the aesthetics of the Xperia interface over often-bashed TouchWiz.