Introduction
If the LG V20 was a superhero – and we're not convinced that it's not – its superpower would be to have two of everything (or more!). Two screens, two cameras, four DACs, two apps on the screen, the list goes on and on.
The LG V20 is an exploration into the future of smartphone multimedia. It continues LG's pioneering work with dual-cameras (the wide+normal kind) that a certain market leader recently adopted. It's a pocket music studio too. Its mics can record the loudest rock concert with perfect clarity – 24-bit/192kHZ FLAC audio. Playback is stellar too, it can drive studio-quality high impedance headphones with its four DACs.
One day we'd certainly remember the LG V20 as a pioneer in many respects. It sure is the first with Android 7.0 Nougat, but what else? Here's the full specs list to get you started.
Key features
Aluminum AL-6013 body; MIL-STD-810G shock resistance
5.7″ IPS LCD display, Quad HD resolution (513ppi); Secondary 2.1″ display (160 x 1040px)
Snapdragon 820 chip: quad-core Kryo processor (up to 2.15GHz), Adreno 530 GPU, 4GB of RAM
16MP (f/1.8) + 8 MP (f/2.4) main camera setup; OIS; laser autofocus; LED flash, 2160p video capture with lossless sound, SteadyRecord 2.0, 5MP (f/1.9) selfie camera (wide and normal modes)
First phone with Android 7.0. Nougat with Optimus UI 5.0
32GB/64GB built-in storage plus microSD card slot
Fingerprint sensor
Cat. 12 LTE (600Mbps/150Mbps); Wi-Fi 802.11 a/b/g/n/ac; Bluetooth 4.2; GPS/GLONASS; NFC; USB Type-C port; IR blaster
Quad DAC; 24-bit FLAC audio recording; B&O Play headphones bundled in some markets
Removable 3,200mAh battery; Quick Charge 3.0
Main cons
No water proofing
No wireless charging
LG overengineered the V20 in the best sense of the word, other phones will be playing catch up to some features well into 2017, not to mention the physical durability of the phone.
It is built with high-quality aluminum and its durability measures up to military standards, yet it keeps the removable back and battery (coveted features few flagships offer).
The V20 audio credentials are insane. The camera too finds a way to one-up the competition and is the first to use Qualcomm's digital image stabilization that augments the optical system.
And did we mention it launches with Android 7.0 Nougat before even the new Google Pixel phones are announced let alone available? Oh, yeah, we did.
In many ways, the LG V20 is a preview of what features other flagships will have next year. But there's no need to wait – the future came early. Join us in exploring it on the following pages.
Note: This review is based on a pre-production LG V20 unit and certain aspects of its performance might change. We'll update this review as soon as possible once a retail-ready review unit is available.
Unboxing the LG V20
The LG V20 box is loaded with premium accessories. It starts with a QC 3.0 charger (9V at 1.8A) and a USB Type-C cable (a tangle-free flat cable).
Some regions will get a Bang & Olufsen Play headset in a separate box, all regions are getting the B&O Play audio tuning and the branding on the back of the phone.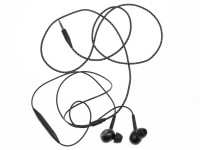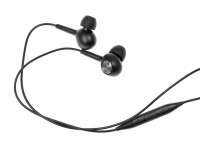 The B&O headset we received with the LG V20 (region dependent)
The B&O headphones we received have an in-ear design and have a knitted cable, though the exact model seems to change by region.
LG V20 360° spin
The LG V20 measures 159.7 x 78.1 x 7.6mm and weighs 174g. LG heard users complaints about the weight of the V10 (192g is a lot) and did something about it. It made the phone 1mm thinner to boot. All without losing the MIL-STD-810G rating.
Hardware
LG honed its smartphone design to a fine point with the V20. Many favorite elements from previous phones make a comeback and the whole is greater than the sum of its parts.
The LG V20 uses AL-6013 aluminum, a material popular in the aircraft industry for its high strength and good corrosion resistance. It's found in mission-critical systems like ABS brakes as well as munitions.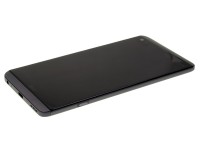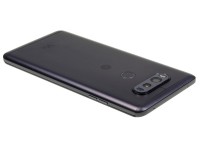 The LG V20 combines beauty and durability with enviable skill
The military connection goes on – the phone is MIL-STD-810G transit drop compliant. Part of that is the siloxane-polycarbonate, which has excellent impact toughness. This material is used for the top and bottom of the phone.
The metal on the back is a single plate that comes off at the push of a button. This spring-loaded release mechanism is preferable to the usual plastic tabs that snap on (those tend to break off).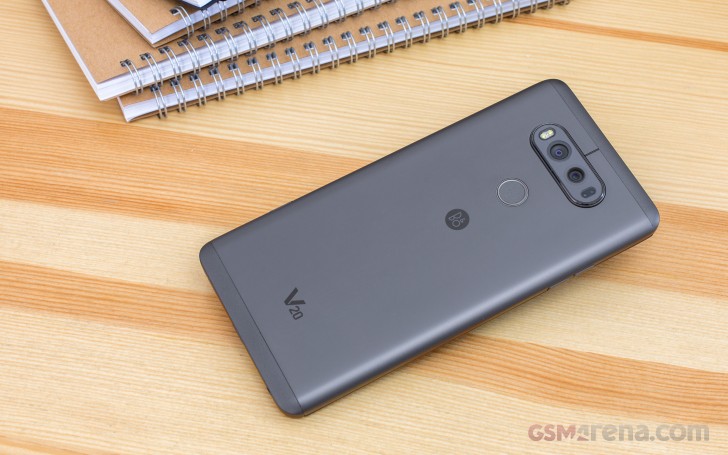 LG G5's metal body was painted in a way that robbed it of its premium metal feeling. V20's metal is left bare and feels much better for it.
The 3D Arc Glass from the LG G5 is back and is symmetrically used on the bottom as well. It's subtle, but the way the glass bends down where it meets the earpiece makes the phone comfortable to hold up to your ear.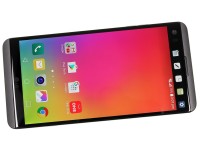 The LG V20 borrows the best from its predecessors
The LG V20 is also rather comfortable to hold. It's pleasantly thin for such a large phone. The camera hump bulges slightly more than the G5. Part of that is visual (the new stepped design makes it more obvious).
The external materials are only a small part of what makes the LG V20 great.
The unique secondary screen is back and it's improved. For one, it's brighter (nearly twice as bright). Legibility is further helped by the bigger font LG used for the date and time. And it can fit more text for your signature (not quite double the symbols).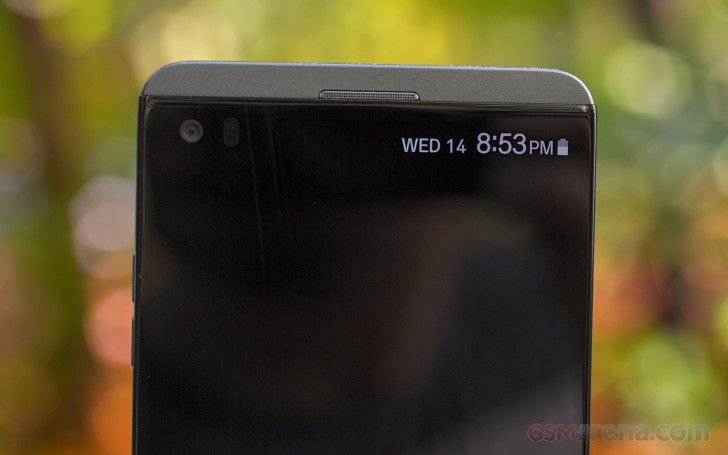 The V10 was the first smartphone to use two cameras to change FoV – wide and normal – and it was on the front.
The V20 offers the same choice but manages it with a single cam – somehow both wide-angle (120°) and normal (83°) modes produce 5MP photos and there's no sign of digital up-scaling.
There doesn't seem to be enough room for two cameras here as the rest of the space is used by the proximity and ambient light sensors and the second screen (which is slightly bigger than V10's).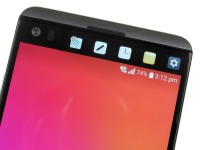 The Second screen cohabitates with the dual-FoV selfie camera
There's plenty of room on the back though. And LG has kitted the V20 with a pair of cameras like on the G5. The primary 16MP camera has a 75° field of view through its bright f/1.8 lens. The wide-angle camera has a 135° FoV and a f/2.4 lens.
The new Steady Record 2.0 is courtesy of Qualcomm. While many phones use the Snapdragon 820 chipset, the V20 is the first to take advantage of its gyro-based digital stabilization. We'll go into more details on the camera page.
For now, let's just cover the camera accessories – a dual-LED flash, a Laser autofocus and a color spectrum sensor.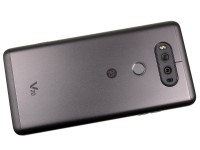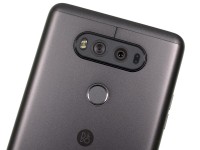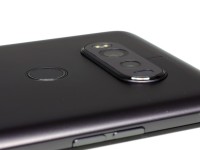 The dual-camera, dual-flash, dual-senor (Laser + color spectrum) on the back
Below those is the fingerprint reader. It's round and works at any angle so you can unlock the phone both in portrait and landscape. It's clickable as it's also the Power button, but it's an always on scanner so you only need to tap it to wake up the phone and unlock it.
The reader is nearly flush with the back, which makes finding it by feel a bit difficult. Once you get used to it, it's a very quick and accurate to unlock your phone.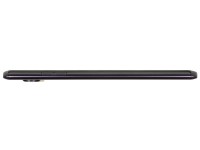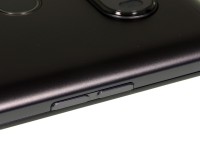 The Volume keys could have been better
The volume buttons are on the left of the phone and they are small and low, not the easiest buttons to hit. Same goes for the button that releases the back panel, but there that's a feature rather than a flaw.
The bottom of the LG V20 houses the versatile USB Type-C port, which (thankfully) hasn't replaced the 3.5mm headphone jack. Also here is the single loudspeaker and a mic – the first of several.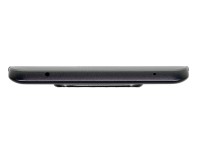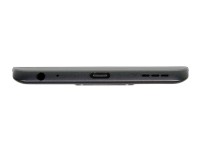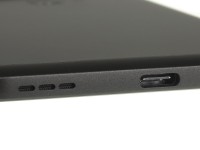 Second mic and IR blaster • USB Type-C, 3.5mm headphone jack and loudspeaker
There's another mic on top, also here is the IR blaster. The microphones are specially designed to record very loud environments – from rock concerts to the rowdiest crowds at football matches.
Now for what is one of our favorite things about the LG V20 – popping off the back. You press the release button and the back lifts slightly. When you remove it, you get the classic view – SIM and microSD card and battery, all removable.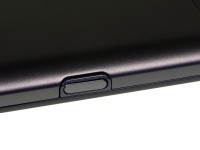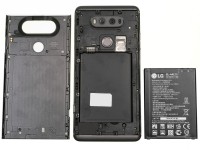 The release latch • Removable back cover and battery, like in the good old days
This offers the best of both worlds – the back stays on as solid as a unibody, but you can quickly swap the battery should you need to. Sure, the same holds for the LG G5, but V20's solution feels more durable.
There are plenty of pogo pins that contact the metal back plate, which we assume are for the various antennas used by the phone. The ones that connect to the ring around the camera are for NFC. There's no wireless charging, though.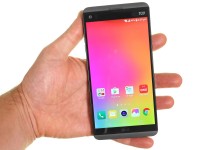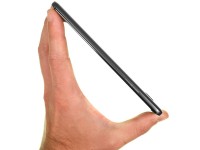 For its size, the LG V20 sits well in the hand
If it isn't clear by now, we're quite infatuated by the LG V20 design. It is slender and comfortable to hold with its flowing lines. What's more, our geek hearts leap at the thought of all the features while our pragmatist minds tell us that this is a sturdy phone that will last for years.
Display
The LG V20 has an IPS screen, well, two of them – we're sure you should see the trend by now.
The main screen has a 5.7″ diagonal and QHD resolution and 513ppi. The second screen is a single line (2.1″ in diagonal, but it's very wide) – its resolution is 160 x 1,040px (it's not the full 1,440px wide since a part is cut off for the selfie cam and sensors).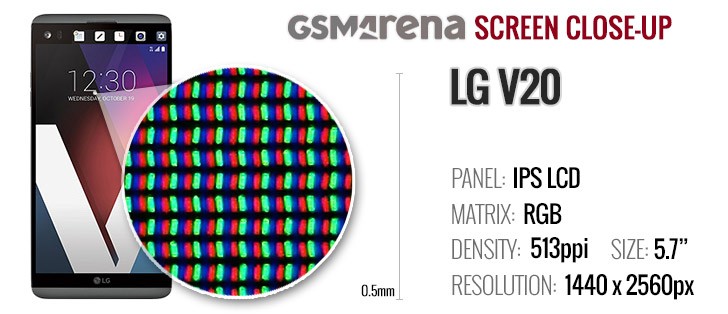 Only the second screen is always on, unlike the LG G5 which uses the main screen for that. Its touch input still works, though, so you can access shortcuts even when the phone is locked (unlike the G5).
Back to the main screen, it's sharp and bright. We measured a maximum of 475nits in manual mode, much higher than the G5's screen (even at full blast). LG V20's display is brighter, though, on Auto mode it reached a peak of 628nits while keeping the contrast.
Contrast is good – about 1,000:1, but below G5's and even V10's readings. The black levels are comparable to the iPhone 6s Plus, though not as low as LG's previous premium displays.
Display test
100% brightness
Black, cd/m2
White, cd/m2
Contrast ratio
LG V20
0.43
475
1097
LG V20 Max auto
0.59
628
1064
LG V10
0.29
432
1490
LG G5
0.17
306
1855
LG G5 max auto
0.20
378
1881
Samsung Galaxy Note7
0.00
428
∞
Samsung Galaxy Note7 (Max auto)
0.00
647
∞
Apple iPhone 6s Plus
0.43
590
1382
LG does not provide color modes for the screen aside from a blue light filter, which has become a popular feature lately. It reduces blue light emitted from the screen so that using your phone in the evening will not mess up your body's internal clock and thus disrupt your sleep.
Regarding color accuracy, the LG V20 is a slight improvement over the G5, reigning in the max deltaE (9.5) while the average deltaE is similar (5.1). These results are better than average – better than most LCDs in fact – though there are phones that do better (the iPhone 7, for instance, comes perfectly calibrated off the factory floor).
Sunlight legibility has also improved noticeably since the LG G5, which itself was slightly better than the V10.
Sunlight contrast ratio
Samsung Galaxy Note7

4.247

Apple iPhone 6s Plus

3.53

LG V20

3.402

LG G5

2.905

LG V10

2.744
The LG V20 has a setting called "Display size." Obviously, the hardware screen stays at 5.7″ big, this is a DPI slider. It has three settings ranging from tiny icons and menu options to big ones. Your choice here would depend on the keenness of your eyesight and the precision of your fingers.
Connectivity
The LG V20 has fast connectivity thanks to Qualcomm's modem. It offers LTE Cat. 12 – that's up to 600Mbps down and up to 150Mbps up. The V20 is the first phone to support AWS-3 – a newly sold LTE band that will roll out in metropolitan areas in the US, Canada and elsewhere starting next year. That's a nice piece of future-proofing right there but hardly of importance now.
Locally, the phone supports Wi-Fi a/b/g/n/ac, Bluetooth 4.2 (with aptX for audio) and NFC. There's an IR blaster with LG's capable remote control app to boot.
Wired connections are USB Type-C and a standard 3.5mm headphone jack.
That one is hooked up to an ESS ES9218 "32-bit stereo quad-DAC." The phone supports lossless formats (FLAC, ALAC and a couple of rarer ones). You can also output audio over the Type-C port if you have the right headset, but that bypasses the phone's DAC and uses the one in the headset.
In the notification area you'll find two buttons – Screen sharing and File sharing. The first does wireless Miracast (though wired MirrorLink is available if your car supports it). The second makes your LG V20 permanently visible over Bluetooth Low Energy so people can easily send you files.
Battery life
The LG V20 comes with a 3,200mAh battery and it is removable – just pop off the back! And all that with V20's shockproofing – impressive stuff indeed.
The battery capacity isn't huge by any standard, especially considering it has to feed a very bright 5.7″ screen, not to mention the secondary screen. Speaking of the latter, it's worth mentioning that it operates as an Always-On Display for various status information or notifications. The best part is that it changes brightness depending on the ambient light, and it even completely turns off when the phone is in your pocket (proximity).
That saves energy, but complicates the testing procedure – we'll be back with more on V20's standby performance with the second screen on once we get a retail unit.
The V20 has 400mAh extra on top of what the G5 had and that one had, to power the main screen for the always on functionality. Unsurprisingly, the LG V20 lasts longer in calls – we clocked it at around 20 hours, slightly better than the official spec of 19 hours.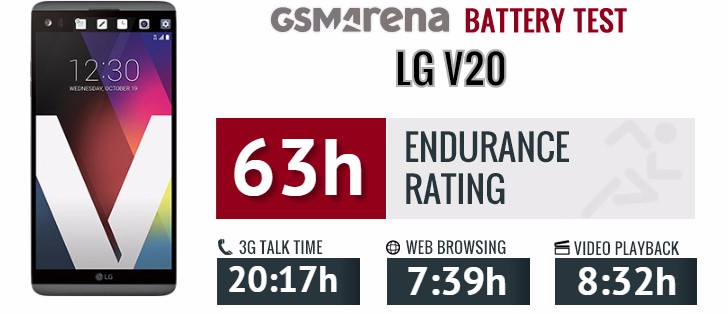 In our web browsing test the V20 managed 7 hours and a half, matching the G5. Considering that the LG V20 has a bigger screen (5.7″ vs. 5.3″), the similar result makes sense as this offsets the increase in battery capacity. Some competing flagships manage 10+ hours, but the OnePlus 3 does 8 hours and the Moto Z (non-Force) only 6 hours.
The video test score of the V20 is similar, but the phone lasted an hour longer – 8 and a half.
Overall, the V20 posted an Endurance rating of 63h. While this score is certainly better than average in our scoresheet, it's subpar for the phablet category, so we're disappointed LG missed this opportunity to improve their showing in the battery department.
This battery test is based on a pre-production unit provided by LG for preliminary testing. We will update our findings as soon as we get a retail-ready unit.
User interface
The LG V20 is the first phone to launch with Android 7.0 Nougat and LG made a big deal about it during the initial promo campaign. There's plenty to brag about as Nougat brings features that Android has long lacked.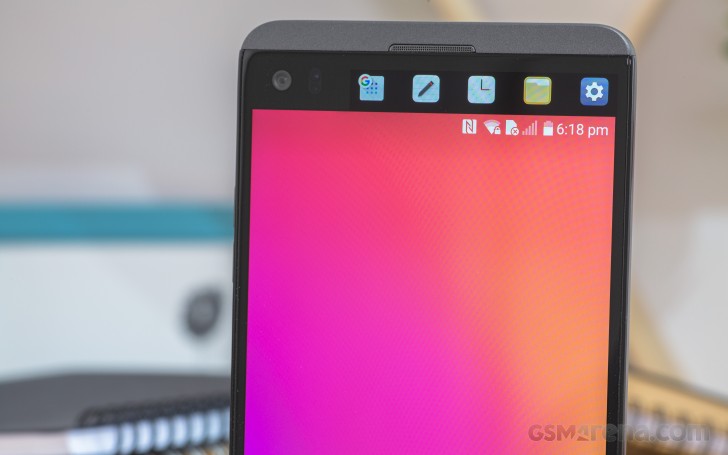 Native split screen multitasking has finally arrived. Some phone makers have their custom versions (including LG itself), but with this one coming straight from Google, we can finally start talking about wider adoption and app support.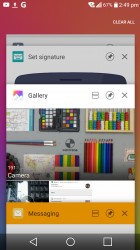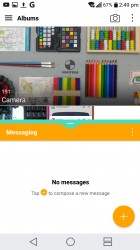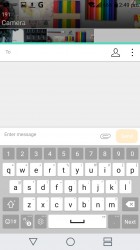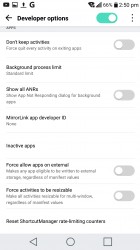 Launching split screen • Two apps at a time • Typing in split screen • Forcing compatibility
Many (but not all) apps can work in split-screen mode. You can use it in either portrait and landscape, but note that the dividing line is adjustable only in portrait – in landscape view, it's always 50/50. When an app needs a keyboard, the other app is squished into a small space to give room to the keyboard.
Note: from the Developers options, you can force Android to enable split-screen multitasking for all apps. There are no guarantees they will work properly, though. Also from here, you can make all apps movable to the microSD card.
Anyway, some apps have a natural interaction with the split screen view. In Chrome, for example, selecting the "Open in another window" option on a shortcut opens the new page on the other half of the screen.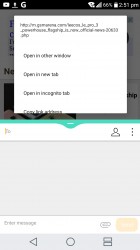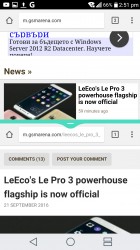 Chrome works with split screen mode for a more desktop-like browsing experience
QSlide, LG's floating app implementation, is still available in some places – the Phone, Messaging, and the video player. But those are the exception rather than the rule.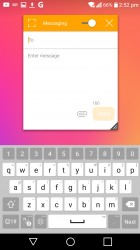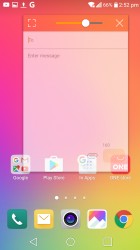 QSlide works for some apps – it creates a resizeable, floating (optionally translucent) window)
Another cool, valuable feature is the Quick switch – double tap the app switcher button to alt+tab to the first background app. This works with split screen mode too, so you can easily juggle more than two apps.
In split screen view, the Home button shows your homescreen but does not dismiss the apps – the app switcher button shows the split screen icon and double tapping it brings back the two. This is great since normally you can only pick apps from the app switcher rolodex for split screen use, but in this state, any app you launch from the homescreen goes straight into split screen mode.
And you will find all the apps on the homescreen – by default, LG has removed the app drawer, leaving shortcuts and widgets sharing the homescreen. If you're not a fan, you can change to the Home & app drawer launcher, which is more traditional. Alternatively, you can just hide the apps you don't use.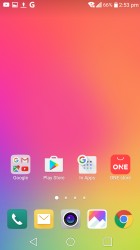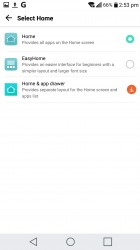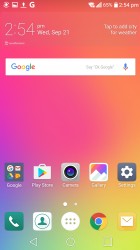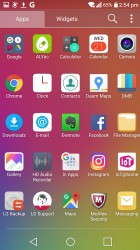 No app drawer by default • Adding back the app drawer • And it's back!
The V20 comes with a curated selection of wallpapers, including some B&O branded ones. A nice way to show off the beautiful wallpapers is to pinch out, which temporarily hides all shortcuts and widgets from the current screen.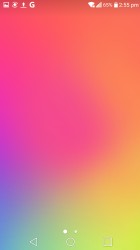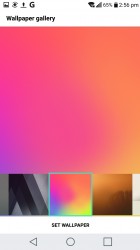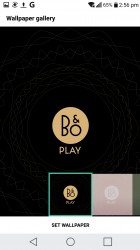 Pinch out hides app shortcuts and widgets • Preloaded wallpaper selection
Sugary Nougat gives you plenty of energy to multitask. The notifications have Quick actions. Quick reply is perhaps the most common of those, letting you reply to a message from the notification. Other actions like share, archive, delete and so on are available too.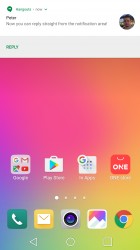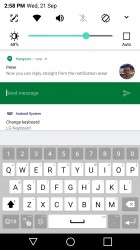 Quick reply from the notifications
Nougat's notifications also have a priority filter to let you focus on what's important. Low-priority ones can be set to "show silently" while mission critical ones can be set to bypass even the Do Not Disturb mode.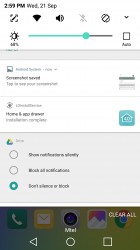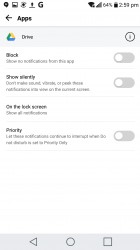 Changing notification priority to separate important events from distractions
The notification area followed what custom skins have been doing for ages and put some quick toggles on the top row. LG added to that a brightness slider with an Auto checkbox. The Edit button lets you re-arrange toggles and hide the ones you don't need.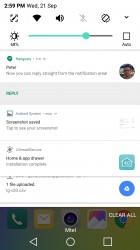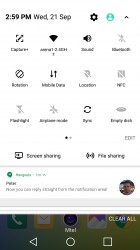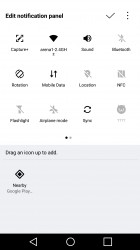 The notification area • Quick toggles • Editing the toggles
Sidenote: here hides one of Nougat's Easter eggs – a patience game that has you luring in virtual cats with a dish. When a cat saunters by, you get a notification – tapping that adopts the cat and lets you name it. It's not quite Pokemon Go, but it's fun in a minimalist way.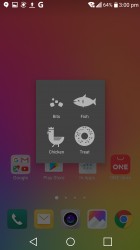 Catching cats instead of Pokemon
Android 7.0 Nougat brings an updated Doze. It optimizes apps so that power is used sparingly, but important notifications are not missed. You can disable this for select apps if it's ever an issue. The LG V20 adds to that the option to disable the second screen when battery saver is on.
Another efficiency tool is the Data saver. It prevents apps from using mobile data for background syncing (only Wi-Fi data is allowed). Again, you can exempt apps from this (it's a good idea to do this for messengers).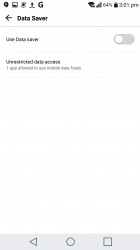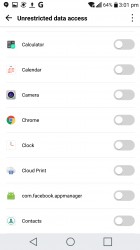 Data saver • Exempting apps from data rationing
The new OS makes the file access permission more granular with Scoped directory access – instead of giving access to the entire storage system, you can permit apps to access only certain folders. The app needs to support that feature, though, so it doesn't work for current apps.
Some people are heavy app users and will try out multiple ones before settling on the right app. LG V20 and Nougat change the way you uninstall apps. Uninstalling an app doesn't remove it immediately. Instead, it just gets disabled and is only removed after 24 hours in case you change your mind and want it back.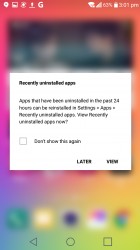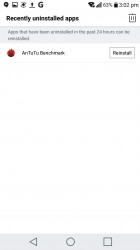 Re-installing apps you uninstalled recently is now much quicker
We know it's early to talk about upgrades, but when it comes to it, Nougat's Seamless update system will streamline the process. Essentially, it keeps two copies of the OS – a current one and another one for updating. The second partition can be updated in the background while the LG V20 idles and next time you restart the phone, it will boot into the new version on Partition 2 in which case the first partition will be used for Seamless updating next time. Should the update fail for any reason, the phone can always revert to the old partition. Auto-installation of updates can be disabled, if you want.
The LG V20 UI is fully themeable. Three themes are pre-installed – the usual LG look, a black & white theme, and a high-contrast one. You can download additional themes from SmartWorld.
Fingerprint reader
LG V20's lockscreen is nothing new, but the always-on secondary screen shows notifications before you even wake the phone (and you can wake the screen with a double tap).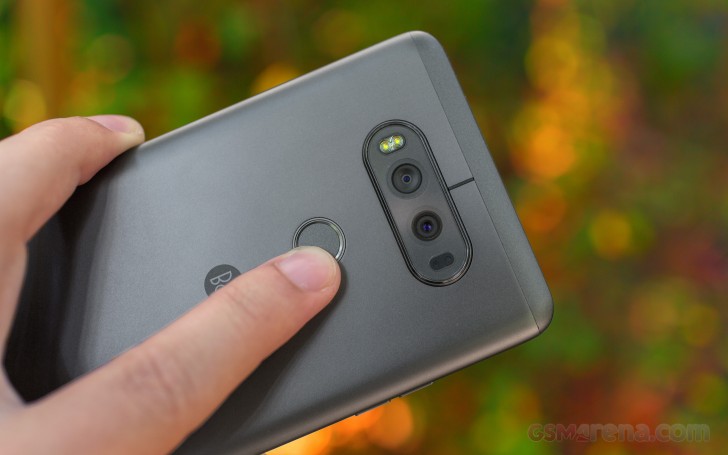 We found the fingerprint reader to be our preferred option though – it only needs a light touch of your finger (you don't even need to press it). It unlocks instantly and bypasses the lockscreen.
You can add up to 5 shortcuts on the lockscreen, but between the instant fingerprint unlock and the shortcuts on the secondary screen, chances are you won't be using the lockscreen much.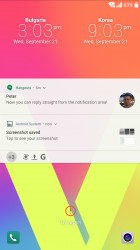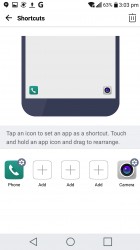 Familiar lockscreen • Up to 5 shortcuts
When you setup the fingerprint, you are required to select an alternative unlock method – like PIN or Knock Code (LG's Simon Says-like method that replaces passwords with different patterns of knocks).
The Content lock feature also uses the fingerprint to secure Gallery and QuickMemo+ items.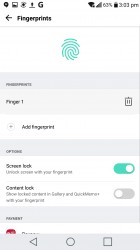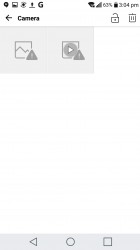 Setting up the fingerprint reader • Content lock
Our LG V20 also came with the Paynow service, but that's an LG Uplus feature available only in S. Korea so Western units will probably miss out on the wireless payment service.
elephony
The LG V20 is available only in single-SIM flavor. It offers strong reception and good sound quality. VoLTE is available (if your carrier supports it), which offers better audio quality than regular GSM calls.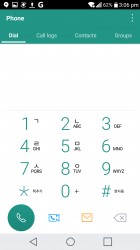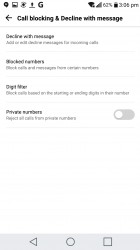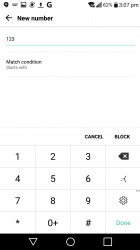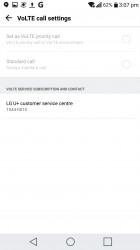 The Dialer • Blocking calls • Screening calls by number • VoLTE is supported
The new OS offers native number blocking and call screening. You can block numbers based on their initial or final digits or just specific numbers. Third-party apps can ask Android which numbers are blocked, so apps that use them to identify users (like WhatsApp and Viber) can also reject calls and messages from those numbers.
Loudspeaker
The LG V20 has a single bottom-firing loudspeaker. It scored a Good mark – it has a full sound with no distortion. Its volume depends on what you play – it goes from good to very loud.
| | | | | |
| --- | --- | --- | --- | --- |
| Speakerphone test | Voice, dB | Pink noise/ Music, dB | Ringing phone, dB | Overall score |
| HTC 10 (Theater mode) | 61.9 | 66.0 | 62.1 | Below Average |
| Sony Xperia XZ | 61.6 | 65.5 | 67.6 | Below Average |
| LG V10 | 66.1 | 64.7 | 70.7 | Average |
| OnePlus 3 | 62.4 | 71.0 | 77.8 | Good |
| Samsung Galaxy Note7 | 69.7 | 69.9 | 72.3 | Good |
| LG G5 | 68.7 | 70.9 | 73.5 | Good |
| Lenovo Moto Z Force Droid | 69.5 | 68.0 | 77.6 | Good |
| LG V20 | 68.2 | 68.6 | 80.9 | Good |
| Huawei P9 Plus | 71.7 | 73.7 | 81.3 | Very Good |
| Sony Xperia XA Ultra | 88.9 | 79.3 | 82.7 | Excellent |
Messaging and text input
The LG V20 comes with a simple but functional app for texts. It has the familiar threaded view, an emoji keyboard, themeable background and bubble styles and so on.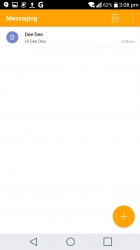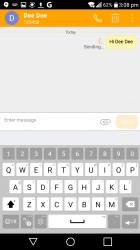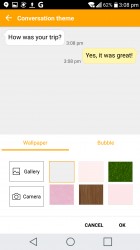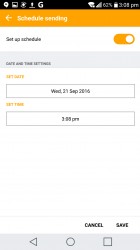 The Messaging app • Sending a text • Theming the app • Scheduling a message
Two helpful features are scheduled messages (good for paying for time-based parking, we guess, or for sending birthday greetings) and the search, which can easily dig up old messages.
The LG keyboard offers extensive customizations. You can change its size, hide/show the number row, add/remove some buttons and more.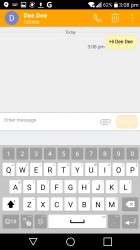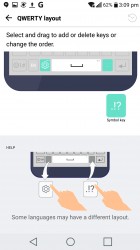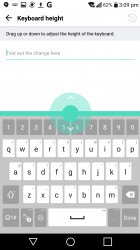 The keyboard • Customizing the keys • Changing the keyboard's height
A Split keyboard is available, great for thumb typing in landscape. In portrait, you can use the One-handed keyboard instead. Swipe input is available as well.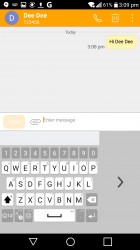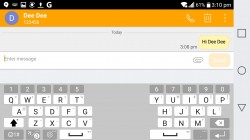 One-handed keyboard • Split keyboard
Other apps
Google In Apps is a recent addition and premiers with Android Nougat. It's essentially Google search for your phone. It searches inside apps so that you can find contacts, emails and chat messages, music, even your browsing history. Note that apps need to support this feature in order to provide results for In Apps searches.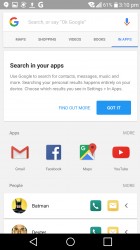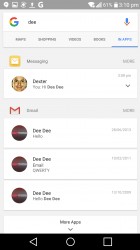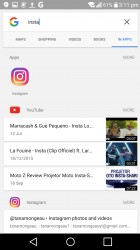 The new In Apps search finds content not on the Internet, but on your phone
LG's HD Audio Recorder app deserves a special mention. The Normal UI is quite basic, but Concert has some astounding features. LG V20's High Acoustic Overload Point mics can record sound up to 132dB – much louder than the already deafening 120dB the V10 could manage.
And the quality is top notch – uncompressed WAV and compressed FLAC are available at up to 24-bit and 192kHz. Going to Custom gives you manual control over Gain, Low cut filter (75Hz/150Hz) and Limiter (prevents clipping of low-frequency sounds).
The app lets you record voice over an audio file (say, a vocal track for your new song) and you can use headphones to monitor the sound.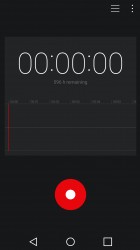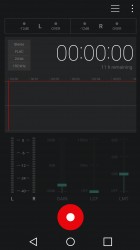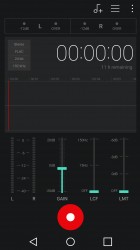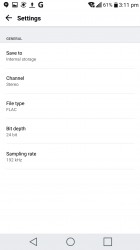 HD Audio recorder: Normal • Concert • Manual • Settings
Using LG V20's IR blaster and the QRemote app you can control most electronic equipment at home – TVs, set-top boxes, audio players, projectors and air conditioners. The phone can also learn control codes from existing remotes, so it supports everything that's IR-controlled (think LED strips, some cleaning robots, etc.).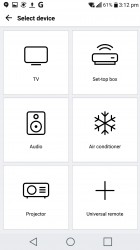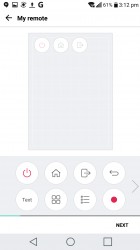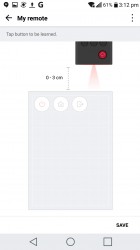 QRemote creates a virtual universal remote
The LG Backup app has two functions – backup (obviously) and transfer. Using the latter, you can copy most data off your old phone onto the V20, simplifying the upgrade process. Backups store personal data and settings, data from the internal storage and downloaded apps. There's no cloud backup solution, though – you have to manually upload the backup file to your cloud storage provider of choice.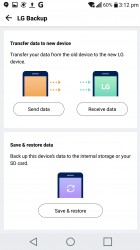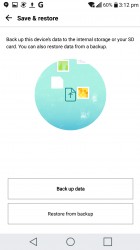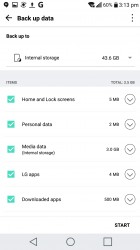 LG Backup can also transfer your data between phones
Smart doctor takes care of your storage and battery. It can free up both RAM and internal storage. It also serves as a portal to Android's battery saving features. Diagnose goes a bit further and will look for issues with apps, network connectivity, storage and battery and point you to the right section of the online Help documents.