Prepare to meet the biggest premium phone Samsung has made. No, not the Note5, even that one is dwarfed by the Samsung Galaxy A9 and its 6″ Super AMOLED screen.
The A9 is a new addition to the Galaxy A lineup (the original topped out with the 5.7″ A8) and is undeniably the star of the Galaxy A series. It has a massive 6″ Super AMOLED and it outruns the other As with a Snapdragon 652 chipset (an early taste of the latest Cortex-A72 processor).
There are little things too, like doubling the internal storage to 32GB, bumping the battery to 4,000mAh, upping the selfie camera to 8MP and even bringing faster LTE.
Key features
Available with a hybrid dual-SIM/microSD slot
Metal frame sandwiched between 2.5D Gorilla Glass 4
6″ Super AMOLED of 1,080 x 1,920px resolution, ~367ppi
Quad-core Cortex-A72 + quad A53 processor, 3GB of RAM, Adreno 510 GPU; Snapdragon 652 chipset (also available with an Exynos chipset)
Android 5.1 Lollipop with TouchWiz, theme support
13MP camera with f/1.9 aperture and OIS; 1080p video recording; 8MP front-facing camera, 1080p video
32GB of built-in storage; 24GB user available; microSD slot (same as SIM2 slot on some models)
LTE Cat. 4 150Mbps, Wi-Fi a/b/g/n/ac, GPS, GLONASS, Bluetooth 4.1, ANT+, NFC, FM Radio
4,000mAh battery
Main disadvantages
No 4K video or 1080p@60fps
No MHL (but USB OTG is supported)
No notification light
The Snapdragon 652 is built on the old 28nm process, but unlike the S615 used in lower-order Galaxy As, half of its cores are the fast Cortex-A72 type (the successor to the A57). A more powerful Adreno 510 GPU and 4K video capture put the cherry on top.
Except that's not enabled on the Galaxy A7. Like its siblings it maxes out at 1080p @ 30fps, you don't even get even 60fps. You still get the same main camera, though – 13MP f/1.9 with optical image stabilization.






Samsung Galaxy A9 (2016) official images
The A5 (2016) was a lower-cost alternative to the S6, the A7 (2016) didn't quite reach S6 edge+ levels, but it was a solid upgrade over the original A7.
So where does the Galaxy A9 (2016) fit in? It seems like Samsung found an unoccupied niche in its lineup – a premium mid-ranger built of metal and glass with a near-tablet sized screen. Let's take a peek inside its cave and see if the monster is awake.
Unboxing the Samsung Galaxy A9 (2016)
Predictably, the Samsung Galaxy A9 (2016) comes in a fairly large box. It contains the full basic set – a Quick Charge 2.0 charger (15W), a cable to go with it and a headset.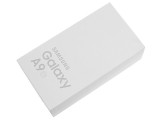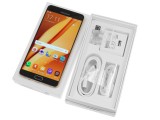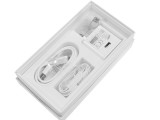 Retail package of the Samsung Galaxy A9 (2016)
It's a one-piece headset with a three-button remote and in-ear plugs, Samsung's usual.
Hardware
The Samsung Galaxy A9 (2016) measures a whopping 161.7 x 80.9 x 7.4mm, wider and taller than the Note5 and S6 edge+ by almost half a centimeter in either direction.
It's not very thick, but it certainly is heavy – 200g. Not surprising given the size, but still it adds to the feeling of awe you get when you first handle the A9.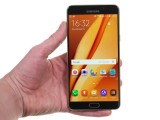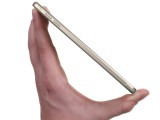 Samsung Galaxy A9 (2016) in the hand
While the scale is different, the floor plan remains unchanged. A metal skeleton holds up two panes of 2.5D Gorilla Glass 4.
The scale truly is different, though, be prepared to only hold the Galaxy A9 (2016) with one hand for reading; any active use will require two hands.
Several design elements compound the problem. First, the 80.9mm of width pushes your grip wide. The 7.4mm thickness is pretty good, but at that width, even this little can make the phone feel bulky. The 200g of weight combined with the slippery glass and metal exterior mean you can't relax your grip too much or risk sending the A9 to the floor.
Button positioning isn't ideal either – we could reach the Power button with our thumb (it was a stretch), but the Volume buttons are just too high up to reach comfortably.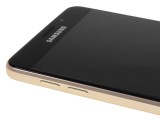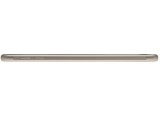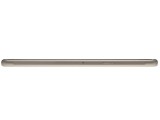 Side buttons are small, hard to reach
Similarly, using the Home button – which also houses the flagship-class fingerprint reader – requires that you hold the phone low, leaving most of the massive 6″ screen and 200g bulk high above your hand. As we said, single-handed grip really only works for passive media consumption.
The capacitive App switcher and Back keys flank the Home button and depending on which hand you use, one of them will be a reach.
Anyway, above the screen is the new 8MP selfie camera (up from 5MP on other A-series models), which kept the bright f/1.9 aperture.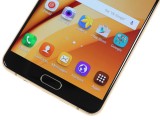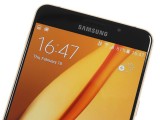 The Home button/fingerprint reader • An upgraded 8MP selfie camera
The main camera on the back protrudes slightly, but not as much as on the Galaxy S6 or Note5. It's accompanied by a single-LED flash (no biometric sensors like on the Galaxy top dogs though).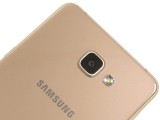 The main camera is not flush with the back, but doesn't stick out like on the Note5
The bottom of the Samsung Galaxy A9 (2016) is where the wired ports live – the stock microUSB 2.0 port and the 3.5mm audio jack. Squished alongside them are the loudspeaker (singular) and one of the mics (the second one is on top).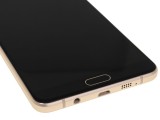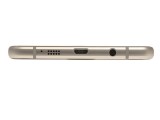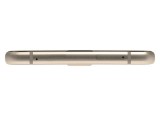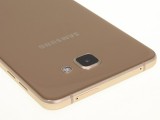 The wired ports and mic/speaker equipment • secondary mic on top
Our review unit (SM-A9000) is currently the only A9 version available. It has a second tray (positioned on top) that is dedicated to holding the second SIM. This way you get to have both two SIMs and expanded storage.
If the A9 is anything like the A5 and A7, international dual-SIM models will have a single hybrid tray can hold either two nanoSIMs or nanoSIM + microSD (but not three cards at the same time).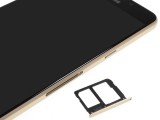 The nanoSIM/microSD tray of the A9000 variant
Admittedly, this is less of a problem on the A9 (2016) than it is on smaller A-phones as this one has 32GB of built-in storage. Unfortunately, a massive 7.5GB is dedicated to the system.
Display
The Samsung Galaxy A9 (2016) comes with a massive 6″ Super AMOLED display. That's the biggest unit yet unless we count the Tab S tablets.
It has 1080p resolution, like the other A-series phones. It's a bit of a stretch on this diagonal – most people won't mind, but in some cases, you can see a slight cross-hatch effect. There was also the flicker issue – it's imperceptible to the human eye, but the display flickers slightly (especially at lower brightness settings), which may cause irritation.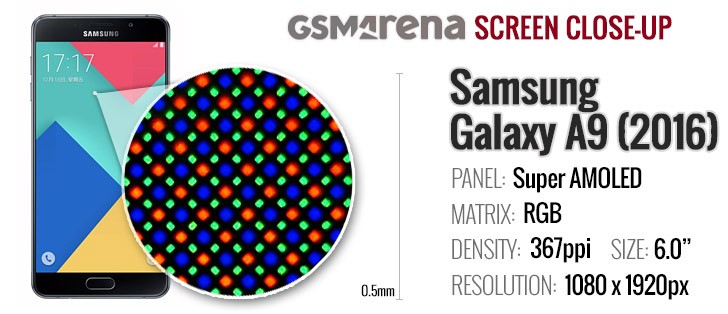 Other than that the display is a knockout. If you want perfectly calibrated color output, just switch to the Basic color mode as it comes with an average color deviation (deltaE 2000) of only 1.6 and a maximum of just 3.5. The other color modes are less color accurate but will probably be more eye pleasing due to their higher contrast.
The screen is impressively bright too, maxing out at just over 600nits when set on Auto mode. If you prefer full control, Manual mode gives you a maximum of 425nits. This, combined with the awesome AMOLED contrast, makes for a great viewing experience.
Display test
100% brightness
Black, cd/m2
White, cd/m2
Contrast ratio
Samsung Galaxy A9 (2016)
0.00
426.6
∞
Samsung Galaxy A9 (2016) max auto
0.00
609.2
∞
Samsung Galaxy A7 (2016)
0.00
425
∞
Samsung Galaxy A7 (2016) max auto
0.00
536
∞
Samsung Galaxy Note5
–
439
∞
Samsung Galaxy Note5 max auto
–
620
–
Samsung Galaxy S6 edge+
–
410
∞
Samsung Galaxy S6 edge+ max auto
–
540
–
Huawei Mate 8
0.346
471
1361
Huawei Nexus 6P
0.00
352
∞
Microsoft Lumia 950XL
0.00
335
∞
Microsoft Lumia 950XL (max auto)
0.00
705
∞
Oppo R7 Plus
–
351
∞
Under bright sunlight, the Galaxy A9 screen remains perfectly legible even at the 400 or so nits that you get from Manual mode.
Sunlight contrast ratio
Sort by Label
Sort by Value
Expand
Samsung Galaxy S6 edge+

4.615

Samsung Galaxy Note5

4.09

Huawei Nexus 6P

4.019

Samsung Galaxy A7 (2016)

3.918

Microsoft Lumia 950XL

3.837

Samsung Galaxy A9 (2016)

3.817

Oppo R7 Plus

3.499

Huawei Mate 8

2.949
Connectivity
The Samsung Galaxy A9 (2016) is available in single-SIM form, as well as several dual-SIM flavors.The key difference between them is where does the second SIM go – on some models it displaces the microSD, on others it goes on a second tray (our review unit, SM-A9000, is like that).
The phone is officially rated at LTE Cat. 4 support – that's up to 150Mbps downloads and up to 50Mbps uploads. That's strange since Snapdragon 652's X8 modem supports the Cat. 7 standard – 300Mbps down, 100Mbps up.
Anyway, you get 3G/4G only for one SIM – the one selected as data SIM. The other is limited to 2G/EDGE.
You can connect to the fastest available Wi-Fi network at 2.4GHz or 5GHz, 802.11ac is supported too.
Additional wireless connections include Bluetooth 4.1, NFC and ANT+. Positioning methods cover American GPS, Russian GLONASS and Chinese Beidou.
Wired connections are served by the microUSB 2.0 port, which does USB On-The-Go for peripherals, but lacks MHL (or other) for TV out.
Battery life
The Samsung Galaxy A9 (2016) has a massive 4,000mAh battery and we expect a lot from it, based on experience with the smaller A-phones. Those were using the older S615 chipset, though, this A9 unit has a Snapdragon 652.
The results are stellar, with an Endurance rating of 103 hours (in single-SIM mode), the Galaxy A9 is the longest-lasting Samsung phone save for the S6 active. With a second SIM the gas needle barely moves, the A9 lasted 98 hours.
The talk time is great at 33 hours, literally more talking than you can do in a day. The web browsing longevity is impressive, not Huawei Mate 8 impressive, but among the best aside from a few outliers. For video playback, the Galaxy A9 (2016) came second only to the LG G Flex.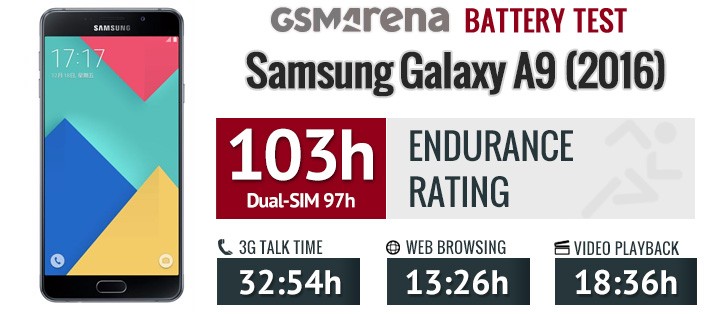 User interface
The Samsung Galaxy A9 (2016) runs a TouchWiz-skinned Android 5.1.1 Lollipop. The company just updated the S6 flagship to 6.0 Marshmallow, but the A9 will have to wait for this update.
The fingerprint reader used on the A9 (and other 2016 A-series phones) is the same as the one on the Galaxy S6 and Note5. It recognizes a finger in under a second. All it takes to unlock the phone is to press the Home key and leave your finger for a moment longer while the fingerprint reader does its thing.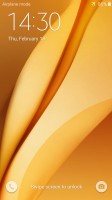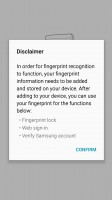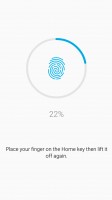 The lockscreen • fingerprint protection
Size aside, the homescreen is perfectly identical to the TouchWiz home of other Samsung phones. Even the number of columns is the same – 5 icons on a row, same as the A7.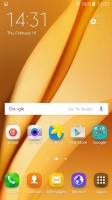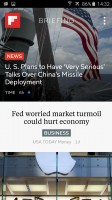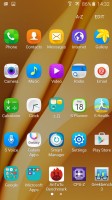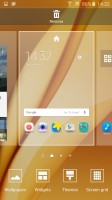 Homescreen • Briefing • App drawer • Homescreen settings
The Notification area is pretty busy by default. It starts with a scrollable line of quick toggles on top, then a brightness slider, then the S Finder and Quick connect buttons. You can hide them from the Edit option, which also lets you re-arrange the quick toggles.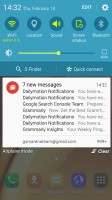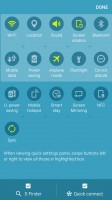 Notification area • Modifying the notification area
The Galaxy A9 (2016) user interface is fully themeable. We only got three themes pre-installed, but the Theme store has many more to download.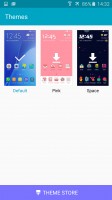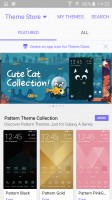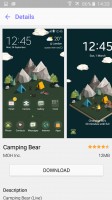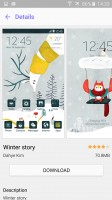 Themes
Split-screen multitasking is supported on the A9 and the 6″ screen was born to do it. Even at half a screen, apps get plenty of room (Material design likes a lot of padding though). As always, only supported apps can work in split-screen, but Samsung's implementation is the most widely supported. Floating app windows are not available, though.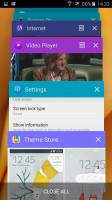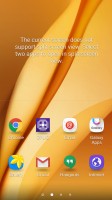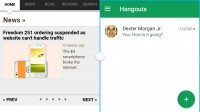 App switcher • Launching split-screen mode • Split-screen mode
The Samsung Galaxy A9 (2016) comes with a fairly average amount of pre-loaded apps, so we can't explain where all the storage went. The phone starts with 32GB, but a whole quarter of that (7.5GB) is left to the system. That's close to double what the 16GB A5 and A7 lost.
Telephony and loudspeaker
The Samsung Galaxy A9 (2016) is available as a single-SIM phone, but there are versions (like our review unit) which are dual-SIM. The SIM card manager lets you pick a preferred SIM for voice, text and data.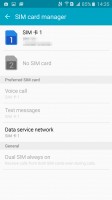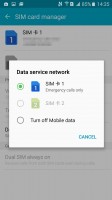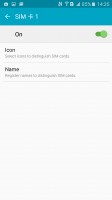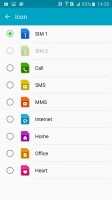 SIM Manager • Picking data SIM • Customizing SIMs
This is a dual-standby phone – both SIMs listen for incoming calls, but once you're in a call, the other SIM becomes unreachable. You can set up call-forwarding though.
The dialer gives you two dial keys (if you put in two SIMs). The call log can even be filtered by SIM1 and SIM2, also by missed or rejected calls.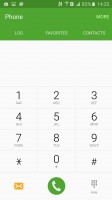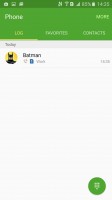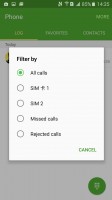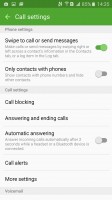 Dialer • Call log • Filtering the log • Call settings
The Do Not Disturb mode can be put on an automated schedule. When it's on, only priority notifications can get through hand you decide what counts as "priority" – it can be anything from calls from select contacts to reminders from key apps.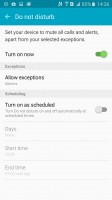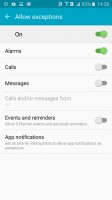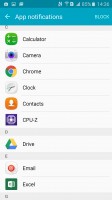 Do not disturb • Priority notifications • Priority apps
The Samsung Galaxy A9 (2016) broke away from its pack (which scored Below Average) and pulled in an average mark. With the right ringtone the single loudspeaker can perform quite well, but don't expect much when you play music or use it in a call.
| | | | | |
| --- | --- | --- | --- | --- |
| Speakerphone test | Voice, dB | Pink noise/ Music, dB | Ringing phone, dB | Overall score |
| Samsung Galaxy A7 (2016) | 66.2 | 64.8 | 66.8 | Below Average |
| Samsung Galaxy A5 (2016) | 65.8 | 66.0 | 66.5 | Below Average |
| Samsung Galaxy S6 edge+ | 65.8 | 64.8 | 70.4 | Average |
| Samsung Galaxy A9 (2016) | 65.5 | 72.2 | 65.2 | Average |
| Samsung Galaxy Note5 | 65.3 | 64.6 | 73.5 | Average |
| Xiaomi Redmi Note 3 | 66.5 | 66.6 | 75.8 | Good |
| Sony Xperia C5 Ultra | 69.8 | 66.6 | 82.7 | Very Good |
| Huawei Nexus 6P | 74.7 | 77.8 | 72.1 | Very Good |
| Meizu MX4 Pro | 76.9 | 73.6 | 82.7 | Excellent |
| Microsoft Lumia 950 XL | 74.9 | 75.7 | 84.3 | Excellent |
Text input
The Galaxy A9 (2016) uses an updated version of the Samsung Keyboard. It's quite feature-packed, with a dedicated numbers row, a row above that for word suggestions and additional characters on each key (accessible via long-press).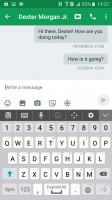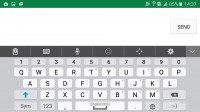 Keyboard • Arrow keys • landscape mode
If that seems too tall, you can scale the keyboard down (or up, if you want bigger keys). We don't like that the Space key is quite short, though.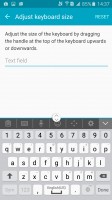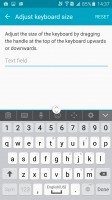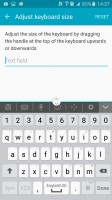 Keyboard size: Smallest • Default • Biggest
Additional typing tools include swipe input, My Hot Keys (predefined phrases that can be typed by long-pressing a number key) and voice dictation.
Other apps
Samsung continues to bundle the Microsoft app package that includes Word, Excel, PowerPoint, OneNote and Skype. Note that only Skype was actually installed, the rest are just shortcuts to Galaxy Apps (this way they don't take up space until you actually need and install them).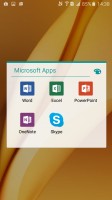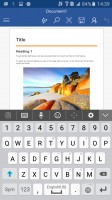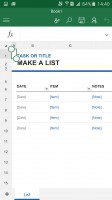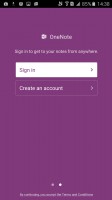 Microsoft app package
Google Drive is pre-installed, however, the actual document editors are not (they are a free download, though).
The Samsung-customized web browser features Web sign in – a feature that works as a password manager secured by your fingerprint. This makes log-ins as simple as unlocking the phone.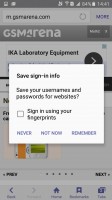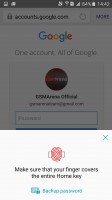 With the Samsung browser, your fingerprint is your password
S Health is on board though without the advanced sensors (heart rate, blood oxygen) its functionality is more limited. It can still track walking/running/cycling and you can manually input water and coffee intake and so on.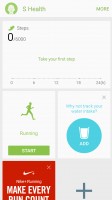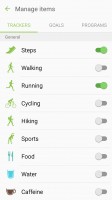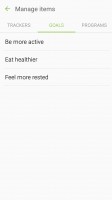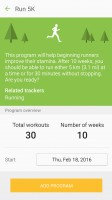 S health is missing the hardware sensors
Smart Manager is a hub that controls several key areas – battery, RAM, Storage and Device security. This gives you tools to track down apps that drain the battery, use too much RAM and clean-up unnecessary files.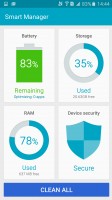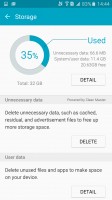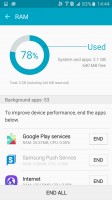 Smart Manager • Cleaning up the storage • Cleaning up the RAM
The Device Security tab lets you activate KNOX (protects the phone and OS from attacks but adds a second to boot time) and scan for malware. The My KNOX app lets you separate work and personal apps by creating a secure, isolated space on the phone.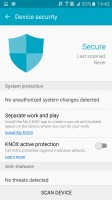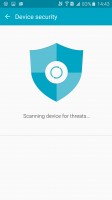 KNOX security manager
The My Files app is the default file browser. It features Google Drive integration. You can ZIP folders to make them easier to share as a single file.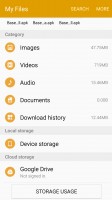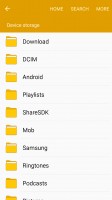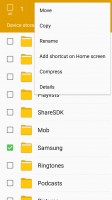 My Files
Finally, there's Galaxy Apps, Samsung's own app store. Galaxy Essentials is a good place to find great tools (like Kids Mode), but for general app shopping, you would probably be better off with Google Play.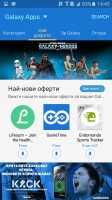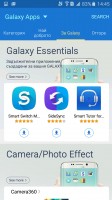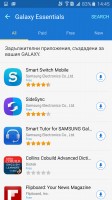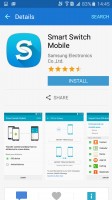 Gallery
The TouchWiz gallery orders photos by time, but you can switch to folder-based Album view. Sharing options include wireless printing, Android Beam and Wi-Fi Direct, but no DLNA (or other way to send an image to your TV).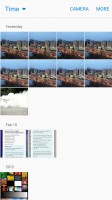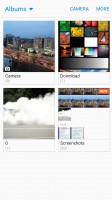 TouchWiz Gallery
Several image editing tools are available – from basic cropping, to collage making, to a more capable editor (which supports image correction, effects and drawing).
An additional option lets you pick several photos and stitch them into an animated GIF.
Music player with advanced EQ features, FM radio
The Galaxy A9 (2016) gets the full-blown Samsung music player. This includes the SoundAlive tool, which has an intuitive interface to tuning the equalizer (a manual 7-band equalizer is available for more knowledgeable users).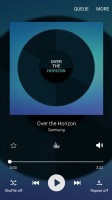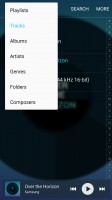 Music player
Adapt Sound is even simpler. It tunes the EQ to your hearing and your particular pair of headphones by playing multiple frequencies and asking how well you hear them. Smart Volume automatically adjusts the volume of tracks from multiple sources.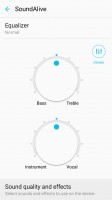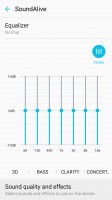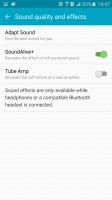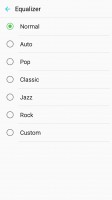 Equalizer and other settings
The player itself has a straightforward UI with most functions available as shortcuts on the Now Playing screen. You can browse files by folders, which is great if your library doesn't have well-organized ID3 tags.
The Galaxy A9 (2016) also has an FM radio built in (something many Galaxy flagships do not). It can record radio broadcasts (though this may be disabled in some regions). There's no RDS though so the app won't show the name of the station.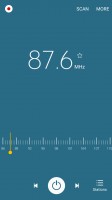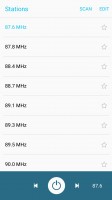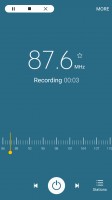 FM radio • All stations (with no RDS names) • Recording a broadcast
Video player
The video player is the only app that works in pop-up window, a feature dating back to the Galaxy S III.
You also get full subtitle support with advanced features to modify their appearance.
The app lets you play only the audio (if you just want to listen to a music video) and to play the audio via Bluetooth (if you have a BT-enabled speaker handy).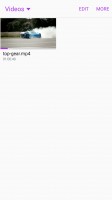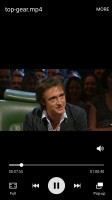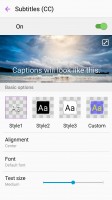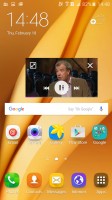 Browsing videos • Video player • Subtitle settings • Pop-up play
There's an "Editor" option too though that may be overstating it – it just lets you trim the video.
Again, there's no DLNA or another wireless method of sending the video to a bigger screen. No wired ways to do it either.
Audio output is solid
The Samsung Galaxy A9(2016) may be much larger than its 2016 A-series stablemates but its audio output is absolutely identical to that of the Galaxy A7 (2016) and Galaxy A5 (2016). The phablet aced the first part of our test, posting great scores and showing great loudness.
Plugging in our standard headphones did cause some damage – volume dropped to only average, stereo crosstalk rose to a similar rating and some distortion crept in. A solid performance, but not quite the best you can find up there.
Here go the results so you can do your comparisons.
| | | | | | | |
| --- | --- | --- | --- | --- | --- | --- |
| Test | Frequency response | Noise level | Dynamic range | THD | IMD + Noise | Stereo crosstalk |
| Samsung Galaxy A9 (2016) | +0.02, -0.07 | -95.2 | 92.9 | 0.0065 | 0.010 | -93.4 |
| Samsung Galaxy A7 (2016) (headphones) | +0.40, -0.02 | -91.6 | 92.2 | 0.028 | 0.250 | -65.6 |
| Samsung Galaxy A7 (2016) | +0.02, -0.07 | -95.1 | 92.8 | 0.0058 | 0.0097 | -95.3 |
| Samsung Galaxy A7 (2016) (headphones) | +0.42, -0.03 | -92.7 | 84.1 | 0.014 | 0.260 | -53.1 |
| Huawei Mate 8 | +0.01, -0.03 | -97.8 | 99.1 | 0.0054 | 0.0087 | -97.3 |
| Huawei Mate 8 (headphones attached) | +0.02, -0.09 | -97.3 | 97.9 | 0.015 | 0.078 | -81.3 |
| Huawei Nexus 6P | +0.03, -0.01 | -94.7 | 90.0 | 0.0029 | 0.010 | -94.3 |
| Huawei Nexus 6P (headphones attached) | +0.02, -0.20 | -96.2 | 83.2 | 0.041 | 0.147 | -37.7 |
| Nokia Lumia 950 XL | +0.01, -0.08 | -91.6 | 91.7 | 0.0035 | 0.012 | -89.3 |
| Nokia Lumia 950 XL (headphones attached) | +0.48, -0.07 | -90.4 | 91.5 | 0.011 | 0.293 | -55.6 |
| Sony Xperia Z5 Premium | +0.01, -0.03 | -95.9 | 89.6 | 0.0034 | 0.012 | -95.5 |
| Sony Xperia Z5 Premium (headphones attached) | +0.11, -0.40 | -95.6 | 80.7 | 0.0057 | 0.227 | -55.2 |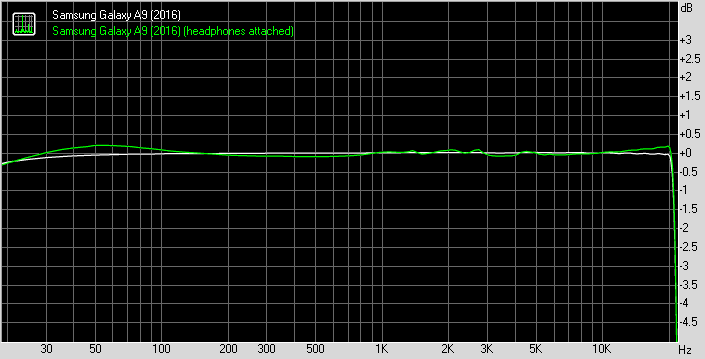 Samsung Galaxy A9 (2016) frequency response