Introduction
The Galaxy S and the iPhone release schedules are out of lockstep, so each gets a shot at sticking around at the top level for at least half of the year. This season, the new Samsung Galaxy S7 lands right in the fast lane with the iPhone 6s already at cruising speed. Come fall, the lanes will change but the chase will continue.
Samsung's flagship has never been stronger – the company finally managed to reconcile the wealth of features its loyal fans love with a long-overdue redesign that was meant to win new converts. The S6 tried hard to appeal to the latter at the risk of alienating the former.

The iPhone 6s has the crowd its predecessors had – things there change slowly though to be fair Apple added a few bells and whistles to the UI (3D Touch), the camera (4K videos and Live photos), the chipset (2 gigs of RAM, at long last).
Samsung Galaxy S7

Apple iPhone 6s

IP68 water and dust resistance
Bigger, higher-res screen with Always On mode
OIS-enabled camera geared for low-light shooting, Dual Pixel autofocus
Bigger battery; fast and wireless charging too
More base storage plus a microSD slot
Heart rate sensor with SpO2; NFC and Magnetic card emulation
Dual-SIM model
More base storage (32GB vs. 16GB, but no 128GB option)

All metal body
3D Touch
Reversible USB connector (Lightning)
More compact
Larger storage options available
Faster fingerprint reader
Apple's conservative approach to adding new features leaves the iPhone 6s with little to brag about, but every Apple higher-up will tell you it's about the overall experience and not on-paper specs.
The Galaxy S7 is very fresh – it only just started shipping – and its youth gives it a leg up in this fight. Is it enough to make it the most popular 5-or-so inch phone out there?
Hardware
The Galaxy S6 was Samsung's boldest step yet and while the phone sold in droves, the complaints came in similar measure. Getting rid of the microSD slot, changing its mind about waterproofing, the protruding camera, the sealed battery.
The message from consumers was heard loud and (mostly) clear and the Samsung Galaxy S7 resolves all but the last complaint – the battery is still non-removable, but the company thinks long battery life and fast charging methods (both wired and wireless) are a good enough substitute.
Apple works differently. In the producer-consumer relationship, it's the company that sets the expectations, not the buyers. So it's more about "what will they come up with next?" rather than "why did they remove this or that?" The big additions this year were 3D Touch, 4K videos and Live photos, we'll cover those in their respective chapters.
The finish aside, both phones are essentially the same shape, with rounded sides that help ergonomics. The Galaxy S7 is slightly bigger in all dimensions, due to its bigger screen and battery.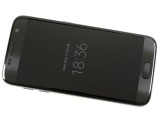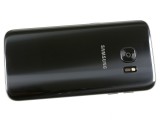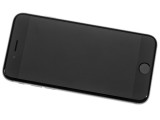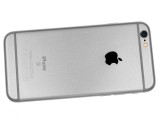 Metal and glass
As for the materials, both use metal and glass, just in different proportions. Samsung flaunts a glass back, a more premium version of the glossy plastic phones the company used to be known for (memories of smudgy, oily piano black plastic came flooding in).
Perhaps it has something to do with wireless charging – true, Qualcomm has a solution for metal-backed phones, but pushing as much electricity as Samsung wants is going to be difficult. "Fast wireless charging" is as fast as the standard issue 5V/2A wired chargers many phones come with, going against the preconception that wireless charging is slow.
Apple has been reluctant to adopt this wire-free charging mode, plus it needed to break away from the glass-backed look of the iPhone 4.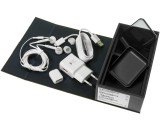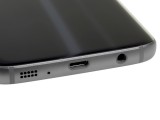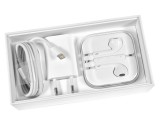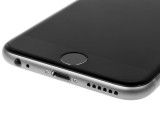 Different wired charging ports and different chargers from the retail box
Both metal and glass suffer from durability issues compared to the less attractive polycarbonate. Still, we think the durability angle works in favor of the iPhone 6s. Anodized metal handles scratches much better than glass and while it is prone to dents, at least those dents don't develop into cracks.
Some independent testing shows Galaxy S7's back glass cracks more easily than the front. Both are Gorilla Glass 4, suggesting that the back panel is thinner (to save weight, most likely).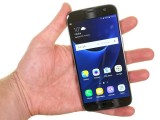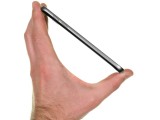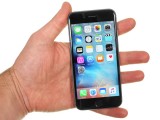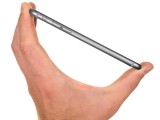 The Galaxy S7 is slightly bigger than the iPhone 6s in all dimensions
Cosmetic damage aside, the S7 is IP68 certified, meaning it can survive under 1.5m of water for half an hour. You probably don't want to test it to its limit, but everyday spills will just slide off the S7. Unlike the S5 brand of waterproofing, the new model does not require any unsightly flaps over any of its ports (forgetting to seal those up was a recipe for disaster and dealing with them every time at every charging was a hassle).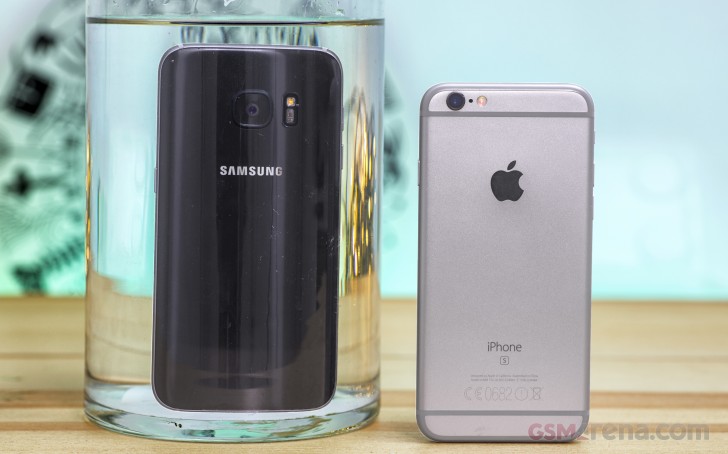 The other major advantage over the iPhone is cheap storage – the Galaxy S7 starts off with more to begin with, 32GB vs. 16GB, and you can use a microSD to add up to 200GB more where the iPhone 6s tops out at 128GB. And that one comes at a hefty $200 markup while a 128GB Samsung Pro+ card (rated at 95MB/s read, 90MB/s write) is ~$120. That's not as fast as the built-in UFS storage, but it won't be an issue.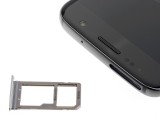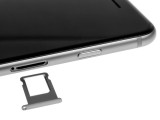 The Galaxy S7 has a place for a microSD card, the iPhone 6s does not
The camera on the S6 protruded significantly, but the Galaxy S7 is slightly thicker and the camera sticks out no more than it does on the iPhone 6s.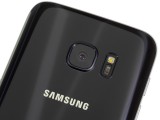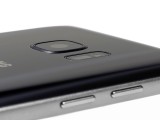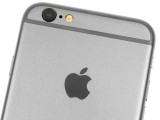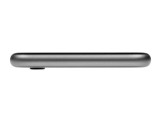 The camera is no longer a "hump"
Winner: Samsung Galaxy S7. Even if you find the iPhone metal back attractive, the cheap storage upgrades and the piece of mind when it comes to water damage risks, should be enough to secure the win for the Samsung-born flagship in this category.
Display
Samsung has successfully taken AMOLED screens from a rare breed to a must-have status. The Super AMOLED on the Galaxy S7 is the most technologically advanced yet.
It's brighter than the S6 screen, reaching around 400 nits in manual brightness mode. The true maximum is closer to 540 nits, but that's available only under automatic control of the brightness.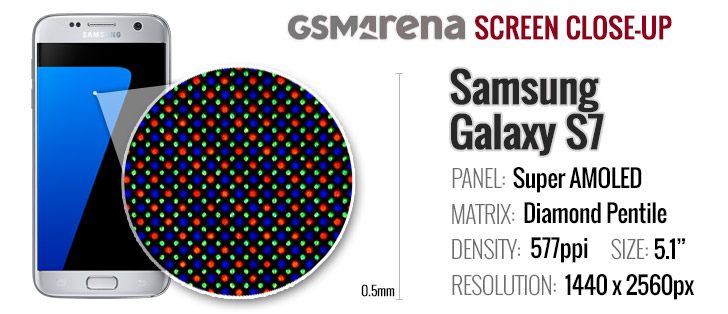 It can be very dark too – the minimum brightness is just 2.1nits. Even when you wake up in the middle of the night to check something, you won't be blinded.
The screen has an Always On feature too. As discussed, it uses 1% of the battery charge per hour, but you see the time and date plus missed calls and messages. Unfortunately, no other notifications are shown (e.g. WhatsApp, Facebook or others).

The Samsung Galaxy S7 screen has the most accurate colors of any mobile display as well. We measured an average deltaE of 1.7 and even the maximum of 2.3 is very low.
Note that this is in Basic mode, Adaptive mode boosts contrast and saturation to make images pop, but it takes the average deltaE up to 7.1.
For techies: Basic mode targets the sRGB color gamut while Photo mode aims for the wider Adobe RGB. You'll need photos shot in Adobe RGB to appreciate it, though, most content on the web is sRGB.
Apple's supply chain magic allows it to source high-quality screens that put up a good fight against the Samsung panel.
The maximum brightness is essentially the same, 540 nits, and it is available to the user with the manual slider (AMOLEDs wear out quicker at max brightness, so Auto mode is designed to prolong their life).
Contrast is a stellar 1,500:1. In a well-lit room you won't see a difference, but in the dark, you will notice faint light seeping through the black areas of the screen (but not on the Galaxy S7).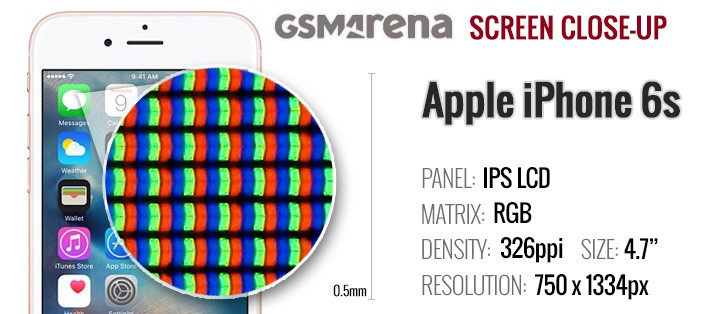 The screen is quite accurate too, we measured an average deltaE of 3.6. With calibration, you can get a typical screen under 4, so the iPhone 6s is ready to go right out of the box. Not that you could calibrate the display, Apple wouldn't let you tinker there.
Display test
100% brightness
Black, cd/m2
White, cd/m2
Contrast ratio
Apple iPhone 6s
0.36
536
1481
Samsung Galaxy S7
0.00
391
∞
Samsung Galaxy S7 max auto
0.00
563
∞
The Samsung Galaxy S7 display reflects less light than that of the iPhone, so even at 400 nits, it's more legible under direct sunlight. Switching to Auto mode extends this difference further.
Sunlight contrast ratio
Sort by Label
Sort by Value
Expand
Samsung Galaxy S7

4.376

Apple iPhone 6s

3.783
Winner: Samsung Galaxy S7. As if we have to spell it out – the sharper, better calibrated screen usually wins, but this one has the bonus of Always On mode. Sure, you can get it at a lower cost with a Motorola or even a Lumia, but that doesn't diminish its impact.
Battery life
The Samsung Galaxy S7 has a massive advantage in battery capacity – at 3,000mAh, it has 75% more milliamps in its tank than the iPhone 6s. Apple is known for its great optimizations, but there's only so much rabbit you can pull out of a 1,715mAh hat.
The Endurance rating isn't as different as the battery capacity suggests. The Galaxy S7 can last an average of 80 hours between charges, that's over three days. The Apple iPhone 6s can go for 62 hours.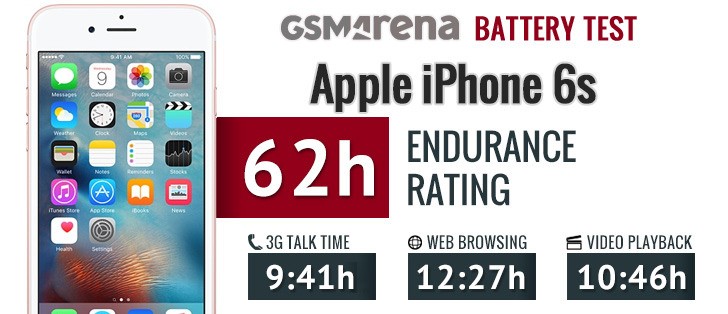 If you're planning to use the Always On feature of the S7, however, you should be prepared to charge more often – the Endurance rating drops to 49 hours (Samsung says the feature draws 1%/hour, so Always On alone will deplete the battery in twice that time).
The call times are much closer to what you would expect based on battery capacity. The iPhone 6s can't break 10 hours, so chatty users will get antsy when their battery drops below 20%-30% while S7 users can chat away.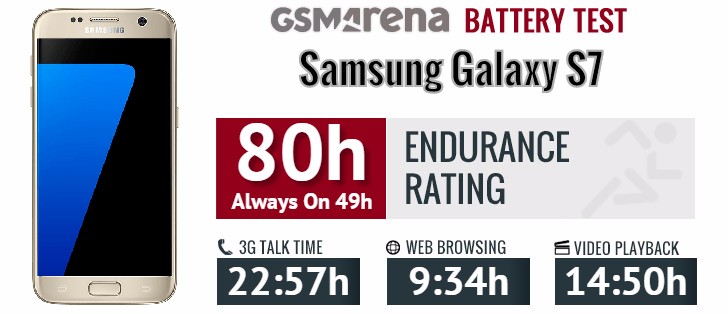 The Galaxy S7 did 9 and a half hours of web browsing, the iPhone lasted longer. Note that using Chrome instead of Samsung's browser gave a better result, by an extra 1 hour.
The video playback test went heavily in favor of the S7, so media buffs can enjoy videos with less of an impact on the phone's endurance.
Pushing electricity in the other direction – back into the battery – happens much faster with the Galaxy S7. Samsung packaged the phone with a Quick Charge 3.0 charger, which can fully charge the phone in 90 minutes (0%-100%).
Samsung sells fast wireless chargers, based on the Qi standard (the S7 also supports PMA). They are "40% faster than standard wireless chargers." These chargers require a 9V/1.67A adapter (basically, Quick Charge 2.0) though wireless charging is not 100% efficient, so less reaches the battery.
Apple, meanwhile, continues using 5V/1A chargers, which take a while even with the relatively small battery they have to fill up. You can speed things along if you use an iPad charger.
Winner: Samsung Galaxy S7. Honestly, we would give it the win just for the fast charging. It changes how you use a phone – you can just plug it in early in the morning and it will have enough charge for the day before you're out of the shower. It could last more than the iPhone 6s, but only if you disable the Always On screen mode.
Performance
Cross-platform performance testing is a tricky subject, but the issues faced by benchmark developers that support both Android and iOS are the same that face app developers.
The Samsung Galaxy S7 comes in two different configurations (aimed at different regions). The "international" version, like the one we have, is powered by an Exynos 8890 chipset, while the one heading to the US (and other regions) is based on the Snapdragon 820.
Its's custom core galore in this chapter. The Exynos 8890 uses Samsung's proprietary "Mongoose" cores, four of them in the big cluster. The little cluster is made up of four Cortex-A53s.
The Snapdragon 820 is all Qualcomm custom cores, Kryo, split into a big.LITTLE setup again, but there is only four cores in total, two in each cluster. We don't have an S820 Galaxy S7 around, so we'll include the scores of the S7 edge, which should perform identically.
Then there's the Apple A9, the iPhone 6s chipset, which has a dual-core processor with the Apple-designed Twister cores.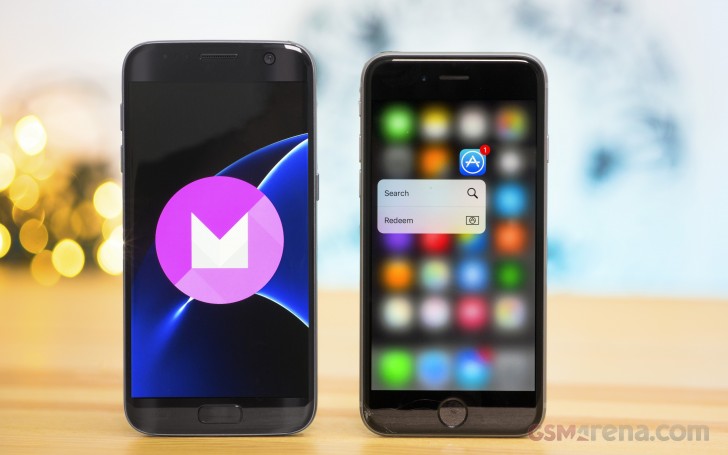 The Exynos chipset features an optimization that helps it when the app uses few cores. If only two Mongoose cores are engaged, they boost to 2.6GHz, up from the top speed of 2.3GHz when all four of them are online.
The big Kryo cores top out at 2.15GHz while the even bigger Twister cores go to 1.84GHz max.
"Even bigger" since in single-core performance the Apple-designed processor comes out on top, Mongoose is on the bottom (despite the clock speed advantage) and Kryo splits the difference.
GeekBench 3 (single-core)
Higher is better
Sort by Label
Sort by Value
Apple iPhone 6s

2542

Galaxy S7 edge (Snapdragon)

2345

Samsung Galaxy S7

2170
iOS devs know their target device very well – 2 cores, that's it – while their Android colleagues have to deal with many octa-core CPUs of different makes. The "octa-core" label often hides low-power Cortex-A53 cores, so a well-built Android app has to split its workload among as many cores as possible.
A properly powerful chip like the Exynos 8890 shines on multi-threaded tests and turns the tables on the other two. The Snapdragon 820 design again falls between it and the iPhone.
GeekBench 3 (multi-core)
Higher is better
Sort by Label
Sort by Value
Samsung Galaxy S7

6360

Galaxy S7 edge (Snapdragon)

5420

Apple iPhone 6s

4427
Basemark OS 2.0 points to the S820-based Galaxy as the winner in overall performance, while the Exynos version is at the bottom, hot on the heels of the iPhone 6s.
Basemark OS 2.0
Higher is better
Sort by Label
Sort by Value
Galaxy S7 edge (Snapdragon)

2352

Apple iPhone 6s

2195

Samsung Galaxy S7

2128
We have three different GPUs – a Mali-T880 in the Exynos Galaxy S7, an Adreno 530 in the Snapdragon 820 version and a PowerVR GT7600 in the Apple handset.
Looking at the offscreen test (which ignores screen resolution), the Adreno comes out as the clear winner, with the Mali and PowerVR roughly equal.
GFX 3.0 Manhattan (1080p offscreen)
Higher is better
Sort by Label
Sort by Value
Galaxy S7 edge (Snapdragon)

49

Apple iPhone 6s

39.5

Samsung Galaxy S7

38
Of course, the Apple iPhone 6s has to render at much lower resolution than the Galaxies – 750 x 1,334px vs. 1,440 x 2,560px, That's less than a third of the pixel count!
Some games don't actually use the full screen resolution, but instead render internally at lower resolution.
That said, iPhone devs can get very close to 60fps at native resolution, while Galaxy S7 games will run closer to 30fps if they go for QHD. The other option is to reduce fidelity, a QHD screen is its own form of anti-aliasing.
GFX 3.0 Manhattan (onscreen)
Higher is better
Sort by Label
Sort by Value
Apple iPhone 6s

53.6

Galaxy S7 edge (Snapdragon)

29

Samsung Galaxy S7

27
BasemarkES 3.1 shows an advantage for the Mali-T880 over Adreno 530 (it was the reverse in GFX), so the particular 3D engine a game uses may affect performance. Again, iOS devs have it easy since they have to target Apple A9 and A9X (for iPads), allowing them to optimize their games better.
Basemark ES 3.1 / Metal
Higher is better
Sort by Label
Sort by Value
Apple iPhone 6s

879

Samsung Galaxy S7

732

Galaxy S7 edge (Snapdragon)

624
Winner: Depends. Its big Twister cores have great single-core performance, which makes the life of an iOS app developer easy. The Galaxy S7 comes out ahead in multi-core tests but not by much.
The Samsung also has the more powerful GPU and while it has a lot more pixels on its screen, few games will actually render at full resolution so we put more weight on the offscreen performance. One class of games will use every screen pixel it can get – VR games – and those are very demanding even for high-end PCs. VR isn't on Apple's mind though, not yet.