Introduction
The Compact series by Sony used to occupy a niche of its own as it combined top-of-the-line specs with a pocketable footprint. The latter is still very much true for the just released Xperia X Compact, but it no longer has the flagship specs that we're used to. Instead, the Xperia X Compact is pretty much what it says on the tin – it's a Xperia X – essentially, an upper-midrange phone – but shrunk in size.
Is this the end of the mini flagship as we know it? Well, while we can't quite rule out another shift in product strategy down the line, for now, this very much seems to be the case.
Inside the latest Xperia X Compact ticks an upper midrange chipset. The Snapdragon 650 is a solid SoC, and shouldn't have a hard time powering the smartphone. Most importantly, there hardly is a better specced compact midrange smartphone, and we're okay with how the new product is positioned. We would sorely miss the dust and waterproofing, though.
To be fair, the Xperia X Compact does share some of its flagship sibling's premium features. First among those is the improved 23MP camera with predictive hybrid autofocus that employs a combination of laser, phase detection and contrast detection in its focus system. Just like with the Xperia X, a glaring omission on the X Compact spec sheet is the 4K video recording. But we couldn't have expected things to be otherwise, could we?
Speaking of spec sheets, it's perhaps the appropriate time to see what the Xperia X Compact has to offer.
Sony Xperia X Compact key features
4.6″ 720 x 1,280px LCD display with 319ppi, X-Reality for Mobile, Triluminos technology
Android OS v6.0 Marshmallow with Xperia launcher
Hexa-core Qualcomm Snapdragon 650, a dual-core 1.8 GHz Cortex-A72 and quad-core 1.4 GHz Cortex-A53; Adreno 510 GPU; 3GB RAM
23MP Sony IMX300 camera, 24mm-equiv. f/2.0 lens, laser-assisted and phase-detection autofocus, SteadyShot, LED flash, dedicated hardware shutter key; 1080p/60fps video recording
5MP front-facing camera; 1080p video recording
32GB of built-in storage and a microSD card slot
LTE Cat.6 (300Mbps); Dual-band Wi-Fi a/b/g/n/ac; A-GPS/GLONASS/BeiDou receiver, Bluetooth v4.2, FM radio with RDS, NFC
Active noise cancellation with a dedicated mic; 24-bit/192kHz Hi-Res audio
2,700mAh non-removable battery; Qnovo adaptive charging, Battery Care smart charging (market dependent), Qualcomm QuickCharge 3.0 support
Fingerprint sensor (market dependent), stereo speakers, USB Type-C port
Main disadvantages
No 4K video recording
Lowest-res selfie camera in the entire X-series lineup
No waterproofing
Fingerprint sensor not available in the US
You do get a USB Type-C port, only to be found on the flagship in Sony's lineup, and the stereo speakers are here to stay. The 2,700mAh battery is probably more than you need considering the screen size, so the Compact will likely impress in that department.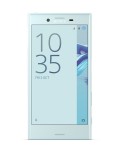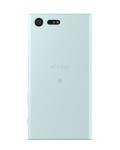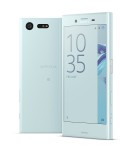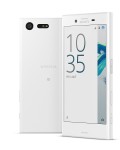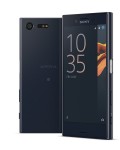 Sony Xperia X Compact press images
Sony does acknowledge that the Xperia X Compact isn't quite the flagship the older models were and has an adjusted price accordingly – the X Compact launches at about £70/EUR€100 lower than the Z5 Compact, which came out last year. However, the previous generation has been discounted since, and sells around the X Compact's launch price, so that is shaping up to be a tough dilemma.
We'll be attempting to solve it over the next few pages, and we'll start as usual with an overview of the Xperia X Compact's hardware and exterior.
Unboxing
The Xperia X Compact arrives in the same plain white box as other Xperia X-series models. Removing the lid unleashes an explosion of colors on the cardboard, and of course the phone itself.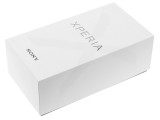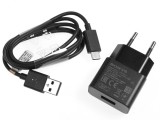 White box with an X on top • AC adapter and a Type-C cable
In the box of our review unit there's just a standard-issue AC adapter (5V/1.5A) and a full-size USB to Type-C cable. Box contents vary by market and carrier, so it's worth checking beforehand – your X Compact might come with a fast charger or a headset, maybe.
Sony Xperia X Compact 360-degree spin
Sony's Compacts have traditionally been chubby fellas, but that's understandable – a smaller body still has to fit all those bits and pieces (at least, that's the layman's explanation). The original Xperia Z1 Compact was 9.5mm, and so is the X Compact. The lineup was, at its thinnest, with the Z3 Compact (8.6mm), and the Z5 Compact was 0.3mm thicker than that.
The footprint has stayed virtually the same over the years, but at 129 x 65mm the Xperia X Compact is 2mm taller than the Z5 Compact. At 135g the Xperia X Compact is 3g lighter than the previous generation.
Hardware overview
The Xperia X Compact follows Sony's new Unified Design. That's one thing it shares with the top-end Xperia XZ and it's what sets it apart from the rest of the Xs. There's no ALKALEIDO here, though – the fancy aluminum alloy is limited to the Xperia XZ.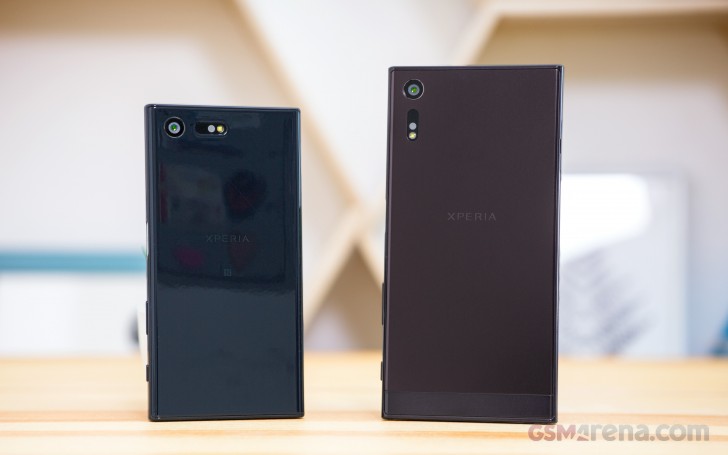 The styling of the X Compact is touted as ceramic-inspired, and we're not quite sure what they mean. Put simply, the X Compact is made of plastic. The choice of material coupled with the dimensions gives it a more youthful look, as opposed to the more authoritative and mature XZ. The polycarbonate is a different kind of fingerprint magnet, but at least there's less phone to wipe clean.
The all-plastic back has a few benefits over a metal one. For one, it doesn't require antenna cutouts, so the entire rear is one single piece of polycarbonate, curved towards the sides. It's thus truer to the Loop Surface concept than the metal-clad XZ. The curvy sides feel extra pleasant in hand and also work well to mask its near 1cm of thickness.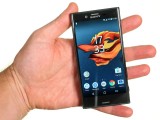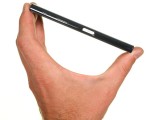 In the hand
As a result of the symmetrical design some may experience a minor issue – struggling to tell which side is up in day-to-day usage. The power button does offer some sort of tactile orientation, and the entire issue is perhaps only true for the black/blue color option that we have for review.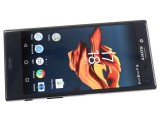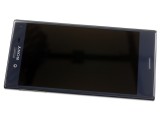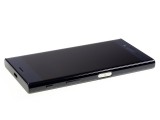 Classic Compact proportions in Universe black
We call it black/blue because the product color named Universe black that we have here is black only half the time. It could fool you in a dark room, but shine any light on it and deep blue hues are nicely revealed. It's particularly telling when you put the Compact next to black device, like an iPhone 6s or an OnePlus 3.
The Xperia X Compact carries no IP rating. Sony had pioneered the feature, and it was a staple in their flagship design, full-size or compact, but it's now gone on all but the Xperia XZ.
There may be no antenna strips, but the camera and its peripherals do need their cutouts. Staying true to the lineup's heritage, the camera module is situated in the top left corner, with the flash to its right. Since the X Compact gets the all-out top-model of a camera Sony has to offer, the flash is joined by the RGBC-IR and laser autofocus sensors, but more on these in the camera chapter of this review.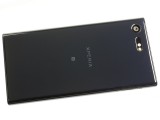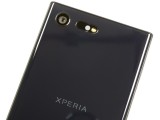 Ceramic-inspired glossy back • 23MP camera and assorted sensors
The Xperia X Compact features stereo speakers of the more conventional front-firing type (looking at you, iPhone 7!). The two slits are symmetrically placed on the front on both ends of the display. The top speaker has the front-facing camera on its left and the ambient light/proximity sensor pair on its right. A notification LED light is there too, in the far right corner.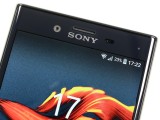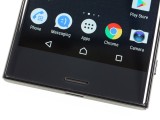 The top bezel accommodates a speaker, a camera, a couple of sensors and an LED light • The other speaker is on the chin
The bottom of the phone is home to the USB Type-C port only. Don't let the type of the connector fool you – it conforms only to USB 2.0 spec.
The Xperia XZ has a mic pinhole here as well, but the X Compact doesn't, so we figure Sony has found room to fit the mic around the bottom speaker.
The top mic is more visible – you can see its opening right next to the 3.5mm jack.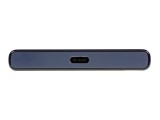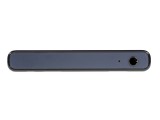 USB Type-C port on the bottom • 3.5mm jack and secondary mic on top
There are no surprises in the control layout. The power button that doubles as a fingerprint reader is placed slightly above the midpoint on the right. It's conveniently located for access to the right thumb or the left index or middle finger. The smaller width makes it even more natural to use with the left hand than the Xperia XZ, so lefties shouldn't feel left out.
Americans, on the other hand, are left out – Sony won't be offering fingerprint recognition in the US. It shouldn't come as a surprise, though – the Z5 series had the hardware built-in, but not enabled, and it's the same case with the X-series Xperias.
The volume rocker is below the power button, and we've been rambling on and on how Sony has placed it too low for comfortable operation. It does the job but requires a significant readjustment of grip especially if you're holding the phone with the right hand. Mind you, we're just thorough – some users wouldn't count that as an issue.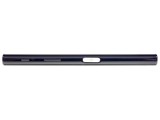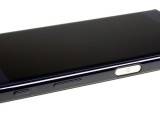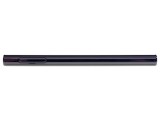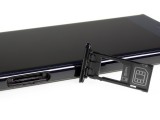 Right side has all the controls • Shutter, volume, power • Card slot on the right
Moving on down, we find the physical two-stage shutter button, which comes in handy as a shortcut for launching the camera. If that feature doesn't work for you out of the box, you can enable it in the settings.
The card slot is located on the right side of the phone. The combined tray can take a nanoSIM card and a microSD card. Dual-SIM versions of the X Compact aren't available at this time. The shared slot design means that hot-swapping memory cards is out of the question – the phone will restart upon taking out the SIM card.
4.6-inch IPS display of 720p resolution
The Xperia X Compact sports a 4.6-inch 720p display. The Z3 Compact made the jump to 4.6 inches from the Z1's 4.3 inches, and the lineup hasn't grown in screen size since. It doesn't have to – after all, that's the whole point of Compacts. The 720p resolution stretched on that diagonal results in 319ppi – if the iPhone can live with that for 7 generations now, the X Compact will somehow manage without breaking ppi records as well.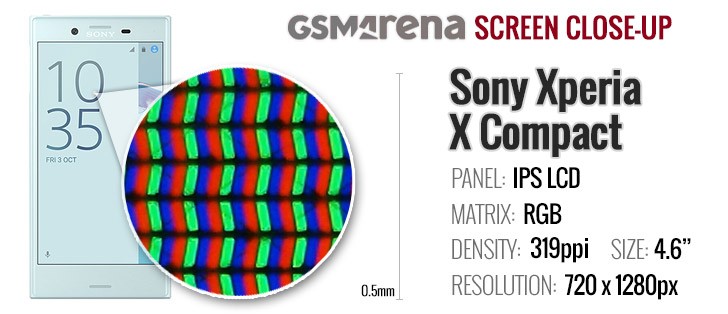 The Xperia X Compact can shine as bright as 534nits, a number virtually identical to the one posted by the Xperia X. It's not as bright as the Z5 Compact (quite a wide margin, actually), but last year's model can't match the X Compact's contrast, achieved in no small part by keeping blacks in check. The minimum brightness of 4.7nits is very good and nighttime reading shouldn't be an issue.
Display test
100% brightness
Black, cd/m2
White, cd/m2
Contrast ratio
Sony Xperia X
0.44
539
1219
Sony Xperia X Performance (max auto)
0.39
595
1526
Sony Xperia X Performance
0.33
482
1461
Sony Xperia X Compact
0.44
534
1225
Sony Xperia Z5 compact
0.65
680
1053
Apple iPhone 6s
0.36
536
1481
Huawei nova
0.25
385
1540
Samsung Galaxy S6
0.00
363
∞
Samsung Galaxy S6 max auto
0.00
619
∞
Xiaomi Redmi 3 Pro
0.49
561
1145
The Sony Xperia X Compact did splendidly in our sunlight legibility test. The score it posted is well into AMOLED territory (okay, not where the very best of AMOLEDs reside, but still) and it's right there with the best of LCDs (iphone 6s, for example).
Sunlight contrast ratio
Sort by Label
Sort by Value
Expand
Samsung Galaxy S6

4.124

Apple iPhone 6s

3.783

Sony Xperia X Compact

3.694

Sony Xperia X Performance

3.234

Sony Xperia X

2.989

Xiaomi Redmi 3 Pro

2.803

Sony Xperia Z5 compact

2.784

Huawei nova

2.467
There's inconclusive evidence as to the scratch-resistance of the X Compact's display. The official white paper, detailing all specs and features, doesn't mention any protection. Official Sony Mobile websites state Corning Gorilla Glass, but without specifying the generation. Despite the discrepancy, the phone might as well have such protection. We're trying to get to the bottom of it, and we'll update you on it once we have confirmation.
Beyond the outer layer lie a host of proprietary display technologies. Triluminous is Sony's trademark for what is commonly known as a Quantum dot display, a variation of LCD panels that deliver a wider color gamut. It generates colors in a different way than vanilla LCD's and even if you're used to AMOLED's punch, you won't be left wanting here.
On the software side, Sony does image post-processing in its gallery under the label of X-reality engine. You can turn it off, switch to X-Reality mode or go all in with Super-vivid mode. You can get a side-by-side comparison to help you make your choice too.
You also get a White balance option in the menu, where you can adjust the colors via RGB sliders but you need to have a calibration tool as you likely won't be able to improve anything going by eye alone. Even then you won't get significantly more accurate results as the sliders only allow you to add to the mix of primary colors and not take any away.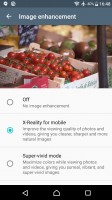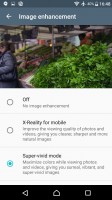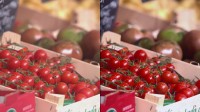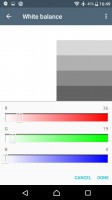 X-reality gallery enhancements • White balance adjustment
Connectivity
The Xperia X Compact doesn't come lacking in connectivity options, though it's not up to the XZ's level – rather it matches the Xperia X due to the same chipset being used.
For mobile data you get LTE Cat. 6 (300Mbps down, 50Mbps up) along with HSPA as a fallback (42.2Mbps/5.76Mbps). Local connectivity includes dual-band Wi-Fi a/b/g/n/ac, Bluetooth 4.2 with aptX and Low Energy and NFC. There's an FM Radio receiver with RDS – you can't find that on the flagship.
The Wi-Fi connection can be used for screen casting – be it Miracast, Google Cast, or DLNA. If you connect a DualShock controller, the Xperia XZ can even double as a portable console streaming your Playstation 4 games via PS4 Remote Play. It can also connect to your car's stereo system via MirrorLink.
GPS, GLONASS and BeiDou satellite positioning is supported, unless you're in the US, where it's just GPS and GLONASS.
The USB port is Type-C, but it only conforms to USB 2.0 spec and not 3.0 or 3.1. It lets you hook up USB storage and accessories, but you'll need to select the data transfer mode every time you connect it to a PC, as it defaults to charge only, which is somewhat annoying but we guess it's there for a reason or use case we can quite think of.
Sony has dropped MHL support, so you have no wired way to output an image to a TV. You do get 3.5mm analog output to your choice of headphones.
Sony Xperia X Compact battery life
The Sony Xperia X Compact is powered by a 2,700mAh battery, the same capacity as both the Xperia Z5 Compact and a little more than the Xperia X proper. Seeing as how the X has a larger and higher-res display, but still did a respectable job in the endurance department, we expected the X Compact to truly impress.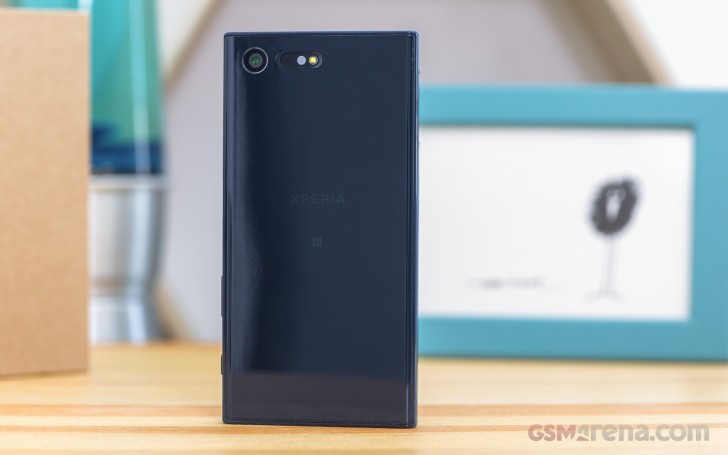 Indeed, it posted very good scores in our tests, perhaps with the exception of talk time. That said, the 14 and a quarter hours that we got on a 3G call match Sony's promise in the X Compact's documentation proving that it can replicate the lab results in real life.
Move from calls to screen-on tasks and the Xperia X Compact does a better job. In Wi-Fi web browsing it's good for 11 and a half hours, with the 9 minutes by which it outlasts the Z5 Compact easily within the margin of error. That's still 2 hours longer than the Xperia X's 9:34h – so our initial logic that a smaller lower-res display would help the X Compact outlast the X holds true here, at least.
Not quite in video playback, where the X Compact posts virtually the same (already good) result as the regular X. The Xperia Z5 Compact could last a good 3 hours longer while playing videos. It's worth keeping in mind, however, that the Z5 Compact was tested before we adopted the standardized 200-nit brightness, and it was instead set at 50% of maximum, which meant 106 nits in its particular case.
The individual scores above (plus the standby draw we test, but don't include in the scorecard) add up to a combined endurance rating of 73 hours.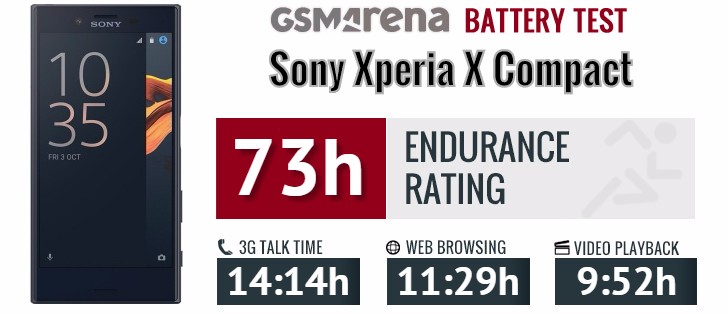 As all members of the new X series, the Xperia X Compact has the Qnovo adaptive charging built-in. The technology allows the phone to monitor the cell's electrochemical processes in real time and adjust charging parameters accordingly to minimize cell damage and extend the battery unit's lifespan.
Qnovo claims the battery should last hundreds of charge cycles more than a conventionally charged battery. This means a year or so of extra longevity as in theory if the battery ages better, it should hopefully be able to hold charge better in time (an important aspect for a phone that has its battery sealed-in).
Battery Care is another proprietary Sony feature. It won't be universally available though, so if it sounds like something you might be interested in, check back with your local Sony rep.
So what does Battery Care do? Say you charge your phone overnight, and you regularly plug it in at midnight and unplug it at 8 in the morning. In time, the phone will recognize the pattern, charge the battery to 90% and then stop charging. And then at, say, 7:30 in the morning it will pick up where it left off and top it all up to 100% at a slower pace. If it hasn't picked up your routine, it'll do a standard charge.
The handset also supports the Qualcomm QuickCharge 3.0 (and, of course, 2.0), but we're not sure if it will come bundled with a charger to match. It will most probably be a regional thing.
On the software side of things, there's Sony's Stamina battery saving feature. It has two modes: regular Stamina, and Ultra Stamina. The first disables non-essential features like GPS and vibration, and takes performance down a notch.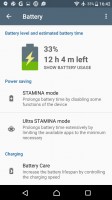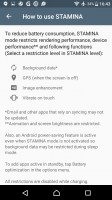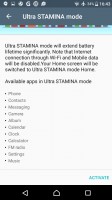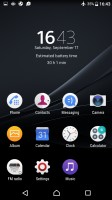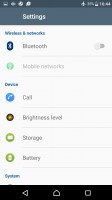 Stamina modes
Ultra Stamina is for absolutely dire occasions when you don't expect to be near a power outlet for a long period of time. Enable that and it's back to basics – meaning a single homescreen with access to the dialer and contacts, text messages, camera and clock. Going out of Ultra Stamina requires a restart.
Android 6.0.1 with fine Xperia mods
The Xperia X Compact we have for review is running Android 6.0.1 Marshmallow out of the box, and that's the version that is shipping with commercially available devices. Nougat will follow some time later.
Sony is keeping the stock Android look, except for a few gentle touches here and there. The proprietary Stamina battery saving modes and the home-baked multimedia apps go without saying.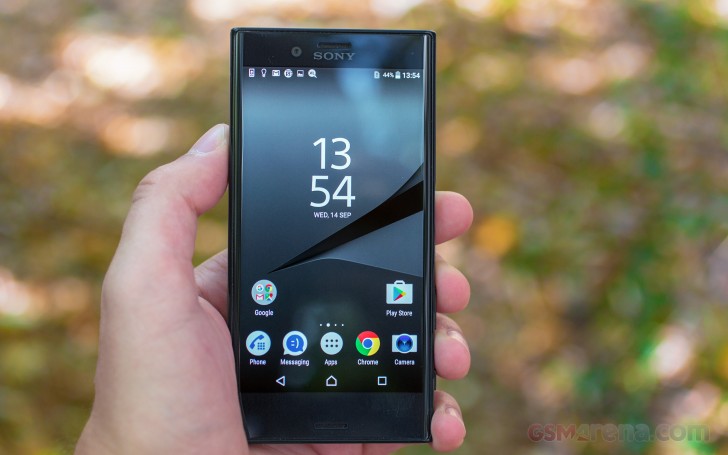 The fingerprint reader introduced on the Z5 series of Xperias is integrated into the Power button on the right side. We can't deny the convenience, as waking the screen and unlocking the phone are tightly related.
We had an excellent user experience with the fingerprint reader on the Xperia X Compact. It's fast and accurate. There's an animation that slides the lockscreen away from your thumb (as if you pushed it out of the way). If you have simple swipe unlock enabled (no security) you can tap on the Power button to unlock instead, provided you've woken up the device first.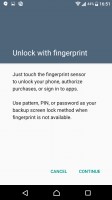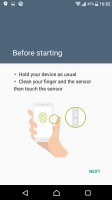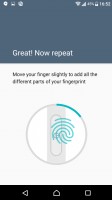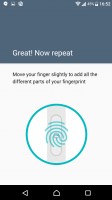 Fingerprint settings
Smart Lock gives you conditional security – trusted nearby devices, locations, faces, or voices can allow you to skip the security unlock protocol.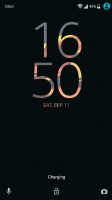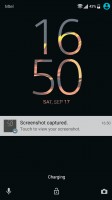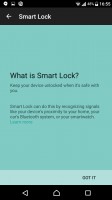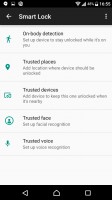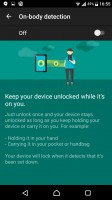 Lockscreen • Lockscreen settings • Smart lock
The homescreen appears unchanged from the rest of the X series. This includes the swipe down gesture, which shows a screen of the apps you use most along with recommendations for new apps to install. The search field is highlighted so you can start typing the app's name immediately.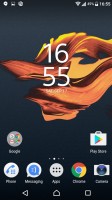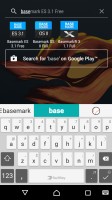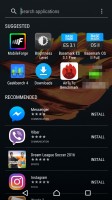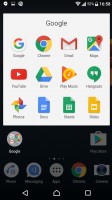 Homescreen • App search • Suggestions and recommendations • Folder view
The traditional app drawer is present, and it features an above average amount of vendor apps. Sony takes great pride in the A/V prowess of their devices, so they have pre-installed a nice set of their own multimedia apps.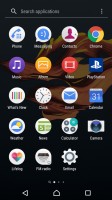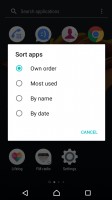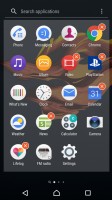 App drawer • Sorting options • App management
Themes are available (both free and paid) that can customize the look and sound of the Xperia X Compact UI.The bird will look angrily at your finger as you tap – how cool is that!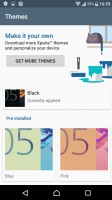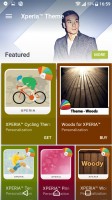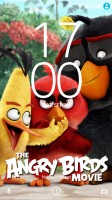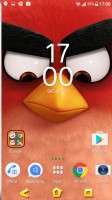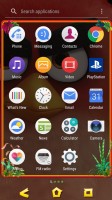 Xperia themes
The notification area is plain Android. You can re-arrange the quick toggle tiles and adjust the screen brightness. Note that just like in vanilla Android; there's no toggle for Auto brightness (you need to go into the settings for that). That's the single thing we don't mind getting changed by manufacturers and still, many manufacturers like to keep this aspect stock.
The app switcher is similarly a vanilla Android affair with the 3D rolodex look. The small apps are gone, however, and there is no longer floating-app multitasking. There isn't screen pinning either like we had on the Xperia X Performance – apparently, not a very popular feature.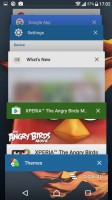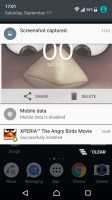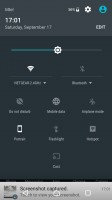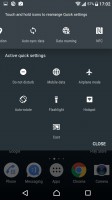 No-nonsense task switcher • Notification area is vanilla Android
The Smart cleaner feature will periodically empty the cache of apps you haven't used in awhile. You can switch this off or just manually tell it not to bother for certain apps.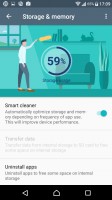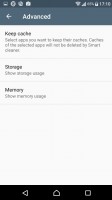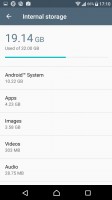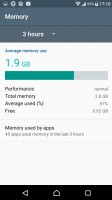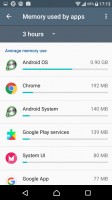 Smart cleaner frees up memory of both kinds
One thing Android has been missing for years is a proper backup solution and Sony gives you one. It can backup applications, contacts, messages, phone settings. The backup info itself can be stored in the cloud under your Sony online account, or locally on the microSD card or an external USB device.
Backups can be scheduled, including conditions like "Connected to Wi-Fi" and "Charging device", depending on your preferences.